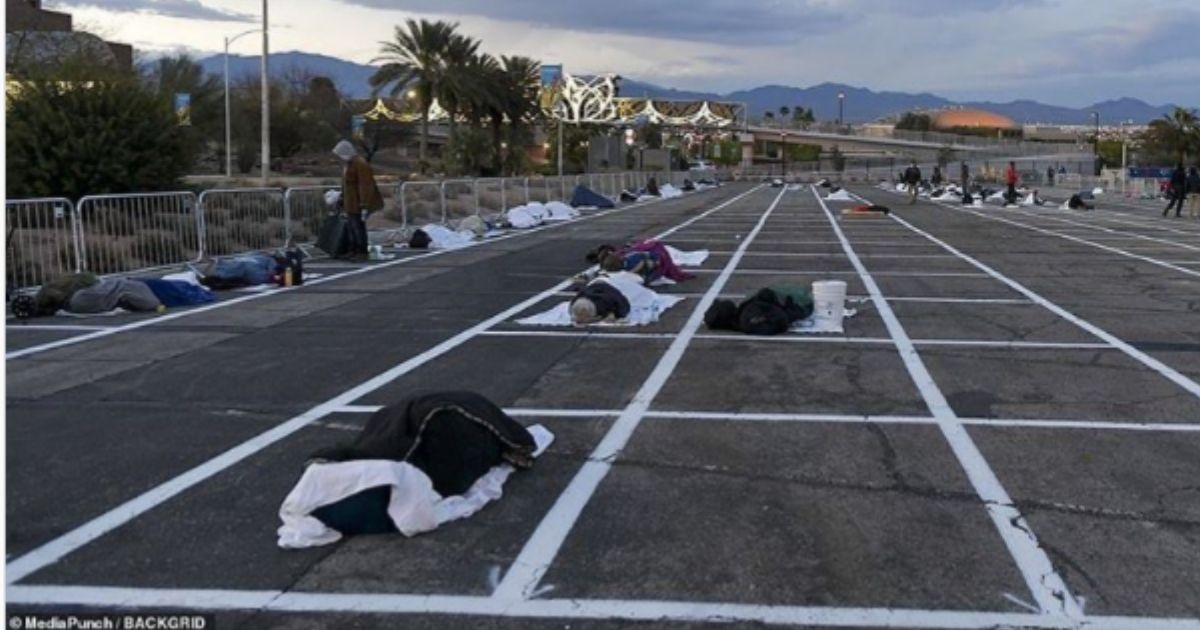 The country with the world's largest economy, which until a few weeks ago had been on an upward trajectory for the past 11 years straight, is struggling to figure out what to do with its population of people experiencing homelessness during a global pandemic.
In Las Vegas, home to one of the world's top 10 hotel-rooms-per-capita cities, the "answer" this week was socially distanced lines in a concrete parking lot. Seriously.
---
After a homeless shelter closed due to a man testing positive for coronavirus, people from the shelter were moved to the parking lot where officials laid out a grid of painted lines to keep people from sleeping too close to one another on the ground.
According to the AP, city spokesman Jace Radke that the parking lot "open-air shelter" on the city-owned property was an "emergency situation."
"The marked squares are to help meet social distancing requirements," Radke said. "We'll continue to provide this temporary respite, while practicing necessary social distancing, for anyone who is suffering from homelessness."
The city said they tried to offer carpeting, but it couldn't be sanitized and they didn't have enough mats for everyone.
Around 208 people slept in the parking lot Monday night, while thousands of hotel rooms across the city sat empty.
The treatment of people experiencing homelessness when we are not experiencing a global pandemic is already in need of serious adjustment. But to make people sleep in a parking lot when there are rooms and beds available that would keep them safely away from one another is just gross.
The city tweeted that there is a new shelter being constructed, which is expected to be finished on April 6.
Couldn't the city or state incentivize hotels to allow people without homes to stay in empty rooms temporarily? Where are the billionaires offering to pay for hotel rooms if hotels aren't willing to offer them up themselves? How can one of the wealthiest countries on the planet, one that loves to tout its own greatness, not rally its vast resources in every state to help protect some of its most vulnerable during a health crisis?
We know it's possible. California's governor has pledged thousands of hotel rooms to help keep people experiencing homelessness safe and healthy during the pandemic. It's not like Las Vegas is packed with tourists like it usually is. Although hotels in resorts are allowed to stay open for emergency purposes, casinos have been shut down. There are undoubtedly far more empty hotel rooms than there are people needing shelter and social distance in Las Vegas right now.
Get it together, folks. We all know that the issue of homelessness is complicated and permanent solutions are complex, but right now, the immediate needs and the immediate solutions are pretty straightforward. We're all making huge shifts in our ideas of "normal," so let's shift our thinking about people experiencing homelessness. What if we see them as people first? What if we see their need for shelter as a vital public health issue? What if we see the humanitarian solution that's sitting right in front of us as the right one?
Let's prove that we're really all in this together.