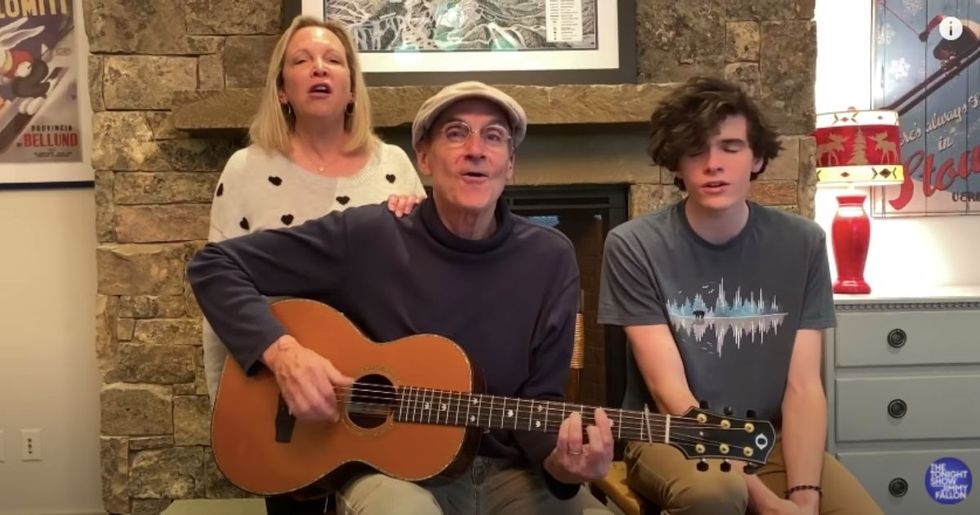 James Taylor is one of the best-selling music artists of all time, with five Grammy awards, more than 100 million albums sold, and an induction into the Rock 'n Roll Hall of Fame under his belt.
And yet the gentle singer-songwriter seems to ooze wholesome down-homeness, and a new video of him casually singing with his family from their home in Montana just reinforces that image. With simple, pure musicianship, Taylor plays guitar and sings while his wife and son sing harmony on his song "Now You Can Close Your Eyes." And oh my goodness, the 3-part harmony is just soul-stirring. An absolutely gorgeous gift to us all.
---

James Taylor: You Can Close Your Eyes (The Tonight Show: At Home Edition)

www.youtube.com

The performance was shown on The Tonight Show Starring Jimmy Fallon and included a call to raise funds for the Mass General Emergency Response Fund (https://massgeneralresponds.org), supporting the Boston hospital where 72-year-old Taylor was born and where his father worked as a doctor.
Thank you, James Taylor, for bringing this beauty to our homes during such a difficult time.