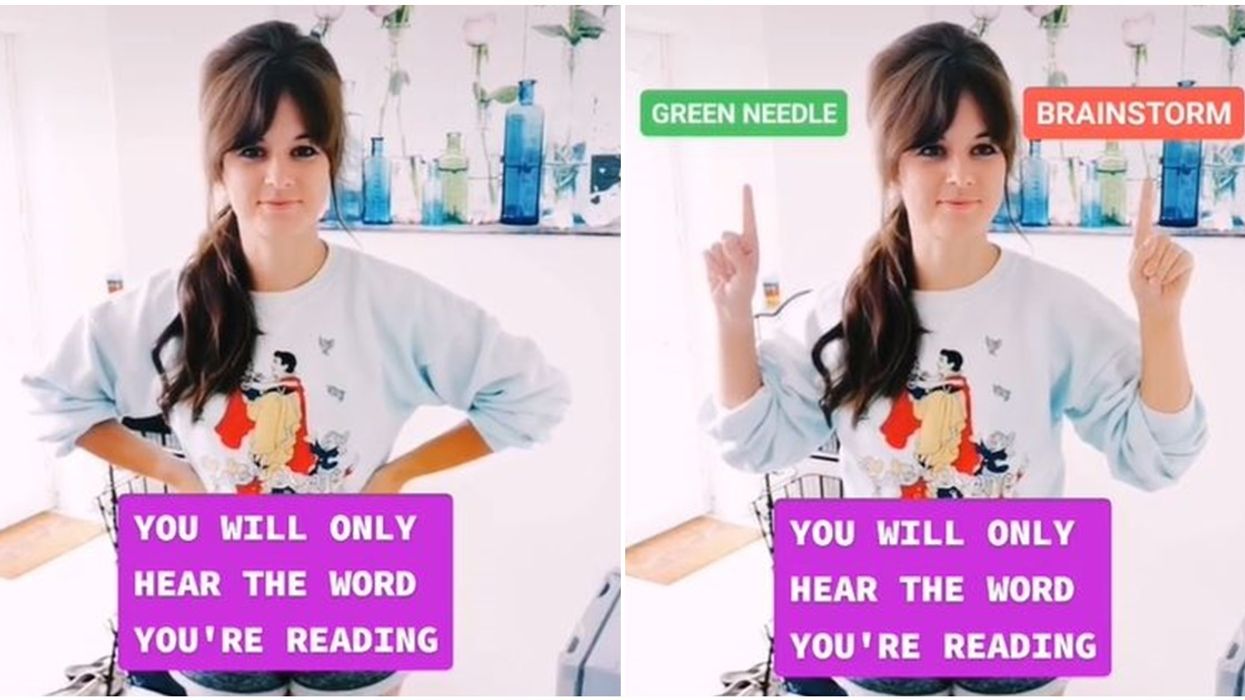 A TikTok video is making the rounds because it continues to make people question their own senses. In the video, a voice can be heard saying either the word "brainstorm" or the words "green needle."
What you hear depends on what you're thinking about when you read the screen.
So, if you play it while thinking "green needle," that's what you'll hear in the clip. The same goes for "brainstorm." Then, go back and forth between the two. It's a surreal experience.
---

Green Needle or Brainstorm?🤔 What Do You Hear?

www.youtube.com

The video is a great reminder of how subjective our senses really are. It's a perfect example of how our minds have the power to interpret sensory data how it chooses, depending on our own internal biases.
It makes you wonder just how many things you see, smell, hear, taste, and feel that may not be what they seem. It also shows how two people can experience the same sensory data, interpret it completely differently, and not be wrong.
That's why two people can witness the same car accident and tell conflicting stories in court, while both people swear they are telling the truth.
"Basically, you are priming your brain to expect acoustic patterns that match expected patterns for a particular word," Valerie Hazan, a professor of speech sciences at University College London, said according to People.
"When faced with an acoustic signal which is somewhat ambiguous because it is low-quality or noise our brain attempts a 'best fit' between what is heard and the expected word," she added.
This video first appeared in 2018 after a toy review by YouTube creator DosmRider. The toy is from the Children's TV show "Ben 10 Alien Force" that features a character called Brainstorm.
Brainstorm is the Omnitrix's DNA sample of a Cerebrocrustacean from the planet Encephalonus IV. Whatever that means.
You can hear "Brainstorm" or "Green Needle" based on whichever one you think about.

Pure black magic. We're well p… https://t.co/5WapMZhhm2

— Tomango (@Tomango)1526560975.0
The viral phenomenon is similar to the "Yanny" versus "Laurel" debate that had the whole internet talking back in 2018.
What do you hear?! Yanny or Laurel https://t.co/jvHhCbMc8I

— Cloe Feldman (@Cloe Feldman)1526351971.0
According to The New York Times, people hear Laurel or Yanny based on the "frequency range" they pay attention to. So if someone tends to hear in the higher range of things, then they're going to hear "Yanny" rather than "Laurel."
These videos are another example of how the human psyche has a real problem with ambiguity, even if that means incorrectly interpreting sensory data. "The brain is built to turn messy signals into meaning," Dr. Kevin Franck, director of audiology at Massachusetts Eye and Ear, told Time.
It "all comes down to the brain," he added. "The fact that brains go in one way and some brains go in the other means that we're all just wired a bit differently based on our experiences."
The clip also another reminder that even if someone sees things differently than we do, it's best to reserve some judgement or give them the benefit of the doubt. As research shows, two people can look at the same thing and get a totally different meaning.