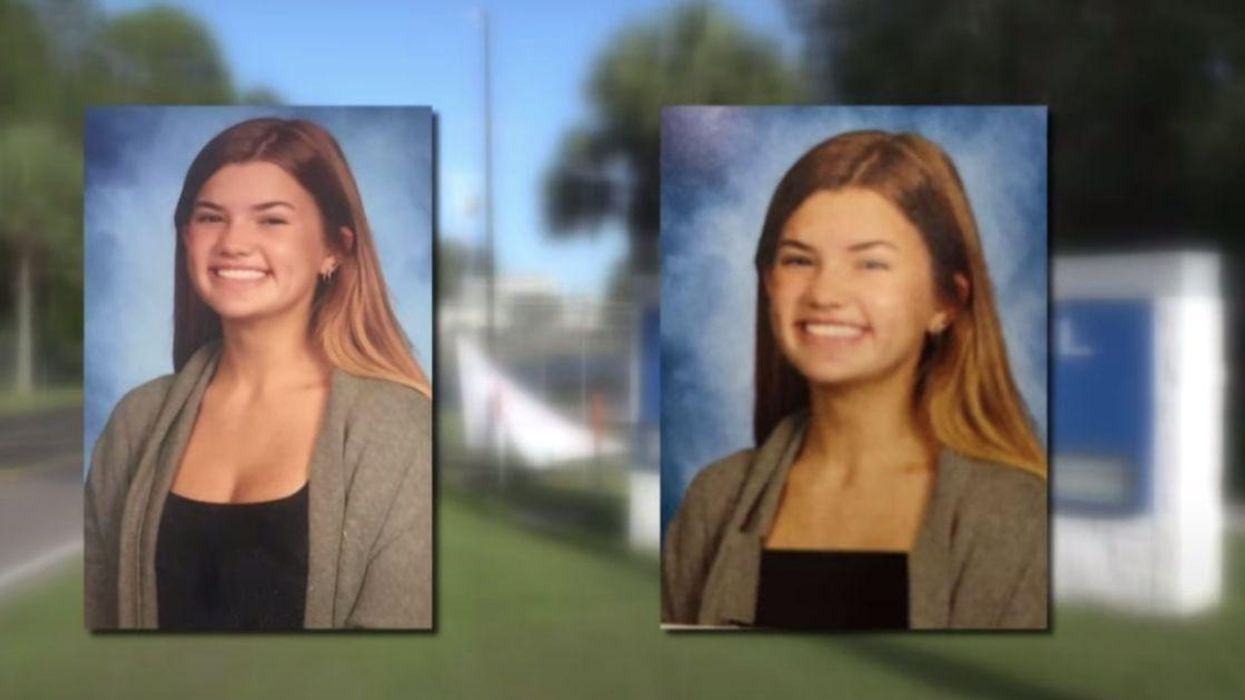 In today's "What century is this again?" news, a high school in St. Johns County, Florida is under the spotlight for its bizarro Photoshop attempt to eliminate all evidence of girls' breast tissue in its yearbook photos.
Dozens of female students at Bartram Trail High School have had their yearbook photos edited to have their cleavage removed, causing an outcry from students and parents. Reporter Ben Ryan of Action News Jax out of Jacksonville investigated the story and shared examples of some before and after photos on Twitter, explaining that the before photos were deemed "inappropriate" by the school.
This is a before and after yearbook photo taken of Bartram Trail 9th grade high school student, Riley O'Keefe.

Sh… https://t.co/IR2aoqqR7b

— Ben Ryan (@BenRyanANJax)
1621547060.0
Students and parents said that at least 60 photos were edited like this—some of them badly—to erase all traces of cleavage from girls' chests. The school confirmed that the number was actually 80, all of them girls. (This is not the first time something like this has happened. A Utah school came under fire for the same thing a few years back.)
We're not talking deep, plunging necklines here. The photos Ryan shared on Twitter show scoop neck shirts and v-neck sweaters that just happen to show a crease where breasts come together at the top as breasts tend to do.
---
One student, 9th grader Zoe Iannone told Action News Jax that she felt confident that she had looked good and was within the school's dress code when she went to school that day, but that changed when she saw her edited photo. "When I sent it to my mom and all of us saw it, I felt very sexualized, like that was what they were worrying about," she said.
Ninth grader Riley O'Keefe, featured in the above photos, told Action News she had worn the same outfit to school and had been told it was fine. Seeing the edited photo in the yearbook made her feel uncomfortable, and she decided to speak up about it for girls who might not feel comfortable saying something.
"You're not only affecting their photo, it's not just for protecting them, you're making them uncomfortable and feel like their bodies aren't acceptable in a yearbook," she said.
"You're not only affecting their photo, it's not just for protecting them, you're making them uncomfortable and fee… https://t.co/IbgaC40KcT

— Ben Ryan (@BenRyanANJax)
1621549735.0
The school sent Ryan this statement:
"Bartram Trail High School's previous procedure was to not include student pictures in the yearbook that they deemed in violation of the student code of conduct, so the digital alterations were a solution to make sure all students were included in the yearbook. At this point the school is offering refunds to any parents calling about this issue. The school is receiving feedback from parents/guardians/students on making this process better for next year."
The school said it offered to refund parents' yearbook money, but the damage was already done. Students and parents told Ryan they understood what the school was trying to do, but that they went too far.
"Our daughters of Bartram deserve an apology," one anonymous mother said. "They are making them feel embarrassed about who they are."
Another mother told First Coast News that her daughter was being bullied after the photo edits made her a target.

Digitally altered yearbook photos angering parents in St. Johns County

youtu.be

As of this afternoon, Ryan was unable to get any interviews with or additional responses from the school.
School dress codes have been under fire for some time now, as stories of girls being sent home for wearing outfits most people would not consider immodest have repeatedly gone viral. But these girls were not in violation of the school's dress codes, and photoshopping cleavage out of photos is just strange. Someone is looking for a problem where one doesn't exist, and placing the blame for the fictional problem on the wrong parties.
If someone sees a fold of skin at the top of a shirt in a high school yearbook and starts thinking dirty thoughts, that's on the viewer, 100 percent. There may be some people who think zero cleavage should ever be seen anywhere, but that's neither realistic or reasonabled. Unless you're wearing a turtleneck, cleavage happens with most fashionable clothing. And it happens more for some girls than others. Cleavage is literally just skin and tissue being pressed together—no one is showing actual cuppage or nipples or anything of the sort in these photos.
All this kind of policing does is make girls feel weird about their bodies and ashamed of the way their breasts come together at the top. It's unnecessary, controlling nonsense and it needs to stop. People can rightfully debate where a line should be drawn when it comes to appropriate yearbook photo attire, but a little bit of cleavage definitely should not be that line.