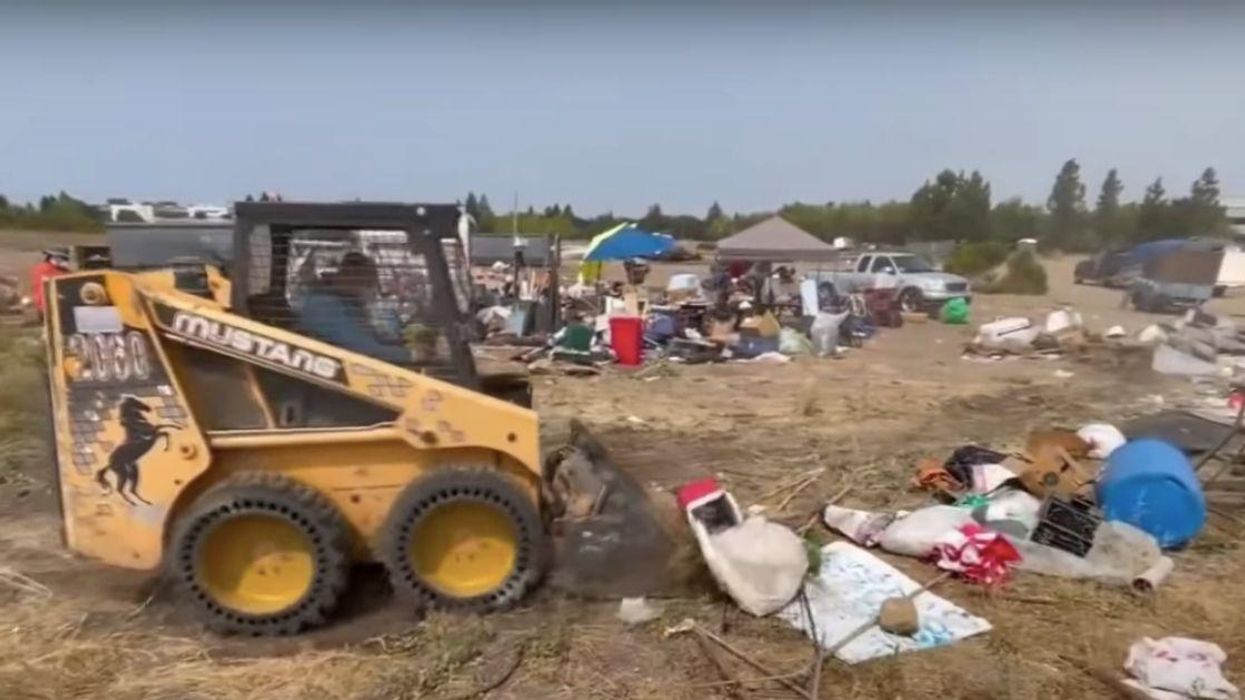 For years, a homeless encampment has been growing on Apple property in San Jose, California, and the company is taking some unusual steps to remove it.
According to The Mercury News, dozens of people experiencing homelessness have set up shelter in broken down vehicles, RVs, and makeshift wooden structures on a vacant lot where Apple's North San Jose campus will be built. Apple has been working with local government and non-profit organizations to figure out what to do about the camp.
The company has taken a hands-on approach by making each resident of the encampment an offer on the company's dime: Nine months in a motel room plus 12 months of services to manage addiction, mental health, and long-term housing plans. The move is costing Apple millions of dollars, according to Andrea Urton, CEO of the non-profit HomeFirst, which has been working with Apple to help relocate the residents.
"I think the level of Apple's involvement is amazing, to be quite frank," Urton told The Mercury News. "They could just kick these people off, throw away their belongings and displace them. That's not what they chose to do."
---
For people who don't want to leave their RVs or other vehicles, an emergency safe-parking site will be provided by the city. Residents were also offered space at Boccardo Regional Reception Center, Santa Clara County's largest homeless shelter.
A few residents have refused all of the offers, but 53-year-old Frank Pacheco told The Mercury News that his new motel room provided by Apple is "the best thing I could ever have."
Pacheco has lived in an RV at the encampment for two years, after a work-related head injury impacted his job as a mechanic.
"It's a wonderful thing that Apple's doing for us," he said. "They don't have to do anything for us. They could just kick us off the property. They could just feed us to the wolves."
Urton said that Apple's funding also will provide residents with clothes, food, dental care—whatever they need—in the hopes that after nine months of housing and services some of them will be ready for employment. However, the cost of living in the area is one of the highest in the nation. While Apple contributing some of its substantial resources to directly address its local homelessness issue is admirable, it's just one piece of a large, complex puzzle that's going to require more long-term, sustainable solutions.
Long-term solutions to the homelessness crisis in the Bay Area and around the nation are not simple, however. Even the temporary solutions offered by Apple are not without controversy. According to the San Jose Spotlight, there have been an assortment of complaints regarding treatment of the homeless population during the clearing of the site, protests from local residents about individuals from the Apple site moving into their neighborhoods. Additionally, some activists are critical about Apple's timeline for clearing the camp before the city had provided the safe parking area for those with vehicles to move to.
In 2019, Apple made a $2.5 billion pledge to address the housing and homelessness crises in the Bay Area, and had promised to make some of the land for its North campus available for affordable housing. However, progress has been slow on that front, which is unsurprising considering the upheaval of the COVID-19 pandemic.
The issue of homelessness is multi-layered and multi-faceted, and Urton points to Apple as a shining example of what companies can do for their part to contribute to solutions.
"If every company took responsibility for what's happening with homelessness in their neighborhood," Urton told The Mercury News, "I think we'd nail it."

Crews Clear North San Jose Homeless Encampment on Apple Property

www.youtube.com