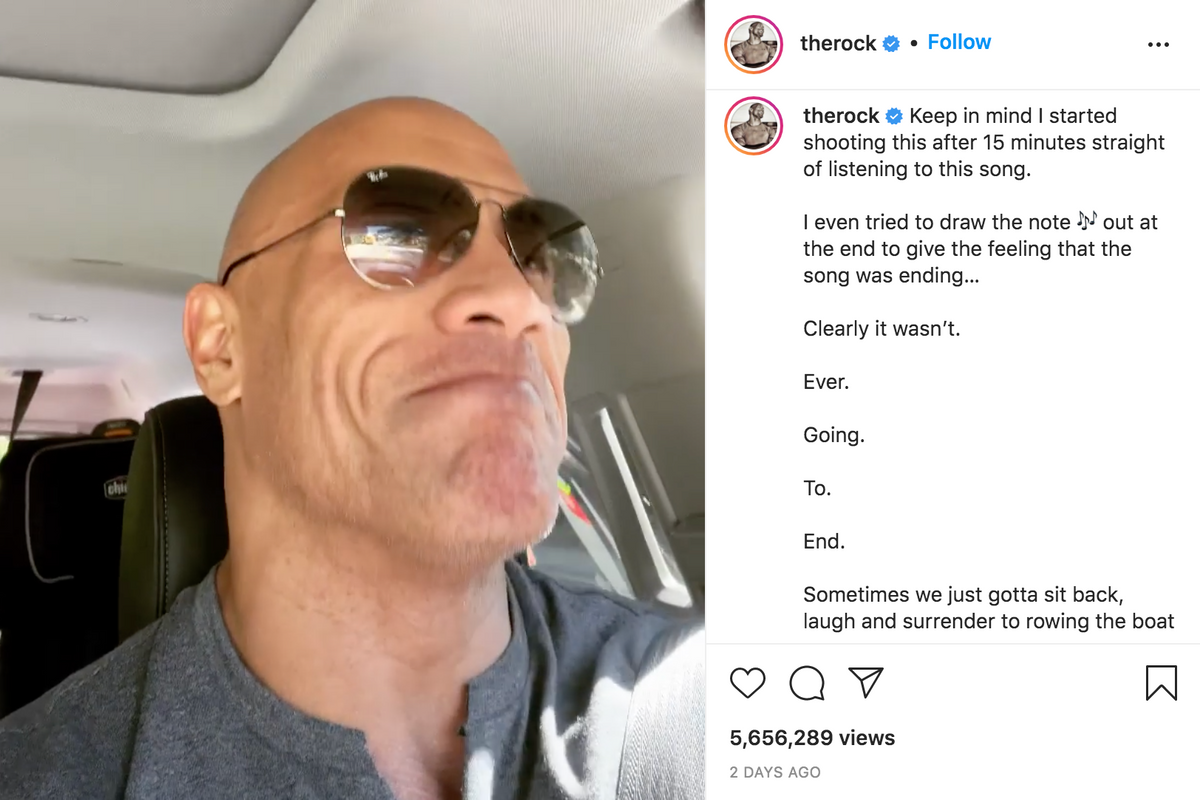 It's one of those well-known facts of life: Parenting means having to endure the pain of endless kid song sing-alongs on loops.
Wrestling icon, action star, Disney demigod and tequila aficionado Dwayne Johnson is no exception. The Rock recently shared with fans on Instagram his own version of parental hell, to the tune of "Row, Row, Row Your Boat."
---
Johnson's young daughter Tiana had been giving an in-car concert for so long, he decided to record the torture on his phone.
Detailing his predicament, he wrote in the caption, "Keep in mind I started shooting this after 15 minutes straight of listening to this song. I even tried to draw the note out at the end to give the feeling that the song was ending … Clearly it wasn't. Ever. Going. To End."
Then there's the moment every parent has to face: the false stop. As little Tia seems (key word there) to be coming to an end, Daddy Dwayne's eyes widen in hope. He tries to really drive it home by elongating the the end note of "dreeeeeeaam" to signify a big finish.
Spoiler alert: It doesn't finish. It keeps going merrily, merrily, merrily along. At this point, through the forced grin known to many a mom and dad, he says, "You just keep singing baby, I love it."
Though Johnson's life was less like a dream—and more like a nightmare—in that moment, he did offer a silver lining of sound life advice in the caption of his post:
"Sometimes we just gotta sit back, laugh and surrender to rowing the boat gently down the f****** stream."
By the way, it's not always musical abuse with Johnson and his daughters. There are plenty of times when he gladly participates in sing-alongs. See below:

Dwayne Johnson sings "You're Welcome" while washing hands with his daughter.

www.youtube.com