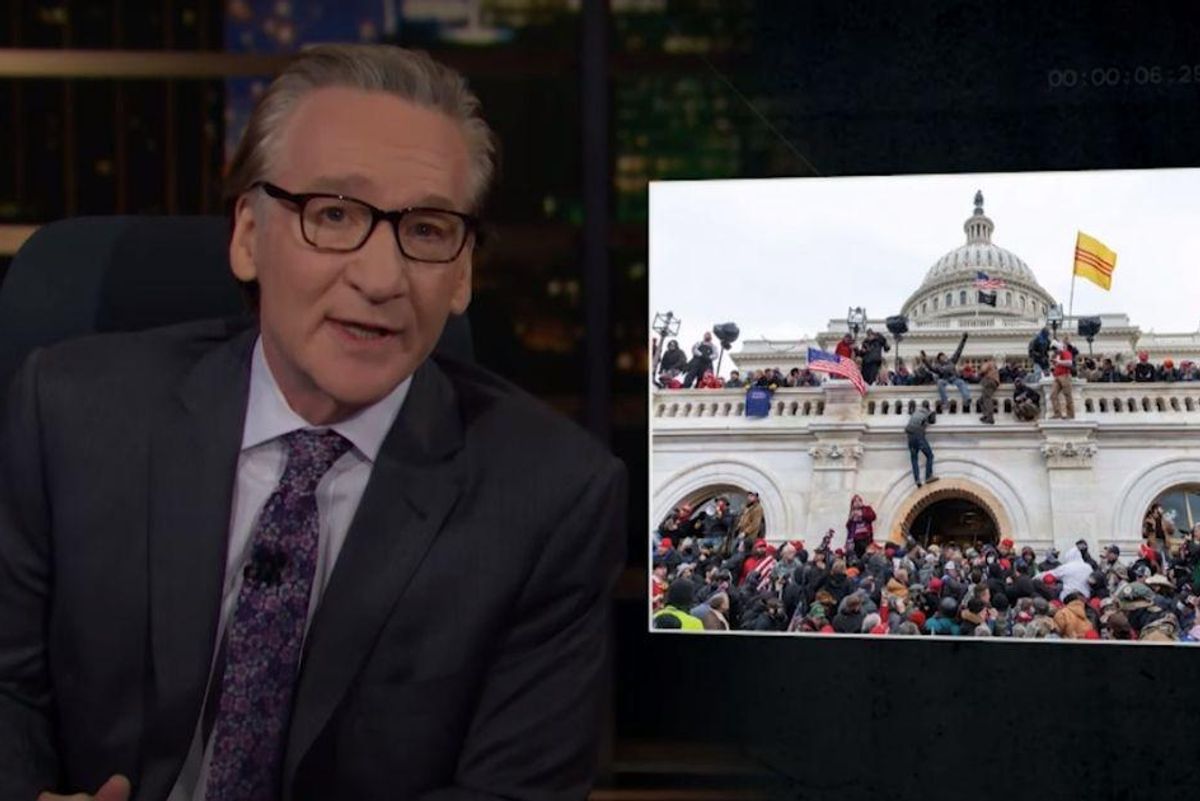 We are living in weird times in far more ways than one. Not only are we coping with a global pandemic that some people still refuse to acknowledge, but we are also dealing with an ex-president who still refuses to admit that he lost the last election, whose fan base keeps spiraling deeper and deeper into kooky conspiracy theories, and whose adopted party inexplicably failed to cut bait and run from Q-ville when it had the chance.
So now we're watching democracy flail and sputter because millions of Americans simply reject objective reality. It's genuinely, mind-bogglingly weird.
Such is the backdrop of Bill Maher's recent run-down of what he sees happening in the next election. Under normal circumstances, it would be far too early for such punditry from comedic political commentators, but the U.S. sailed right past normal years ago. So now, not even a year past the last election—and with no one even announcing an intention to run—we're already pondering what will happen in 2024. (Seriously, why does everything have to be so dumb?)
Maher laid out the plan that appears to be unfolding before our eyes in a segment titled "A slow-moving coup," starting with the Eastman memo that basically was a blueprint for Trump overturning the results of the election he lost.
---

New Rule: The Slow-Moving Coup | Real Time with Bill Maher (HBO)

www.youtube.com

"Here are the easiest three predictions in the world," said Maher. "Trump will run in 2024. He will get the Republican nomination. And whatever happens on election night, the next day he will announce that he won."
"I've been saying ever since he lost, he's like a shark that's not gone, just gone out to sea," said Maher. "But actually, he's been quietly eating people this whole time. And by eating people, I mean he's been methodically purging the Republican Party of anyone who voted for his impeachment or doesn't agree that he's the rightful leader of the Seven Kingdoms."
Maher explained how the small number of Republicans who outwardly opposed Trump's attempt to overturn the 2020 election will be gone by 2024, and how state legislatures and election officials are being replaced with loyalists who will hand him the presidency whether he actually wins it or not. He predicted that Republicans would win the House in 2022.
"And yet, 2024 comes and Democrats treat it as a normal election year," he said. "They are living in a dream world where their choice of candidate matters, their policies matter, the number of votes they get matters, none of it does. I won't even predict who the Democratic nominee will be, because it doesn't matter."
Maher explained that even if the Democratic nominee wins the election, "Trump won't accept it." But this time, his conspiracy theories about election fraud "will be fully embraced by stooges he is installing right now."
The only thing that kept the U.S. from a full-blown constitutional crisis was that some Republican elected officials and put their foot down and insisted on reality. What happens without people who are willing to go against pressure from their party and do the right thing?
"The ding dongs who sacked the Capitol last year? That was like when Al Qaeda tried to take down the World Trade Center the first time with a van. It was a joke. But the next time they came back with planes," Maher said.
"I hope I scared the shit out of you!" Maher said, in conclusion.
Yeah. A majority of Americans are already there, Bill.