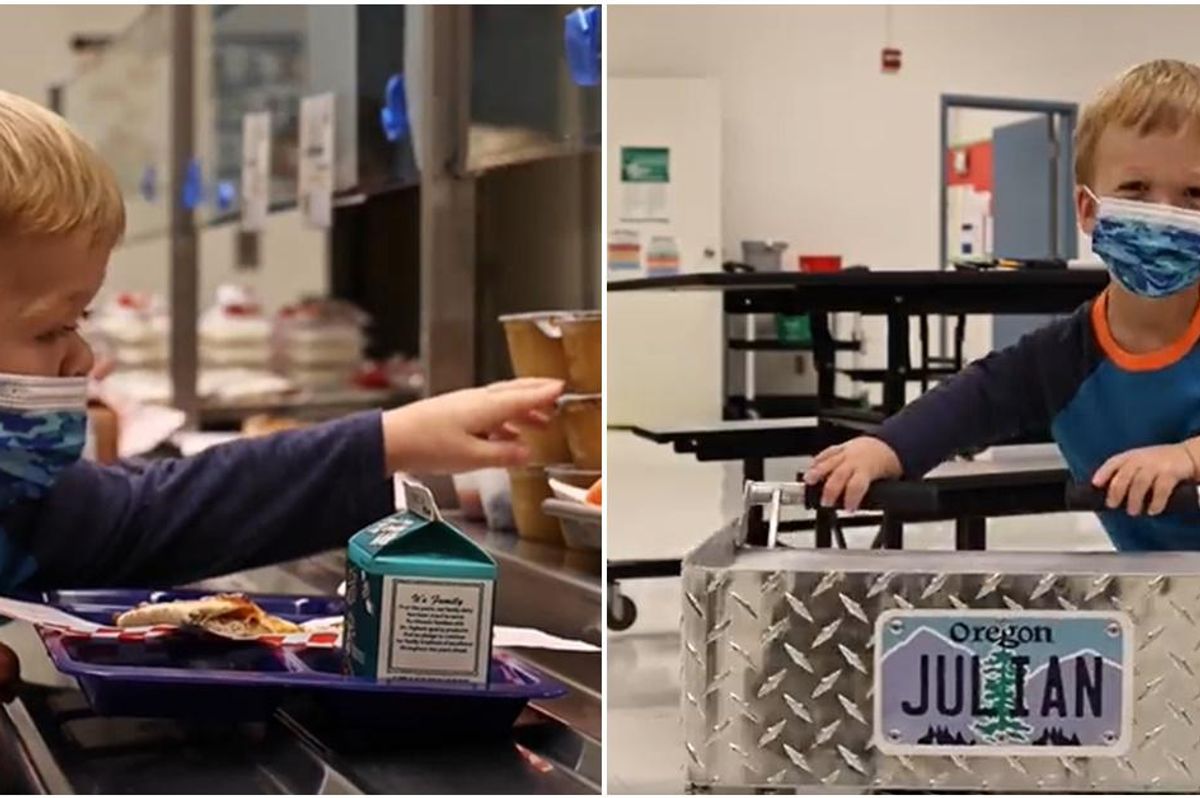 Six-year-old Julian Worsham of Beaverton, Oregon is like a lot of other first-graders: he loves Super Mario and Taekwondo. But he has achondroplasia, the most common form of dwarfism, and goes to a school that wasn't built for kids his height.
"He's born into a world that just, in some ways, is not built for him," Julian's father, Brett, told WHAS11.
His mother did a walk-through before his first day at school to make sure he wouldn't run into any problems because of his height but forgot to check the cafeteria. [We] "noticed that where the food was, was right at his head," Heather told the Beaverton School District. Then, to make things more of a struggle, he had to carry his tray outside to the lunch benches.
The school made him a makeshift cart out of an upside-down milk crate on wheels to help him transport his lunch from the cafeteria to the benches.
"When I saw it I thought, 'Wow,'" said Enedelia Mottram, who's served lunch for the school district for 18 years. "I just wanted to help Julian, because I mean his head barely reaches the lunch line. He can't see anything."
---
That night, she talked to her husband, James, a metalworker, to see if he could come up with something better. He got his team together at Wright Manufacturing in Portland to create a new cart that allowed Julian to transport his lunch tray and see over the counter.
James told the Beaverton School District that he wanted to make something that Julian would be "proud to push around."
James and his team put together a badass cart with adjustable, handlebar grips just like a motorcycle that has a stool inside so he can reach the countertop. It is adorned with flames and a personalized license plate that says, "JULIAN."
Julian's parents were blown away by the care and creativity that was put into creating his cart.
Log In or Sign Up to View
"They took the time to get those license plates with his name, which is just like, they just really put a lot of heart into it. So when I saw it, the first thing I saw was actually a picture of James and his team who made the cart and I cried. It's just such a sweet thing," Heather said.
Julian loves the license plate and the flames and is now able to grab his lunch and get out to the benches in style.
"He's independent now," said Mottram. "Before, a staff member [would] have to be there to help him," she said.
Heather hopes that the story will inspire others to reach out and help other people in need.
"There's just wonderful people in this world that, you know, they have their eyes open. They're seeing needs that need to be met and they're meeting them. So I hope that other kids can get their needs met through this," she said.