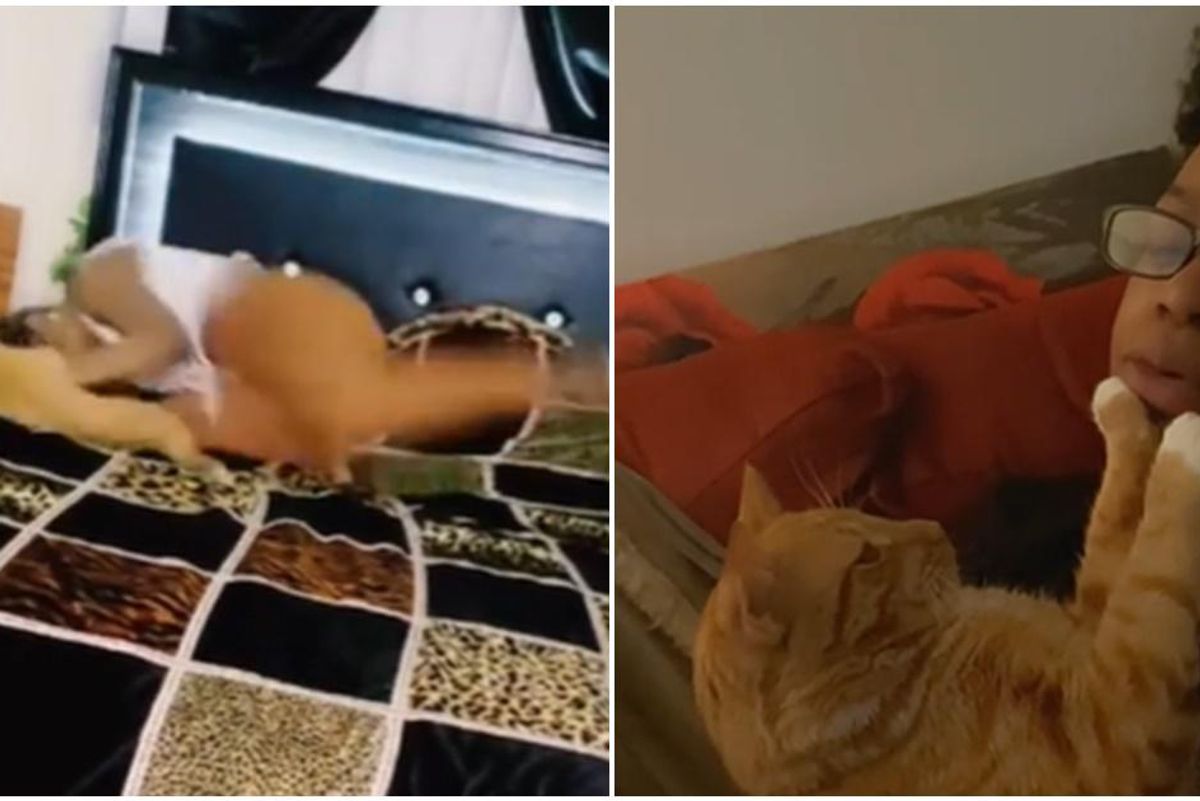 Licia and her cat Mega have a relationship that looks more like a "Tom and Jerry" cartoon than the average one you'd find between a human and feline. In a series of videos she's posted to Instagram, Licia documents the knock-down, drag-out fights she has with her cat, who always seems to win.
Licia refers to herself in her bio as the "girl who got beat up by a cat." She calls herself and Mega the "Toxic Duo" because they can never see eye-to-eye on anything and she is in constant terror in her own home.
Here, Mega grabs Licia and won't let go. This cat's prey instinct is off the charts.
---
Their bed has become like a WWE arena. One woman and one cat enter, one cat leaves.
Licia should know better than to approach Mega when he has the high ground.
The cat felt her face before going in for the slap. C'mon Licia, you saw it coming a mile away.
She's running for her life in her own home.
Never, ever trust Mega.
All she was trying to do is have an adult conversation, but this beast doesn't understand reason.
​Of course, Licia and Mega's relationship isn't always toxic. There are plenty of moments where the two show each other true love and affection.
We know that Licia and Mega are just playing it up for the cameras and that people should never fight with their pets. But it's incredibly important for people to play with their cats every day.
Animal Planet's Jackson Galaxy has some great tips for playing with your cat in the video below.
Just like every dog owner has a leash and a collar to take their dog for a walk, Galaxy says it's essential for cat owners to have interactive toys for daily playtime if they want peace in their homes. He says the primordial cat instincts we'd find in a lion or a leopard still exist in house cats so it's important that they are able to express them in a healthy way.
"Your cat wakes up in the morning [with] 'hunt, catch, kill eat' bubbling up in their system and there's no out," Galaxy says in the video above. That's why your cat is ready to "blow up at the seams" when you try to relax at night.
His solution is to have an interactive toy that you control on one end, such as a wand with a feather, that helps your cat express its instincts to kill. "All cats will play because all cats will prey," he says. But your job is to behave like your cat's natural enemy to stimulate their natural instincts.
Galaxy says the most important thing is to follow the three Rs, "routine, ritual, and rhythm" and you will drastically improve your relationship with your cat.
If not, you may end up like Licia.