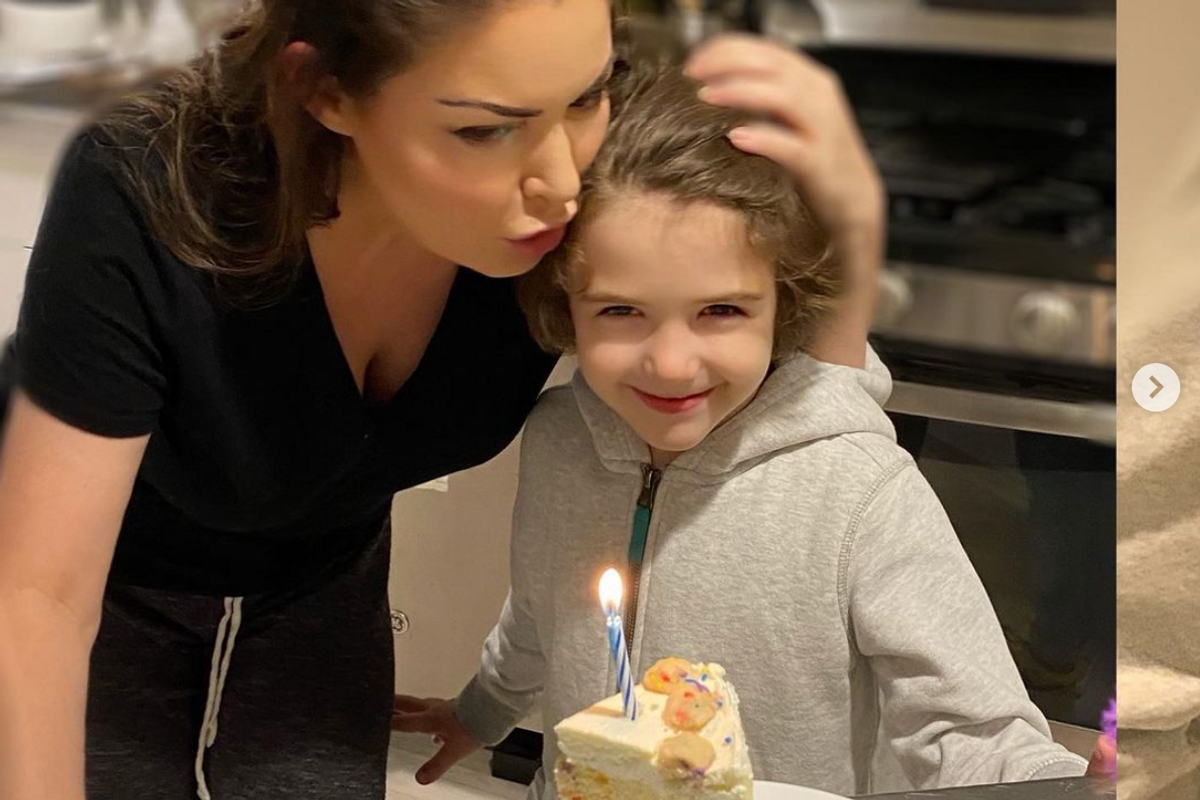 It's an old truth that bears repeating: those close to us are never truly gone. They live on through our memories, our traditions and, most importantly, our love.
Just under a year ago, in December of 2020, style editor for the TODAY show Bobbie Thomas suffered the tragic loss of her husband Michael Marion. In the blink of an eye, she became a single parent to their 6-year-old son Miles.
---
Showing undeniable emotional resilience, Thomas recently posted a quick recap of her October, sharing that it "was a month filled with celebrations (& sweets)." She then added: "up first was Michael's birthday…"
The post included two side-by-side photos. One showing Michael's birthday a year prior, with the whole family gathered around the cake for that last, final time. And the other showing little Miles on the beach with donuts, "remembering daddy." Bobbie shared that donuts on the beach was a "favorite pastime" for father and son.
Bobbie previously told TODAY that keeping Michael's memory alive for Miles was an utmost priority, saying that it not only helps heal and navigate through the uncharted waters of grief, it also helps alleviate the knowledge that she can't always protect him from pain.
The post continued "A few weeks later, I turned 47… not being able to share that day with Michael made his loss a hyper reality…"
October is usually a time to kick off more family bonding, to don silly costumes and begin celebrating the simple joys of life. But for those like Bobbie, holidays can often serve as a devastating reminder for what is now gone. Luckily, she had her son Miles, who stepped in to help Mommy deal with grief. Apparently it was a piece of cake.
"Miles was a rockstar and asked our neighbor to help him get a piece of birthday cake (all his idea she said)," Bobbie captioned. The photo depicts Miles sporting the proudest grin, clearly knowing he did a good job, and a fantastically decadent cake slice. A rockstar indeed.
And just like that, poof, a moment that was at first sad and lonely transformed into a beautiful memory to cherish. Say what you will about sugar, desserts have a magical way of making certain moments that much sweeter (though kids seem to never forget it).
When Bobbie lost Michael in 2020, she shared an Instagram post with the message: "Hold onto what you do have right now instead of focusing on what you don't. One thing we all have is kindness. Absorb it, extend it, exhaust it. Because in the end the ONLY thing that matters is love."
Bobbie and Miles are living out that statement with every beach donut, birthday cake and moment of remembrance. Does it take away the pain? No. But it does remind us that love is stronger and eternal. If there's someone near and dear to your heart who has passed, it's never too late to feel gratitude for the impact they had on your life. Like a delicious piece of cake, savor the sweetness of their spirit and they won't ever be fully gone.