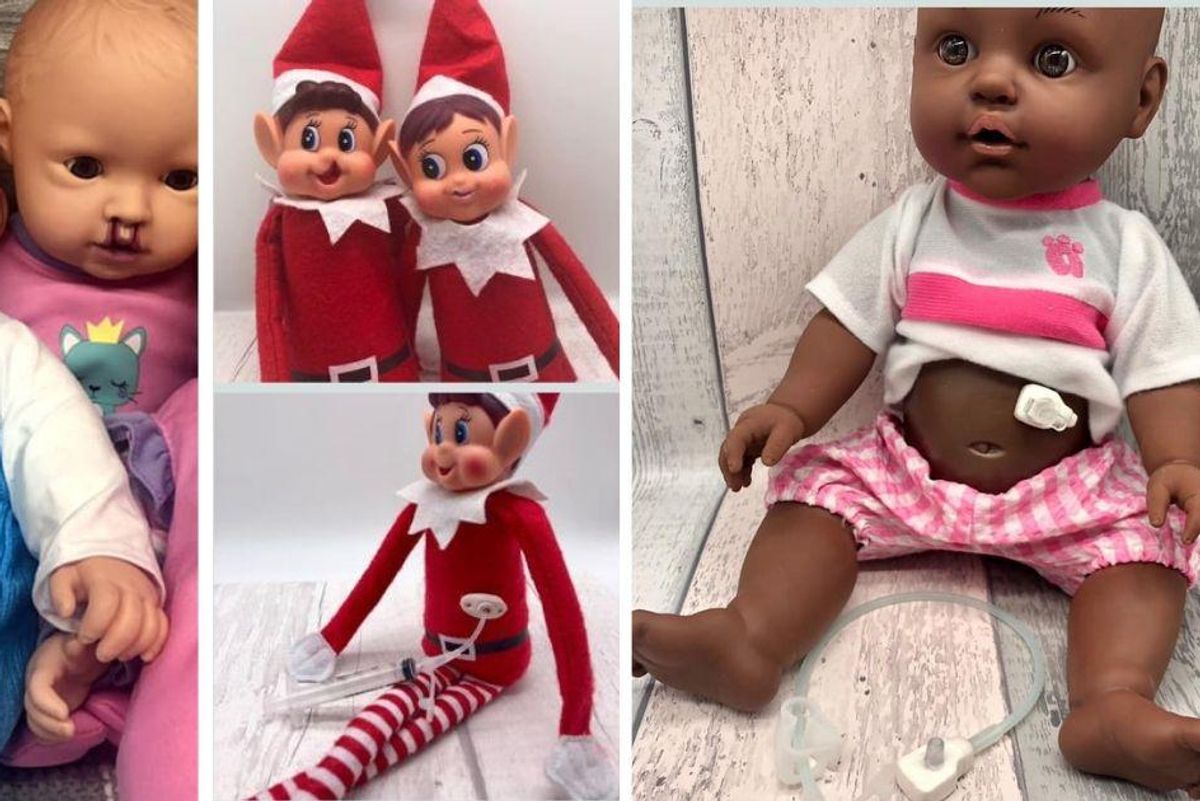 Dolls are one of the most common toys kids play with around the world, but there are some kids who have never seen a doll that looks like them. Kids who have physical disabilities, birth defects or other unique features can't go to the store and see what makes them special in a doll on the shelf.
Thanks to a mom in the United Kingdom, they can now have one made, though.
Clare Tawell first made a doll for her youngest daughter Matilda (Tilly) in 2017. Tilly was born deaf and has been wearing hearing aids since she was 6 weeks old. Tawell wanted to find her a doll that had hearing aids like her, but had no luck.
"There was nothing out there that represented my little girl," Tawell writes on her website. "It was like she didn't matter, she didn't conform to what society considers 'normal' so why bother acknowledging her."
She channeled her frustration into creativity and made a doll with hearing aids that looked just like Tilly's. She was thrilled. Soon other families wanted similar dolls, and BrightEars was born.
---
"Over time parents of children with other medical devices/conditions contacted me and asked if I could make a doll that represented their child," Tawell writes. "Yet again the Mama Bear in me was awoken with rage that there were not any dolls for these children and so I created them with the same amount of love, care and attention that I gave to making my daughter's own one."
BrightEars dolls include cleft lips, strawberry marks, feeding tubes and ports, and more.
Imagine what it must be like for a child with a cleft lip to have a doll that looks like them.
Or for a child with a strawberry mark.
Tawell makes dolls with all kinds of medically necessary attachments, such as feeding tubes, insulin pumps, urinary catheters and more.
She makes lots of dolls with various kinds of hearing aids and cochlear implants.
And other higher tech medical devices as well.
You can see the full collection of dolls Tawell creates on the BrightEars website.
She even creates Elf on the Shelf dolls with various unique features for the holidays.
Demand has gotten so high that Tawell has had to halt orders for a while, which she shares happens sometimes when media outlets pick up her story or photos of her creations go viral on social media. She doesn't have a factory or employees—it's just her at her dining room table, so a big influx of orders can quickly become overwhelming. Tawell can take custom requests for dolls to match a child's exact birthmark, condition or device as closely as possible, with custom orders taking four to five weeks.
For a child who already experiences feeling different everywhere they go, having a doll that they can see themselves in is a lovely, meaningful gift.
Love to see people's thoughtful, creative, life-changing projects doing what they were designed to do.