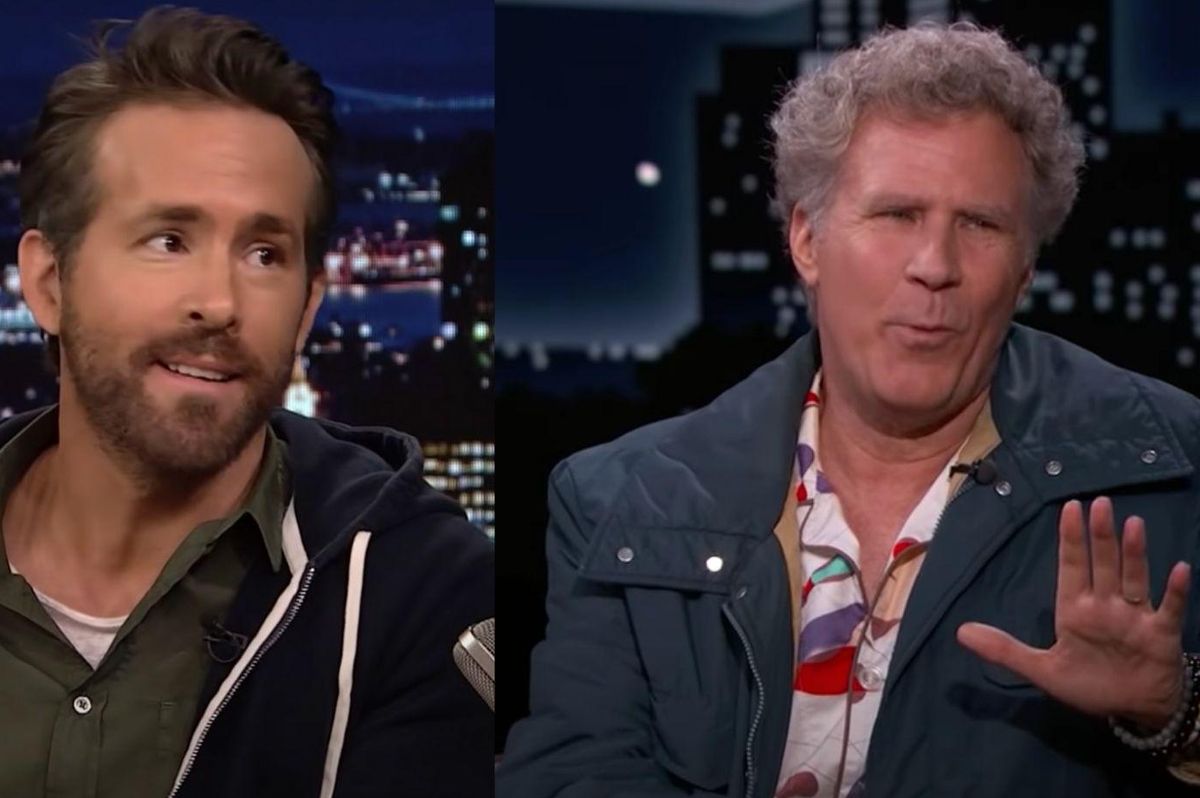 Who wore it better, Ryan Reynolds as Will Ferrell, or Will Ferrell as Ryan Reynolds? The Hollywood friend duo pulled a fun switcheroo on their late night guest spots, reminding us once again that they are national treasures.
The plan was: Reynolds would appear on "Jimmy Kimmel Live!" to promote his new Netflix movie "Red Notice." Ferrell would be plugging his new Apple TV+ series "The Shrink Next Door" on "The Tonight Show" with Jimmy Fallon. You know, standard protocol.
Reynolds and Ferrell had something different in mind. They each told their respective hosts that, unfortunately, Ryan-slash-Will couldn't make it, but that they would each "fill in" for each other and of course promote each other's projects.
---
As Jimmy Fallon introduced Will Ferrell, Reynolds waltzed out as "Don't Fear the Reaper" played (cause, you know, more cowbell). He "just happened" to be walking his dog near the studio.
After calling Ferrell a "late night talk show slut" and assuring us all that his sex life with Blake Lively is "totally normal," Reynolds adamantly warned Fallon that he would not be talking about "Red Notice." He even threatened Fallon with a backhand if the title were mentioned.
He instead pushed to play a clip from "The Shrink Next Door." After calling it "something like an Ant Man sequel … it's Ant Man adjacent." I mean, the series does star Paul Rudd as well. So maybe Reynolds is spot on.
Meanwhile, Ferrell strolled up to Jimmy Kimmel sporting Star Wars pajama bottoms, mentioning that he too lives close to the studio. Inside Hollywood's Magic Castle, in fact. And then he proceeded to fail hilariously at a magic trick.
Ferrell chatted with Jimmy Kimmel about everything from Halloween costumes for his (Reynolds') three daughters to Canadian politics. Oh and let's not forget about the lovely bit where Kimmel showed a picture of Reynolds' ripped physique, and Ferrell lifted his own shirt to compare.
Audiences also got to find out that Blake Lively is a "great cook," capable of making oatmeal and "killer nachos."
While talking about "Red Notice," Ferrell noted that everyone was wearing suits, so you at least knew the movie was going to be "classy." Though Ferrell said he hadn't yet seen the movie, he still gave it a plug joking that "I think it's gonna be good. I mean, we hope, right?"
Ferrell went on to say, "God, I could eat that Ryan Reynolds up with a spoon." Find yourself a friend who has that kind of passion for you.
Because Reynolds is a master at authentic and savvy marketing, I'm guessing that this idea was at least partially his. His genius has been behind other clever marketing moves for "Deadpool," Mint Mobile and Match.com.
And it's not like this is the first time a Ferrell-Reynolds comedy combo struck viral gold. Remember earlier this year when they had their own rendition of Grace Kelly on TikTok? If you somehow missed out on this delight, watch below.
Though (sadly) there is no future project slated that has both Reynolds and Ferrell starring, you can watch their Christmas movie musical "Spirited," which they made over the summer. Yes, you read that right. Ryan Reynolds. Will Ferrell. Singing. Together. The world is once again a beautiful place.