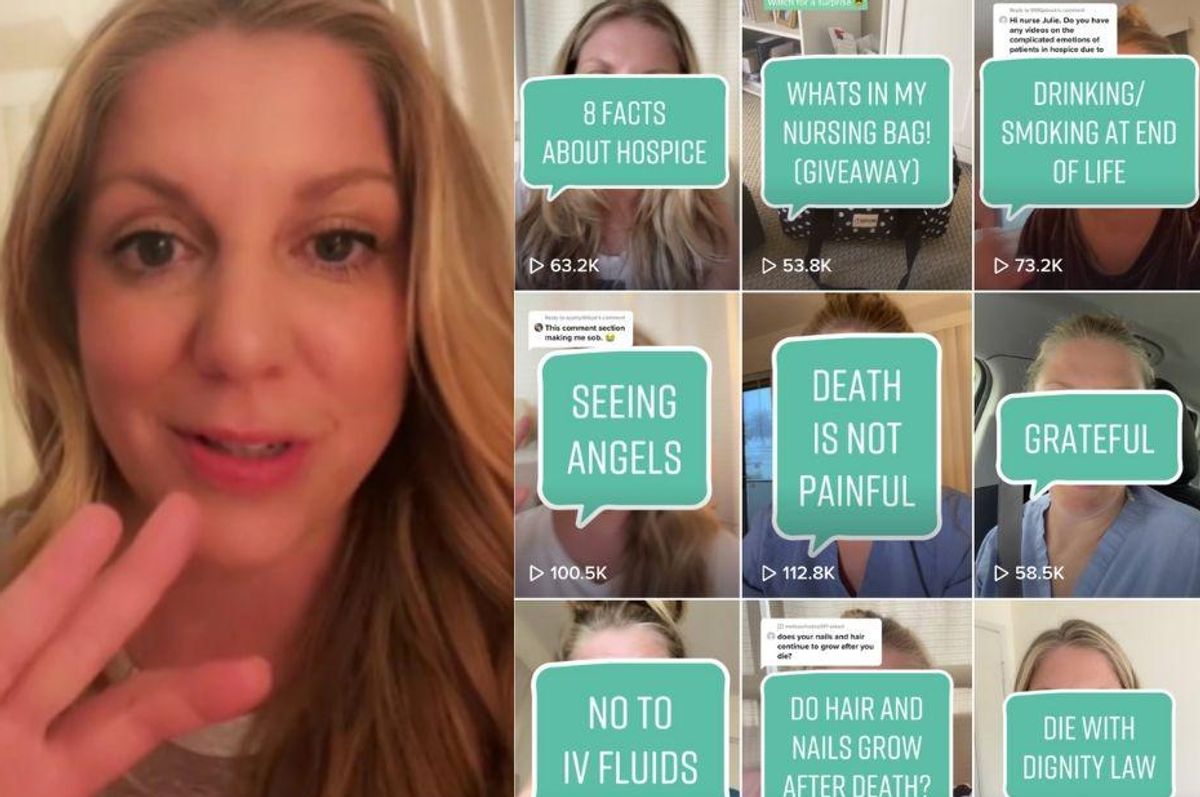 Watching a loved one die is difficult, confusing, terrifying and heartbreaking. They transform before our eyes, unrecognizably. In turn, our faces are no longer familiar to them. The entire experience can leave us feeling powerless to help.
Hospice workers provide an incredible service to humanity by making this process less painful. And they do it with great kindness and compassion.
Julie is a hospice nurse in California. In her five years doing this, she has helped a lot of patients maintain a quality life in their final weeks and months before having a peaceful death. She's also educated a lot of families about what to expect during the transition, in an attempt to make it a little less daunting. According to Julie, that's the best part of the job.
Julie decided to share her expertise on TikTok, where her insights could reach a wider audience.
---
"I knew I had a lot of interesting information about death and dying that most people don't know about. I want to normalize death by educating people about it. I went home to visit my family, and my tween nieces were on TikTok making dance videos. I later went on TikTok to see their dances. This gave me the idea of starting my own TikTok about death and dying," she told The Sun.
The idea caught on quickly. Julie soon racked up more than 400,000 followers, with millions of views for multiple videos. Clearly she had some valuable knowledge.
In one of her videos, she explains how many of the death processes we find morbid, are actually quite normal. Changes in breathing, skin color, fevers … all normal. Messy, but normal. Even the "death rattle," despite its scary name, is very natural, as the brain is no longer able to tell the throat to swallow saliva. "Terminal secretions," she calls it.
Julie also discusses the "rallying" phenomenon, where a terminal person seems to make a swift recovery—even regaining an appetite and bouncing back to a personality—before ultimately passing within a few days, or sooner. She explains that, where no one knows exactly why this happens, she always informs her patients and families so they're not caught off guard. I cannot imagine the anguish people go through who do not know this.
One person asked, "Does knowing all of this in depth make death less scary for you?" To which Julie simply replied "Yes–I'm not scared at all."
Natural death, Julie says, is not uncomfortable. Because many people die from accidents or diseases, we tend to equate death with suffering, but that does not have to be the case. In fact, Julie shares about people seeing angels, even loved ones who have passed. Often they manage to say "I love you" right before death.
Hospice care is undervalued, at best. And at worst, it can be demonized, as many buy into the myth that hospice companies make money off of killing patients (another notion Julie politely debunks). This is what makes her channel truly special. Julie makes death—the ultimate unknown—a little less frightening with the power of education and empathy. It's something she does on a day-to-day basis. But now we all can benefit.
You can check out even more of Julie's videos on TikTok, under her handle @hospicenursejuile