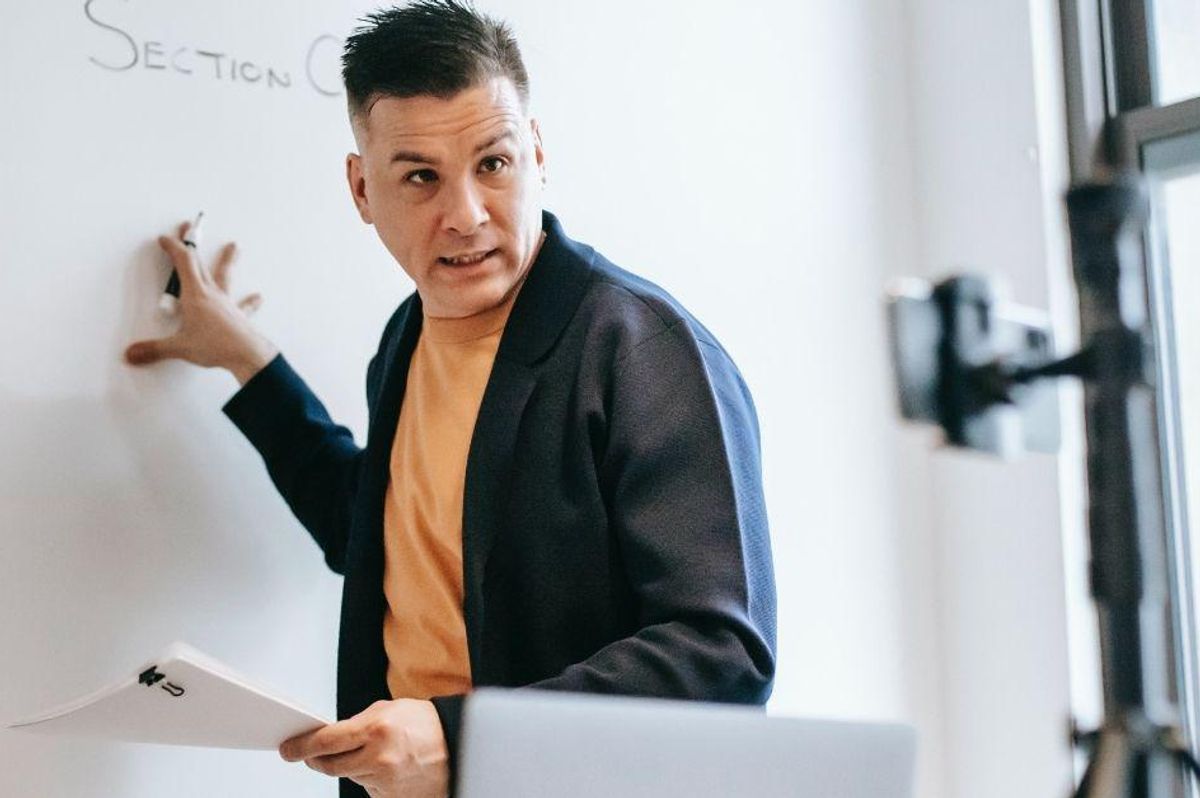 If you know any teachers, you probably know how utterly exhausted they all are, from preschools all the way up through college. Pandemic schooling has been rough, to say the least, and teachers have borne the brunt of the impact it's had on students.
Most teachers I've known have bent over backwards to help students succeed during this time, taking kids' mental and emotional health into consideration and extending the flexibility and grace we all could use. But teachers have their own mental and emotional needs, too, and at some point, something's gotta give.
A college student posted screenshots of a professor's message on Twitter with the comment "someone PLEASE check on my professor." It's simply incredible.
The message reads:
---
"There is no class tomorrow. I've got some things to take care of regarding this and my other class, and my full time job. I have received countless emails about zeroes on assignments either through errors I've made, you've made, or simply people not realizing or knowing they were supposed to turn it in and then realizing in panic they received a zero on it for (surprise), not turning it in. It seems that giving you a free assignment so long as you turn SOMETHING in created far more chaos than good will. Apologies. That's on me. And you. But also me. But also you."
Then it went on…
someone PLEASE check on my professor pic.twitter.com/xbys2Nh66q

— hailey (@hailzfitz444) November 16, 2021
The professor gave a bulleted list of instructions for what clearly sounds like a very simple, easy assignment designed to give students an opportunity to boost their grades.
"- Submit it. I've extended the deadline until tomorrow before Midnight.
– If you do NOT turn it in before then. I'm sorry. It's a zero. No excuses at this point and frankly, I regret ever trying to make this assignment easier because it's created more problems at this point.
– I will look at these, do not do something stupid like type 'b' or 'i did it'. I will become enraged and bitch about you for exactly 15 seconds to anyone within my proximity who will listen. I will not hold back.
– After I receive these, I will give you full credit (pending the above prerequisites). I will then promptly print 100 copies of the assignment out, put them in a pile, light that pile on fire, and dance around the rubble as it burns. I will then put my hand on the smoldering embers so that I may feel again. Feel what, you might ask? Anything. Literally anything.
– I will then sleep like a baby, having put this nightmare behind me."
Absolutely classic.
The professor saw the tweet his students shared after it went viral and chimed in with a response.
In case it's not clear I am said professor and that was my email.

In case you are wondering. I am doing very well and good.

— scobeard (@scobeard) November 17, 2021
And he added an update on how things were going on the assignment front.
— scobeard (@scobeard) November 18, 2021
Other teachers responded to his woes, commiserating over students being handed a chance to improve their scores and simply … not doing it.
I literally gave out assignments so they could rack up easy points on their averages and people just didn't do them???

JUST TELL ME YOUR INTERESTS

— Ashley Holub, PhD (@ashtroid22) November 17, 2021
It's been a challenge during the pandemic to figure out how much to expect of any of us, hasn't it? Some leeway is definitely warranted, but are we enabling bad habits when we give too much? There are no right answers to that question. We're all winging it, trying to navigate uncharted waters and having to constantly readjust as things change.
It's exhausting. We're all exhausted. But teachers are at a level of "done" that few of us can fathom. Healthcare workers can fathom it. Anyone working with the public the past two years might get close. But until you've actually taught, you don't know. Teaching is hard under normal circumstances. Pandemic teaching is a whole other ballgame.
We feel you, teachers. Hang in there, and enjoy this bit that will undoubtedly feel familiar: