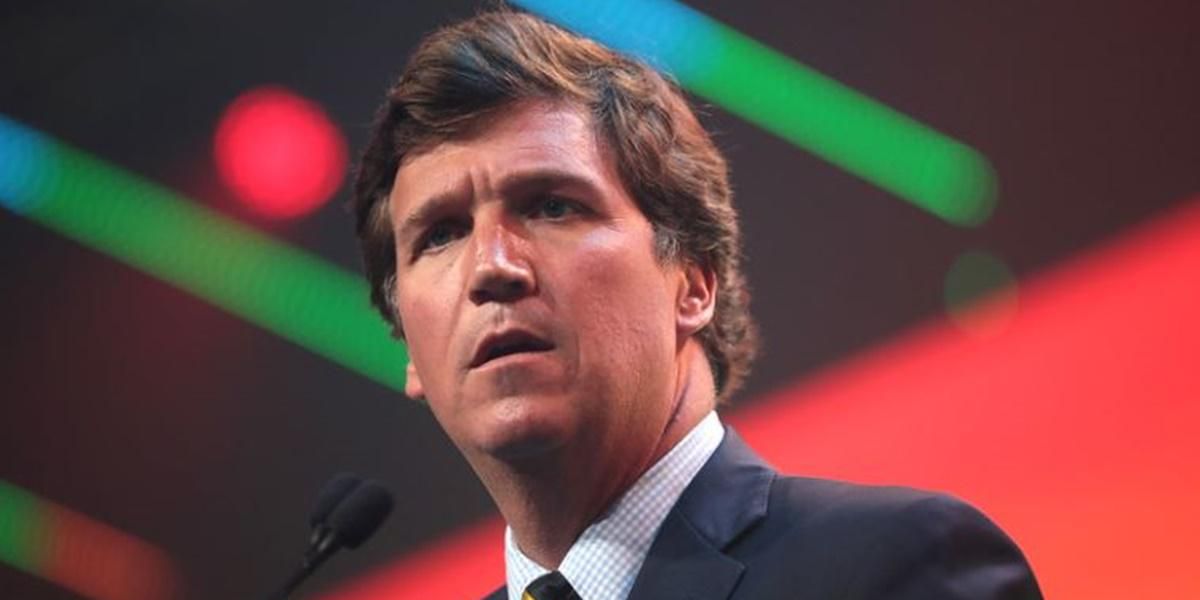 Fox News recently debuted a three-part series on the capitol insurrection hosted by Tucker Carlson that pledged to tell the "true story behind" the January 6 attack. "Patriot Purge," which aired on Fox Nation, Fox News' subscription streaming service, claims the attack was a "false flag" operation instigated by left-wing activists and the government is using it to strip Trump supporters of their rights.
The special has been condemned for advancing conspiracy theories and many of its claims have been roundly debunked including an in-depth fact check by PolitiFact.
Carlson claims that the series is "rock-solid factually."
In the series, Carlson makes the ridiculous and dangerous claim that Trump supporters are the government's newest enemy.
"They've begun to fight a new enemy in a new war on terror," Carlson says over footage of terrorism and torture from the post-9/11 era. "Not, you should understand, a metaphorical war, but an actual war. Soldiers and paramilitary law enforcement, guided by the world's most powerful intelligence agencies, hunting down American citizens, purging them from society, and throwing some of them into solitary confinement."
---
From u2066@stephenfhayesu2069 & u2066@JonahDispatch:u2069 Why We Are Leaving Fox Newshttps://thedispatch.com/p/why-we-are-leaving-fox-newsu00a0u2026

— The Dispatch (@The Dispatch)
1637585623
All of this was a step too far for Fox contributors Stephen Hayes and Jonah Goldberg, who announced that they've quit the news channel for good after the special's release. The two announced their departure in an open letter published in "The Dispatch" entitled, "Why we are leaving Fox News."
Hayes and Goldberg started "The Dispatch" two years ago to "do right as we see it, by providing engaged citizens fact-based reporting and commentary on politics, policy and culture—informed by conservative principles."
The two made note that their problem was with Fox's opinion show hosts, not the actual reporting done by its news team.
"Fox News still does real reporting, and there are still responsible conservatives providing valuable opinion and analysis. But the voices of the responses are being drowned out by the irresponsible," Hayes and Goldberg wrote.
The pair called the "Patriot Purge" series "a collection of incoherent conspiracy-mongering, riddled with factual inaccuracies, half-truths, deceptive imagery, and damning omissions." They claim that this type of misinformation is the exact reason why the January 6 attack happened in the first place.
. @JonahDispatch in the @latimes on leaving Fox Newshttps://www.latimes.com/opinion/story/2021-11-22/jonah-goldberg-leaving-fox-news-tucker-carlsonu00a0u2026

— Ryan Faughnder (@Ryan Faughnder)
1637635883
"Over the past five years, some of Fox's top opinion hosts amplified the false claims and bizarre narratives of Donald Trump or offered up their own in his service," Hayes and Goldberg wrote. "In this sense, the release of Patriot Purge wasn't an isolated incident, it was merely the most egregious example of a longstanding trend."
Eventually, the two could no longer contribute to Fox News because it stood in stark contrast to their goals at "The Dispatch."
"The tension between doing that work well and remaining loyal to Fox has tested us many times over the past few years," they wrote. "But with the release of Patriot Purge, we felt we could no longer 'do right as we see it' and remain at Fox News. So we resigned."
The decision by Hayes and Goldberg to distance themselves from the alternative world of conspiracies slowly enveloping mainstream conservatism is bold because it comes with real risk. Dozens of prominent conservatives have stood up against Trumpism over the past six years and for many, it's led to them being thrown to the sidelines of conservative media.
Carlson, who once called Trump the "most repulsive person on the planet" decided to take the other road and his opportunism comes at the expense of his own country.