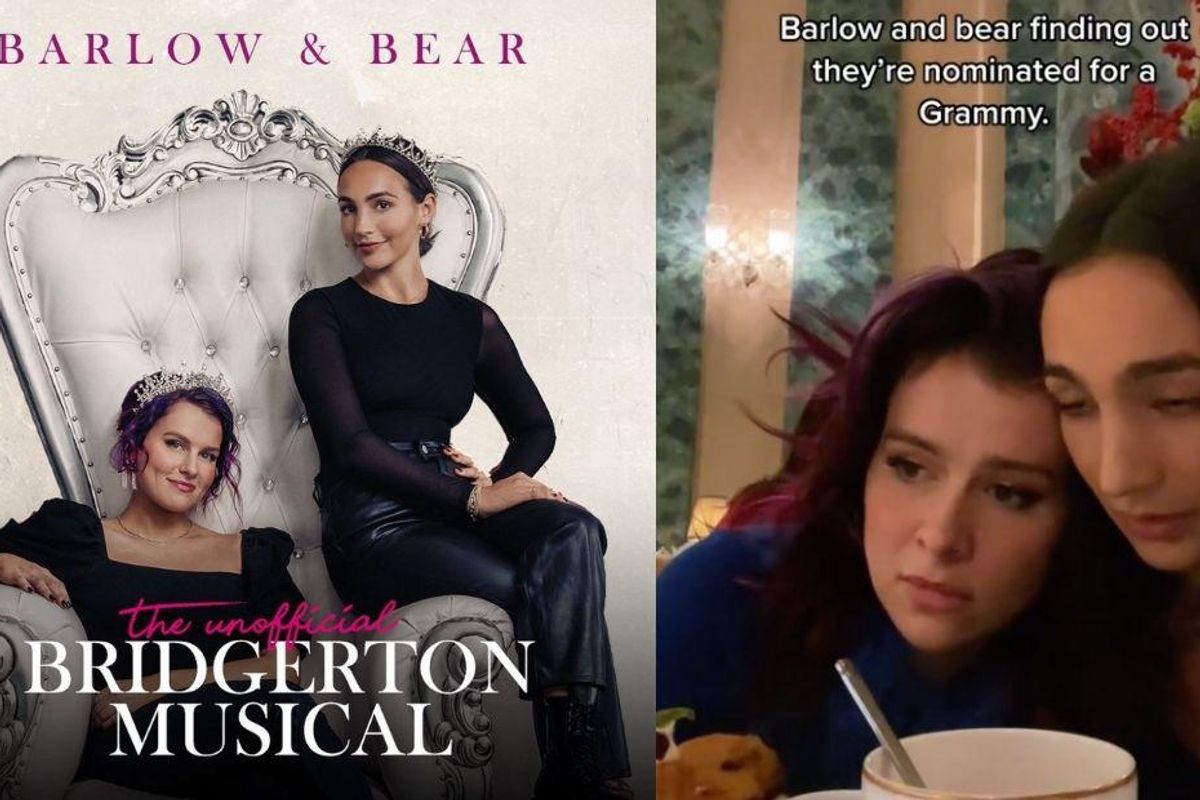 It all started with a simple question: What if "Bridgerton" was a musical?
For musicians—and now, bonafide TikTok stars—Abigail Barlow and Emily Bear, it would mean not only creating the world's first-ever fully conceptualized TikTok musical, but also a Grammy nomination in the process. Take a listen to just one of their epic tunes and you'll see why.
ICYMI, "Bridgerton" took Netflix by storm when it debuted last year. Shonda Rhimes' period romance full of dramatic family dynamics quickly became the platform's most watched show in history.
Barlow and Bear—as they're known professionally—in turn took TikTok by storm as well. Their first ballad, "Ocean's Away," featuring Emily playing piano and Abigail on vocals, racked up 880 million views, catapulting the concept. Now "The Unofficial Bridgerton Musical" can be played on iTunes, Spotify and YouTube, among many other channels.
---
The album has a classic-with-a-pop-twist sound that many modern Broadway shows try to achieve, and fail (so sayeth the recovering musical theatre major, no offense "Dear Evan Hanson"), and it arguably gives the entire "Bridgerton" story a bit more depth than its Netflix predecessor.
Tracks include "Burn For You," a duet between Daphne Bridgerton and Simon Basset, the show's ingenue and leading man, respectively. The tune is aptly titled for its steaminess, and is a perfect embodiment of the couple's hot-and-cold romance.
There's also fan favorite "If I Were a Man," meant for headstrong and progressive Eloise Bridgerton, which has more than 10 million views. With those soaring belts and clever, whimsical lyrics, it's no surprise.
Fast-forward to November 25, when Bear and Barlow learn that their online passion project received a Grammy award nomination for Best Musical Theatre Album. Their teary, awestruck reaction is just as heartwarming and entertaining as the songs that scored them the nod.
TikTok has helped us discover musicians like Lil Nas X and Loren Gray, but this is the world's very first album that was conceptualized, created and performed entirely on TikTok. The creative process between musician and consumer was interactive start-to-finish, which helped the duo cultivate a loyal and excited following of more than 200 million viewers.
Artists in the music field are constantly trying to close the gap between their work and their audience (Amanda Palmer ditching her label and starting her own Patreon page, for example). I wouldn't be surprised if this inspires a new wave of albums being something of a collaboration between creators and fans.
TikTok Bridgerton Musical Compilation
This is really a case for following your creative bliss. Barlow told The Independent, "We didn't do it to make money, we didn't do it to get famous. We just did it because we love to write and we love Bridgerton." You just never know what magic will happen when you act on your inspiration.
Barlow and Bear have posed the question "Which musical should we do next?" So it might be just a matter of time before we have another TikTok masterpiece. Personally, my fingers are crossed for a rock opera version of HBO's "Succession."