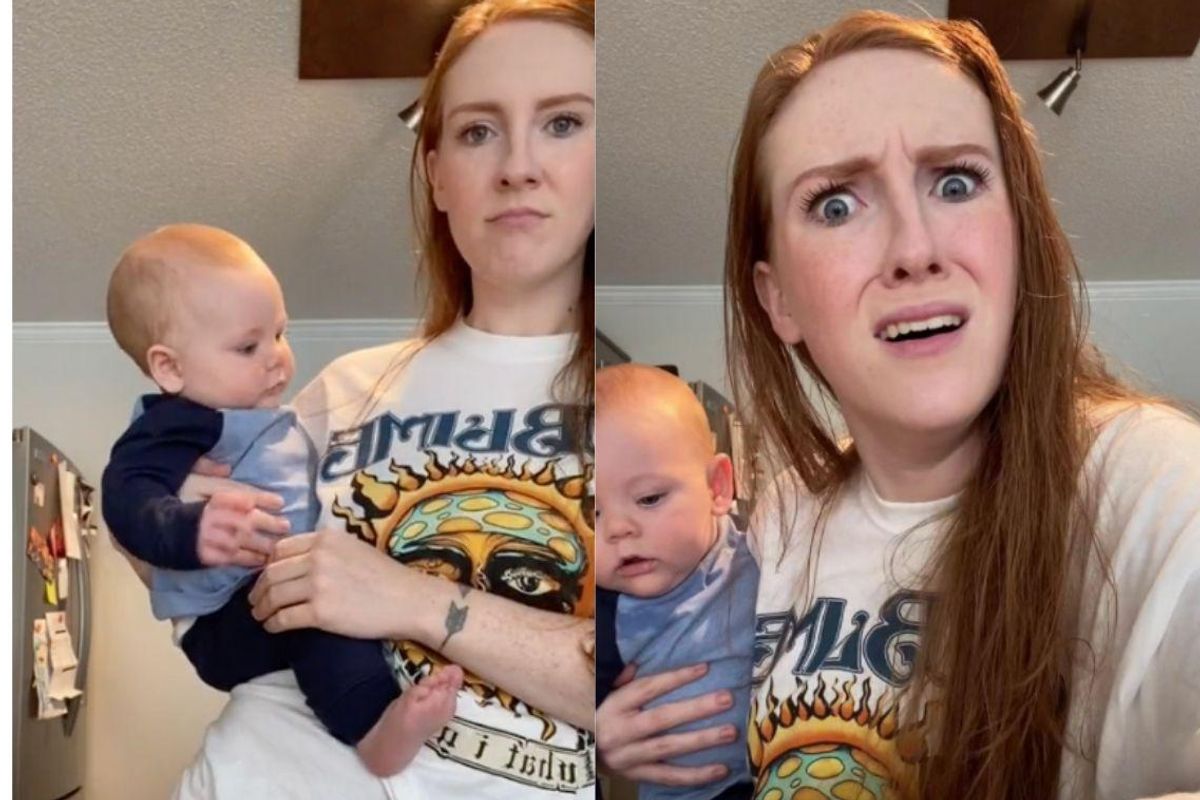 Chloe Sexton—baker, business owner, mother—knows all too well about "daddy privilege," that is, when men receive exorbitant amounts of praise for doing normal parental duties. You know, the ones that moms do without so much as a thank you.
In a lighthearted (while nonetheless biting) TikTok video, Chloe shares a "fun little story about 'daddy privilege'" that has now gone viral—no doubt due in part because working moms can relate to this on a deep, personal and infuriating level.
Chloe's TED Talks-worthy rant begins with:
"My husband has a job. I have a business, my husband has a job. Could not make that any clearer, right? Well, my bakery requires that we buy certain wholesale ingredients at this place called Restaurant Depot every week. You've seen me do videos of it before where I'm, like, wearing him or was massively pregnant buying 400 pounds of flour and 100 pounds of butter, and that's a weekly thing. The list goes on and on, like — it's a lot."
---
Getting more revved up, she continued:
"So, last week, on the day I usually do it, my husband had the day off and he decided to go do it for me, but he also had the baby that day. When I tell you, the way that this man was treated like a hero — a hero. Mind you, those same people see me there every single week.
"I'm strapped up with a baby or seven months pregnant, hauling 100-pound bags at a time of flour in the back of my Subaru. Meanwhile, I'm getting a whole lotta nothing to see here. Just a woman doing woman things, busting her ass. But my husband! My husband wears the baby and he goes to Restaurant Depot for mommy's business and it's, Oh my god, look at you! Oh my god, you work so hard!"
Chloe's husband could also see the lack of logic, reporting to Chloe that it was "a little embarrassing."
And then, the pièce de résistance, when Chloe says "He's not a hero. He's just a father, just a parent, doing the same shit I literally do every week."
In an interview with BuzzFeed, Chloe was asked to delve a little deeper into this double standard among parents.
"In my opinion, 'daddy privilege' is that subtle upper hand men side-step into as parents that allows them to gain praise for simply…being a parent," she said "You fed the baby? What a great dad! You held the baby while mommy bathed? So considerate of you! You picked up something for dinner? What would your family do without you?! It's all the little ways mothers do exactly what the world expects of them without a second thought and then watch fathers get praised for simply showing up."
Wow, she really has a knack for telling it like it is, doesn't she?
Chloe's statements, however fiery and funny, are meant to bring society out of the Stone Age with this subject and shed light on just how outdated this dynamic is. She very much feels that dads should be cheered on, but that moms deserve equal praise.
"Women carry equal and, in some cases, majority breadwinner weight these days and still are deemed less worthy of parental praise somehow. I am a feminist to my core and will always fight for what is equal and just — today that means giving EVERY parent the same amount of attention. Every parent deserves to know that they are seen and appreciated."
In addition to watching this viral, you can catch all of Chloe's amazing content—including some drool-worthy cookie pics— on TikTok and Instagram. Or you can support this working mom's business by ordering some of her baked goods here.