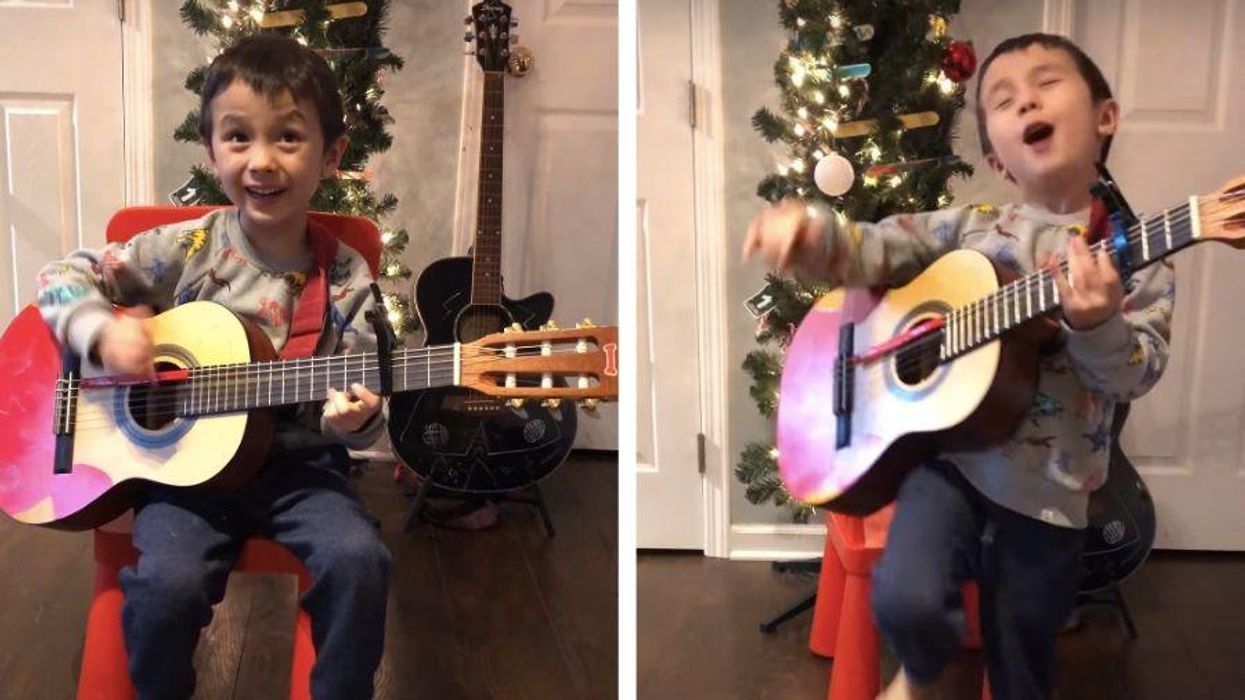 It's December, which means we hear familiar holiday songs everywhere we go, from the mall to the grocery store to restaurants. Soon we might see and hear carolers singing out the sounds of the season with Christmas classics such as "Winter Wonderland," "Silent Night," "Carol of the Bells," and, of course, the always festive "Feliz Navidad."
It's already hard not to bop along to that bilingual favorite, but a video of a 5-year-old joyfully performing it has taken the tune to another level. Alexis Fuller shared the video of her son Milo playing "Feliz Navidad" on Facebook last Christmas season and it is pure delight.
"This little guy was too excited for this one…" Fuller wrote. "Happy holidays everyone."
How could anyone not be happy watching this little guy play his guitar and sing?
The kid's got it all, doesn't he? The sweet smile, the upbeat energy, the in-tune vocals and some impressive guitar prowess for such a young age. And the way he stood up and kicked that stool back as he broke into the chorus? Milo's got a bright future ahead of him.
The story of "Feliz Navidad" itself is a delight as well. José Feliciano wrote the song more than 50 years ago, when he was recording music in Los Angeles far from his home in Puerto Rico during the holidays. "It was expressing the joy that I felt on Christmas and the fact that I felt very lonely. I missed my family, I missed Christmas carols with them. I missed the whole Christmas scene," he told NPR.
The fact that the song has endured for so long has surprised and delighted him. He told the American Society of Composers, Authors and Publishers last year that "there is no greater reward than writing a song that has become everybody's Christmas anthem, and all the joy that it brings fills me with joy."
I hope Feliciano has seen Milo singing his song to see how much joy it really does bring.