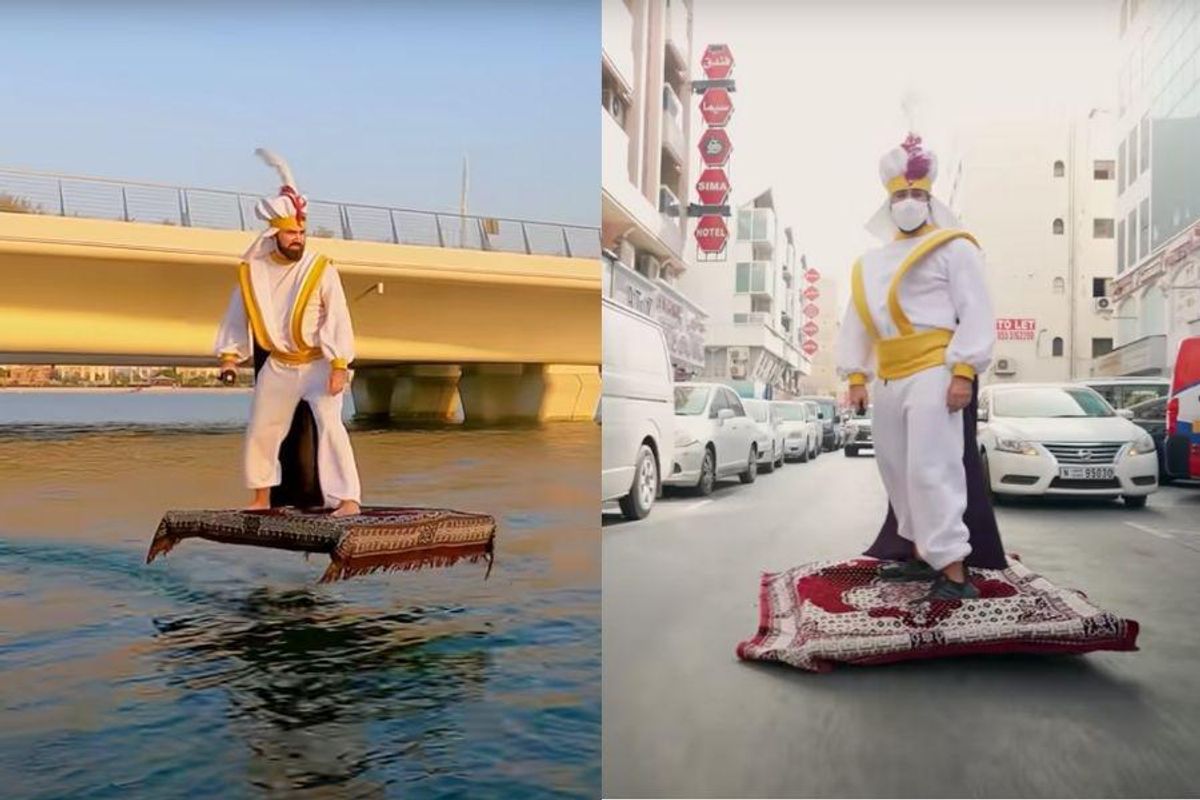 Sometimes magic happens in real life. And when it does, it has all the makings of a viral video.
People walking the streets of Dubai got to watch in delight as Aladdin effortlessly glided through the crowds on his iconic flying carpet. At one point he even sailed across the water. It's no wonder this IRL Disney scene now has more than 100,000 views on YouTube.
---
Content creator @RhyzOrDie posted on Instagram that the idea had been "brewing" in his head for eight months. And on Halloween, he had finally been able to execute it using PVC pipes, a longboard and an insanely accurate "Aladdin as Prince Ali" costume. That's right, no wishes were used in the making of this video, but rather some simple engineering skills along with a dash of movie magic.
The surfing part was the most difficult portion of the stunt. In a follow-up behind-the-scenes video, we see a not so graceful Aladdin trying—and failing—several times to stay on top of the e-foil board long enough to get the shot. "They're pretty difficult to ride, coming from somebody who has endured board sports his whole entire life," he told viewers. But success finally came and with a bit of CGI, you really get the illusion that he is floating mid air … perhaps on his way to whisk Princess Jasmine off her feet.
@RhyzorDie said that this labor of love was created in part to encourage others that if they can "envision it," they can "make it happen." Just like Aladdin (eventually) learned in the movie, maybe we can learn to rely on our own creative resources, rather than waiting for a mystic genie to make it all happen for us. Amazing things can happen when we do.