There's a reason Glenmorangie is one of the most respected distilleries in Scotland. Known for distilling using the tallest stills in the country, Glenmorangie is well-known for its iconic ten-year expression lovingly referred to as "The Original." This single malt whisky commonly makes lists ranking the best beginner single malts. The brand also makes long-aged, nuanced, exciting expressions with age statements and others like Nectar D'or, Lasanta, Quinta Ruban, and the beloved Signet to name only a few.
Recently, Glenmorangie has leaned into its experimental side by releasing Glenmorangie A Tale of Cake and X By Glenmorangie. The first was inspired by Dr. Bill Lumdsen's (Glenmorangie's director of whisky creation) love of pineapple cake — that's pretty self-explanatory. X By Glenmorangie is a single malt whisky that was crafted to be mixed with. Flavors like dried fruits, vanilla, creamy caramel, and a gentle nutty sweetness come together to help you make your favorite whisky-based cocktails.
This brings us to the brand's newest expression that dropped on November 15th just in time for the holidays. Glenmorangie A Tale of Winter was built as a whisky that leans into wintry vibes and a touch of holiday cheer. Let's dive into what's in the bottle since the holidays are pretty much upon us.
Glenmorangie A Tale of Winter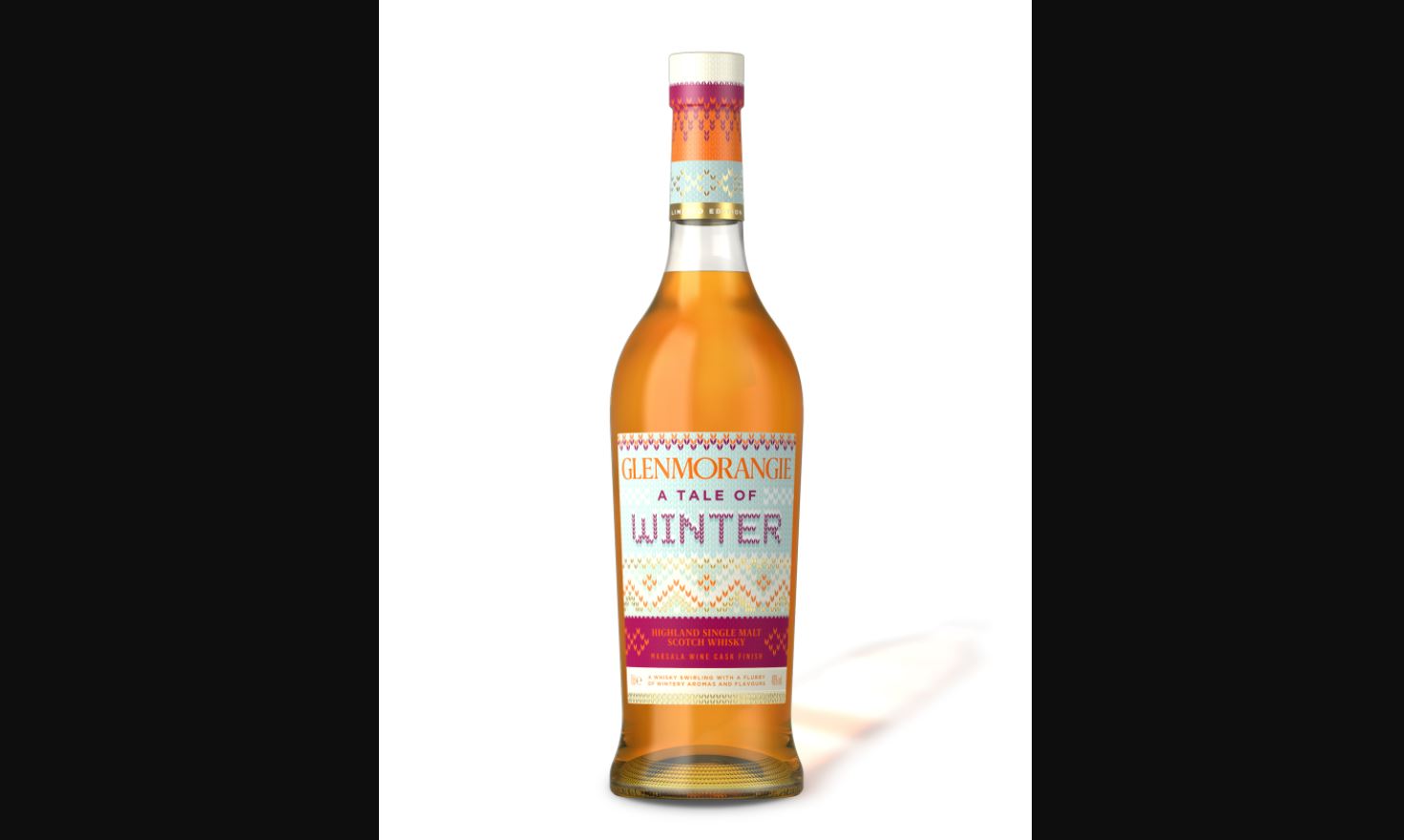 ABV: 46%
Average Price: $99 (MSRP)
The Whisky:
This limited-edition single malt whisky was aged for thirteen years in barrels that formerly held bourbon. It was finished in fruity, sweet Marsala wine barrels from Itay. The result is a complex, indulgent whisky that was created to be sipped while you're swaddled by a warm blanket in front of a roaring fire on a frigid winter day.
Tasting Notes:
This whisky begins with the aromas of ripe apricots, dried cherries, caramel apples, vanilla beans, clover honey, and gentle candied orange peel. Sipping it revealed hints of sticky toffee pudding, ripe berries, chocolate fudge, buttery caramel, and slight pepper and cinnamon. The finishing is extremely mellow, slightly warming, and ends with notes of butterscotch, fruitcake, and candied almonds.
The Bottle:
After one look at the bottle, you know completely what you're in for. Designed to look like a holiday sweater, it's adorned with the word "Winter" in a font that looks like stitching. The light blue background conjures up images of cloudless days where snow covers the landscape as far as the eye can see.
Bottom Line:
Overall, this is a very fruity, sweet whisky that definitely won't appeal to everyone and that's not such a bad thing. The Marsala wine finishing added extra sweetness and an almost fruitcake-like flavor to the whisky. Similar to A Tale of Cake, it's best enjoyed after dinner or alongside a slice of pie, cake, or another dessert.
Ranking:
85/100 – Certainly not a bad single malt by any means. It's nuanced, rich, and memorable. It's just a little sweeter and fruity for some palates.