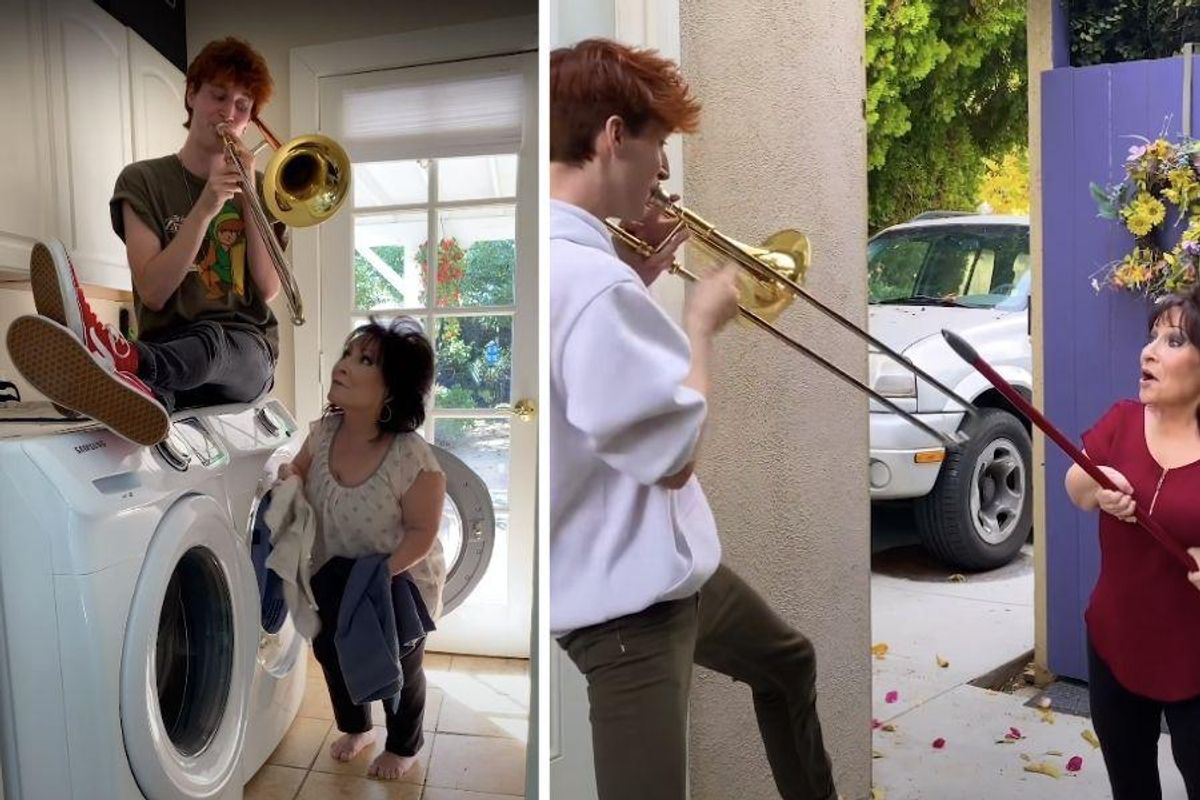 Peet Montzingo and his mom have the most delightful relationship, as evidenced by their joint videos on Montzingo's social media platforms. And one viral video sums up the sort of fun Montzingo and his unique family engage in.
The video is a compilation of clips of Montzingo following his mom around with a trombone, making silly sound effects as she goes about doing chores and normal daily life things. It's simple and silly, which is what makes it so wholesome. People can't get enough of their gentle bantering.
Watch:
---
The impromptu Star Wars duel is the best, isn't it?
Montzingo has millions of followers on YouTube and TikTok, where he regularly shares videos about life in his family. At 6 foot 1 inch tall, Montzingo stands out—literally—from his parents and siblings.
As his mini bio from IMDB reads:
"Peet is from Seattle, Washington. He is the only average height member of his family (his mom, dad, brother and sister are little people), which immediately put him in the media spotlight growing up. In February of 2019, he scored a spot as a touring/recording artist in the band 5WEST, touring South Africa, Spain, and Europe. They did their first arena tour as the supporting act for Boyzone autumn of 2019. During the pandemic in 2020, Peet cultivated a massive presence on Tiktok and continues to post his wholesome videos alongside his singing career."
Montzingo advocates for little people in a way that is humorous and light-hearted in addition to being educational. For instance, watch him and his mom illustrate how to (and how not to) talk with short people:
@peetmontzingo

i actually get this question all the time so hope this helps!!! @queenmamadrama #little
"I actually get this question all the time so hope this helps!!!" he wrote in the caption of the video demonstrating various cringey ways to talk to a little person before ultimately showing that you should just stand normally.
Montzingo addresses lots of questions people have in his videos, including whether or not he's actually adopted. This makeover video with his mom is surefire proof that he's got her genes, as the resemblance at the end is uncanny.
What makes Montzingo's videos so popular is the way he and his family use humor to destigmatize dwarfism and normalize the lives of little people. His mom's house is designed for little people living, with short counters, sinks and furniture, and Montizingo laughs at his challenges as a tall person when he visits her. It's what he grew up with, however, and he shows how much he loves his family and the physical differences between them.
Montzingo's unique role in his family means he can help bridge gaps as an advocate for little people, and it's great to see him doing so in such a wholesome and entertaining way.