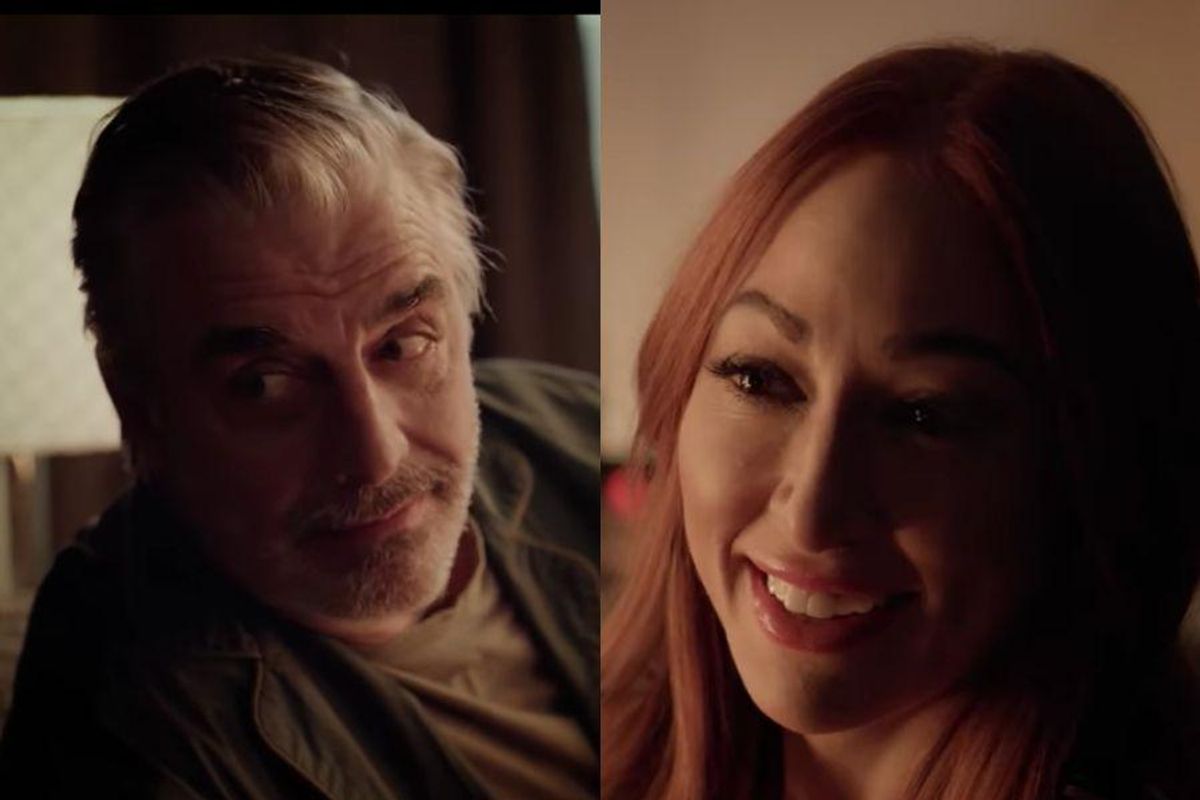 SPOILER ALERT: Though many fans theorized that Samantha would be the character to bite the dust in the highly anticipated Sex & The City reboot, it was in fact Mr. Big who met his demise. The plot twist not only had mixed reactions from viewers, it caused Peloton stock prices to plummet.
Big's death might have caused Peloton stocks to go six feet under, but their latest commercial is giving the internet life, and is the absolute epitome of "damage control."
The video starts with Big, seemingly resurrected, next to a crackling fire, drinking wine with his favorite instructor Allegra, who also appeared in the show. Have the two run away together? That seems to be the case.
As Beethoven's Moonlight Sonata plays, Big toasts "to new beginnings." Allegra tells Big how great he looks. Big asks his trainer-turned-mistress if she wants another ride, adding that "life is too short not to."
---
Cue the piece de resistance: we hear the voice of Ryan Reynolds saying:
"And just like that… the world was reminded that regular cycling stimulates and improves your heart, lungs and circulation, thus reducing your risk for cardiovascular diseases. Cycling strengthens your heart muscles, lowers your pulse and reduces blood fat levels."
And then in a clever, fast, distinctly Ryan Reynolds kind of way, he whispers, "he's alive!"
It took no time for the commercial to receive positive–and comical– reactions.
What a comeback hahahaha damn. Give the person/team who conceptualized this a RAISE

— amb (@_amb15) December 12, 2021
Including a tweet demanding a raise for whoever came up with the idea.
This is hilarious! Props for Peloton's creativity. I don't understand what all the hysteria is over a fictional character's death. The bike didn't kill him. The guy had a bad heart to begin with.
I'm guessing Chris got paid a $hitload of money to do this.

— Sam – Get boosted! #GoJoe (@Saj15Sam) December 12, 2021
As well as pointing out that perhaps no one should take a fictional character's death as true commentary on the safety of a real life product.
Carrie watching this ad pic.twitter.com/KG5C2F0ojJ

— Liam Purcy ✨🪐💫 (@liampurcy) December 12, 2021
One person considered poor Carrie after she inevitably finds out Big ran away with his favorite instructor.
Peloton was faster with a response than Carrie was with dialing 911.

— Shep (@ShepHerdsTV) December 12, 2021
Another person wrote "Peloton was faster with a response than Carrie was with dialing 911," which is, if you watch the episode, kind of true.
yeah this looks like it was definitely filmed, edited, post-produced and put out over the course of a day and wasn't a planned product placement campaign at all from the very beginning

— Jawn Didion (@sashaamato) December 13, 2021
And of course, some were less than convinced the commercial was as impromptu as advertised. Either way, it was a pretty creative move on Peloton's part.
So Ryan Reynolds did a parody/response ad to the famous "Peloton wife" ad for his own gin brand and now Peloton hires him to do a parody/response ad to someone else… clearly, the only constant in this life is Ryan Reynolds. https://t.co/A786URDBP4

— Peter Sagal (@petersagal) December 12, 2021
Somebody had to acknowledge the one thing we can all count on: Ryan Reynolds being hilarious.
Today Peloton introduced the concept of Schrödinger's Big, a character who may be considered simultaneously both alive and dead as a result of his fate being linked to opposing corporate interests

— Casey Newton (@CaseyNewton) December 13, 2021
It's not every day that quantum mechanics get involved in Twitter comments, but one person managed to compare Big's simultaneous aliveness and deadness to Schrödinger's cat.
🎶The circle of life pic.twitter.com/oMcFsF8CVz

— Ced (@cedfunches) December 12, 2021
The strategy seemed to do the trick, going by the clearly visible upswing in Peloton's stock prices.
For more context: In what now can be seen as heavy foreshadowing, And Just Like That's first episode starts with Big proudly announcing the thousandth ride of his exercise bike, and more than once mentioning about his favorite Peloton instructor, Allegra.
Cut to Carrie Bradshaw (played by Sarah Jessica Parker) coming home to find her collapsed husband (Big), suffering cardiac arrest post Peloton workout. Not the greatest look for a health product.
Peloton has received its fair share of bad press over the years, but luckily this might have been the biggest blessing in disguise. And it gives "flipping the script" an almost literal meaning.
And just like that…a PR nightmare turns into a genius marketing campaign.