When I traveled to Maine for the first time this past summer to visit Acadia National Park, I really didn't know what I was getting into. Honestly, I was kind of expecting a movie set come to life — quiet, eclectic streets with ice cream shops, bed and breakfasts, lighthouses, and a whole lot of L.L. Bean.
Well… I wasn't wrong. And I also immediately fell in love with it all. The rocky coastline, the friendly people, the charming and historic towns — it was like being in a dream.
So when I had a long weekend in late fall with no plans and a surplus of frequent flier miles — I knew just where to go. Kennebunkport Maine is a (very) small town — just 3,500 or so residents — and I really didn't know anything about it until I got there. I saw an idyllic photo while scrolling Instagram and booked the trip almost immediately after (#influenced).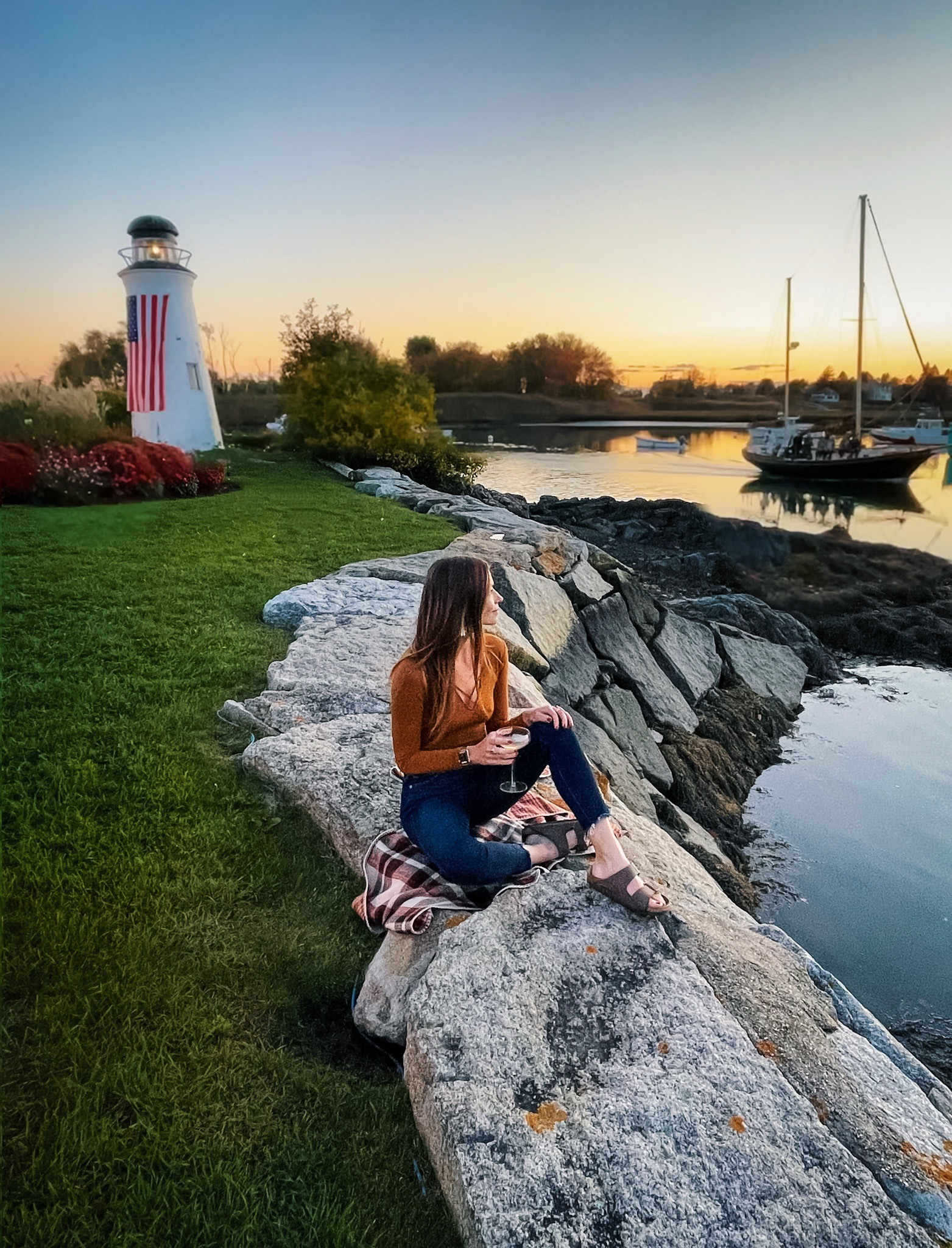 A quick wide view: Kennebunkport is part of the Southern Coast of Maine, with many small towns nearby dotting the coast. It is just over a 5-hour drive from New York City and under 2 hours from Boston, making it easily accessible to millions of people. Known primarily as the location of the Bush family summer compound, it boats a thriving art, food, and recreation scene for a town of its size. Tourism is of course higher in the warmer months, but Kennebunkport is also a gem in fall or winter off-season.
With endless holiday activities, a quieter pace, and more affordable lodging — Kennebunkport is a holiday movie come to life. If holiday movies were really stylish, that is. Here is my guide for where to stay, eat, drink, and more in this lovely little hamlet.
Where to Eat: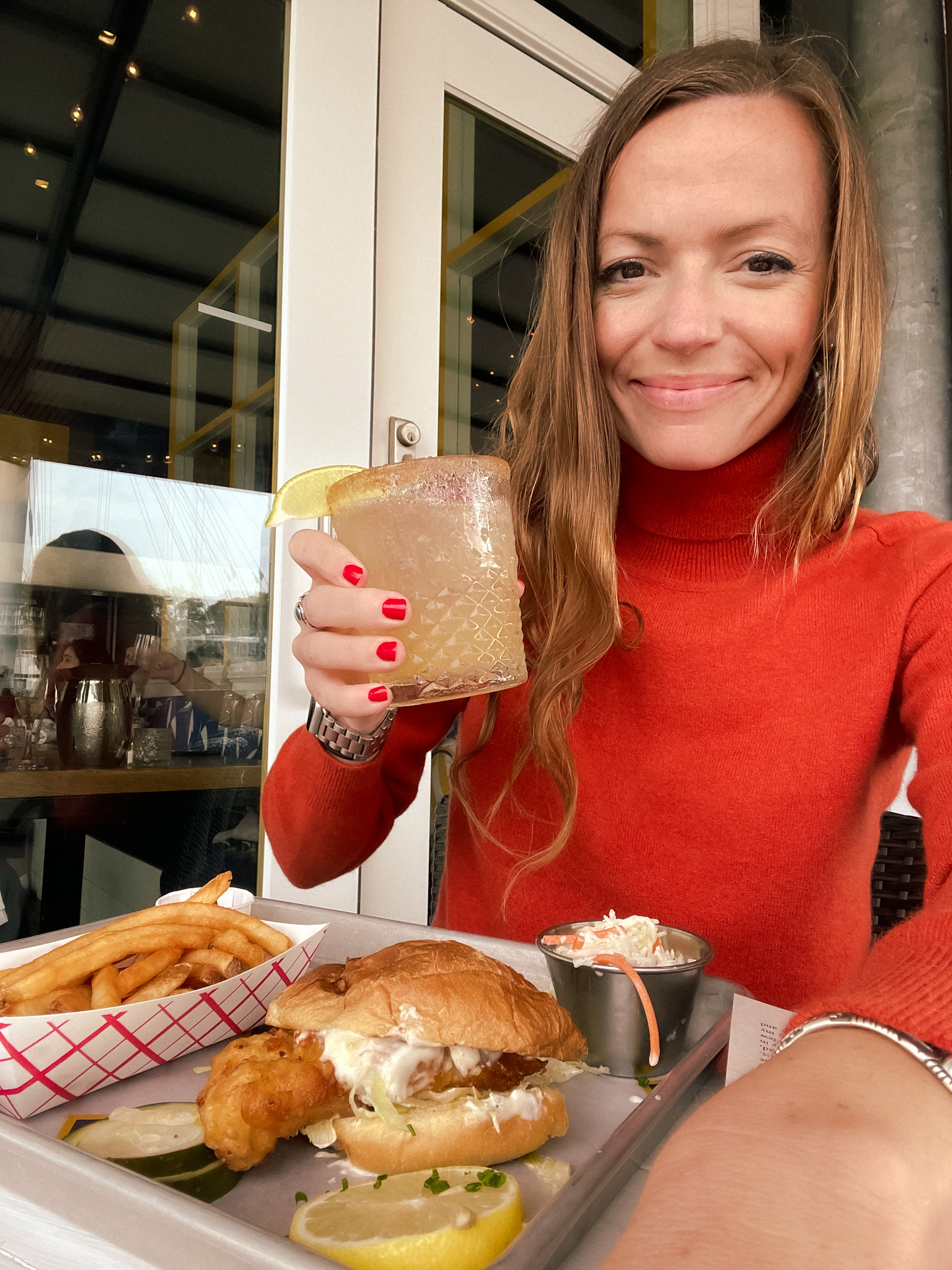 The goal I set for my time in Kennebunkport really centered around two things: lobster rolls and fish sandwiches. As you can imagine, neither option is in short supply. Even in the shoulder season, I was able to find a couple of satisfying rolls, along with lots of other great fresh seafood options.
I really liked dining at The Boathouse Waterfront Restaurant, which is, obviously, right on the waterfront. The great thing about Kennebunkport is that everything is very easy to get to and centered around the Kennebunk River. I could walk from my hotel directly to everything I wanted to do. There was a short wait for The Boathouse — it is super popular — but luckily there is a bookstore and candy shop next door. I ate the impossibly fresh and satisfying Big Fish Sandwich with a seasonal refreshing cider/margarita hybrid.
Another night I stumbled onto the patio of the Pilot House Restaurant (just on the other side of the waterfront) and sat at the bar to read with a cold lobster roll, chips, and some red wine. It was no frills but just what I envisioned as a local Maine fisherman's hangout.
Other restaurants that come highly recommended (and are on my list for next time) are Earth at Hidden Pond and Ocean at Cape Arundel.
Where to Sleep: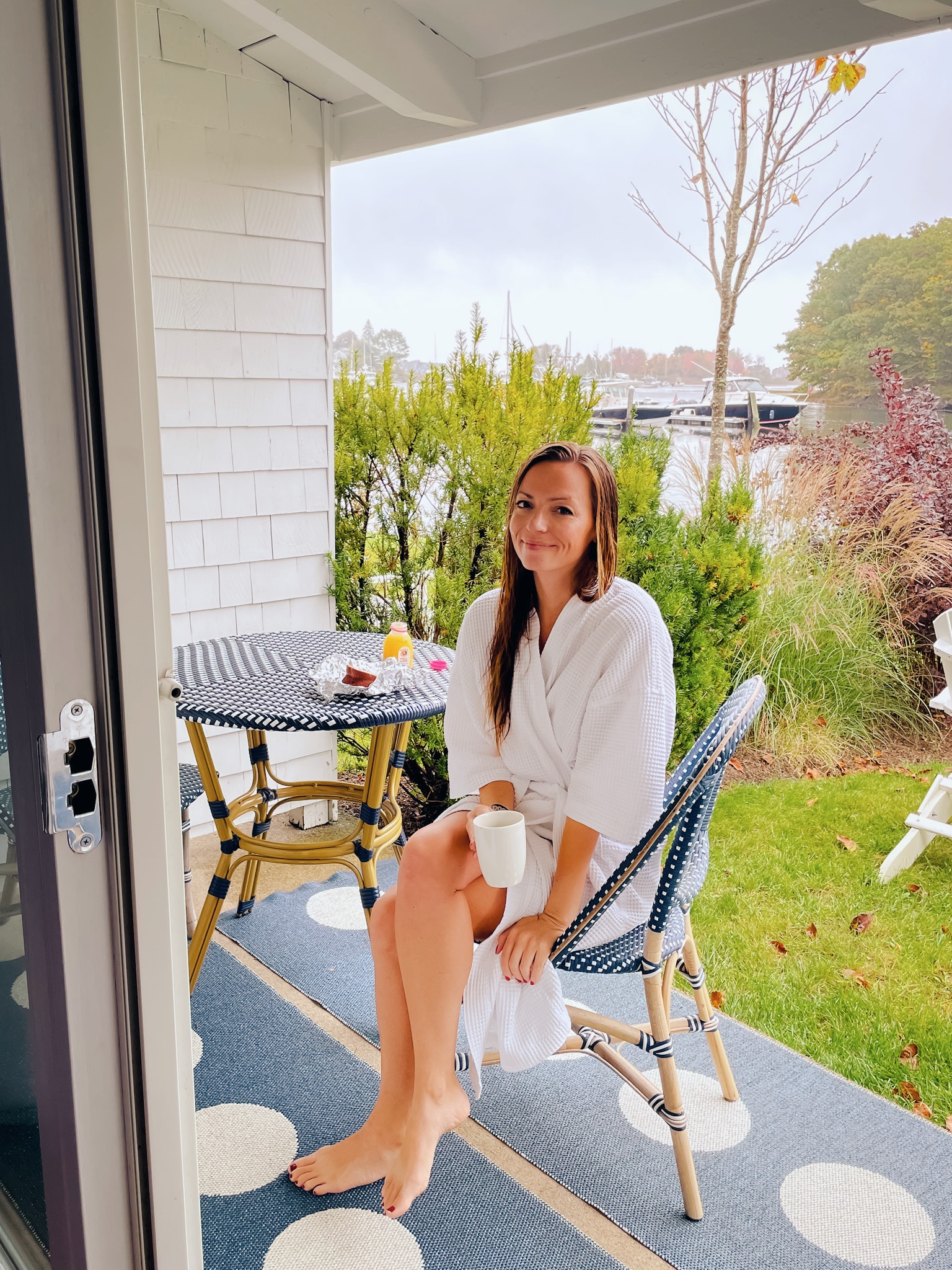 Kennebunkport, like many coastal towns, is heavily centered around tourism — with lots of options for accommodations. There are quaint Bed and Breakfasts and AirBnbs, larger resorts, and a surprising (to me) number of stylish smaller boutique hotels and lodgings.
I decided to stay at two different places for my trip, the first being The Yachtsman Hotel and Marina Club. As a travel influencer and writer, I have stayed at an inordinate number of hotels over the years, but this is truly one of my favorites. Each room is its own bungalow, with a private outdoor seating area overlooking the Marina and river. Just steps from downtown, you can walk or use the complimentary bikes to get anywhere you need. The styling was luxe and it truly felt like an escape. I spent most of my time sitting on the terrace and enjoying the view.
In the warmer months, the Yachtsman is home to a floating barge pool (that I am very interested in coming back to float in), and is conveniently next door to the marina — where you can borrow a complimentary kayak, canoe, or SUP as part of your stay.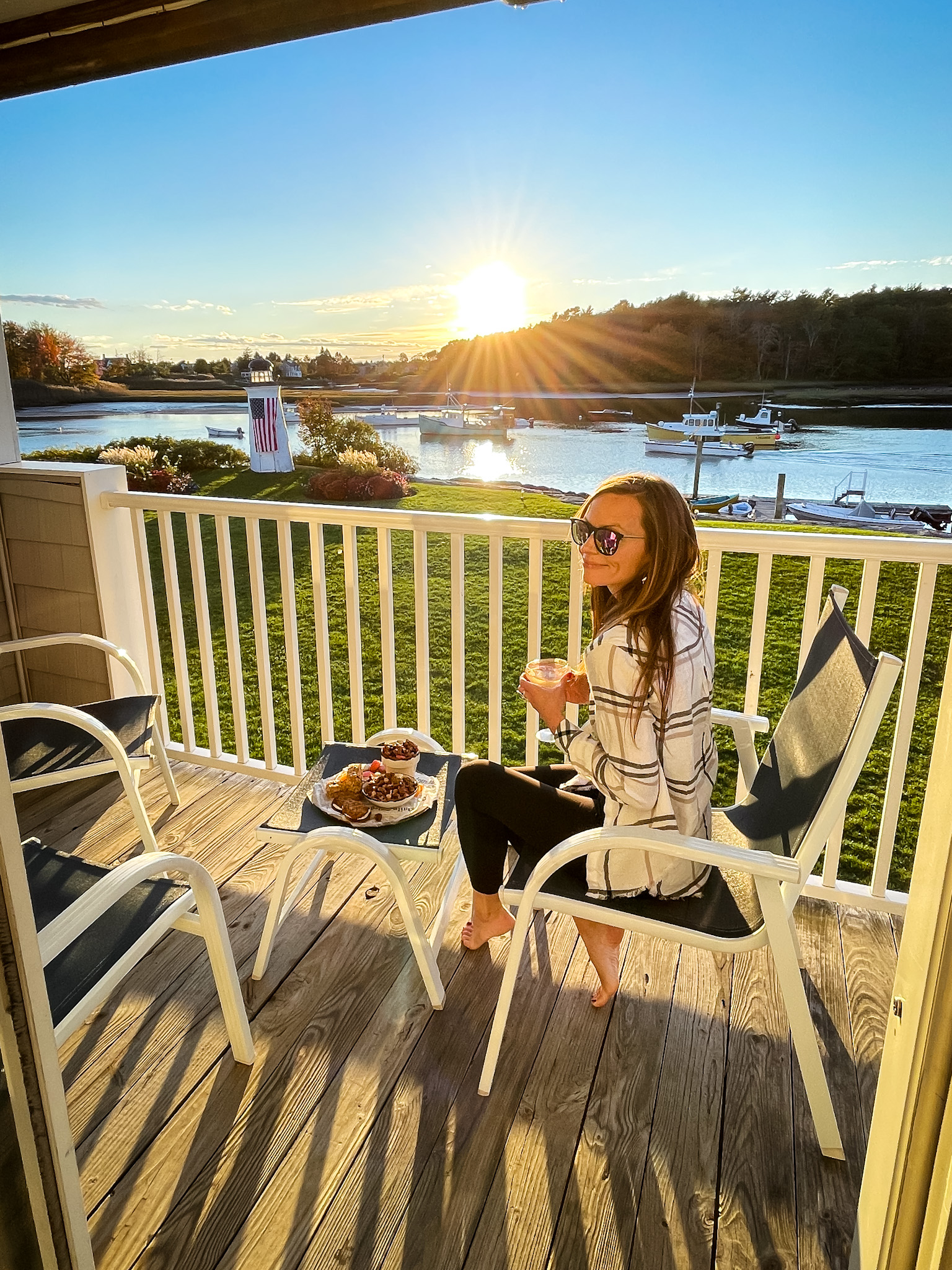 After peeling myself away from the Yachtsman I checked in to The Nonantum Resort just a few blocks away. It definitely has the larger resort vibe, while somehow still feeling quaint and quintessential New England. I grabbed a drink from Heckman's Pub and was pleasantly surprised to find an incredible sunset view from the balcony of my room.
When I return I'd love to stay at the Kennebunkport Inn, where I can visit the Maine outpost of Club Cumming, Alan Cumming's East Village Cabaret bar.
Where to Drink: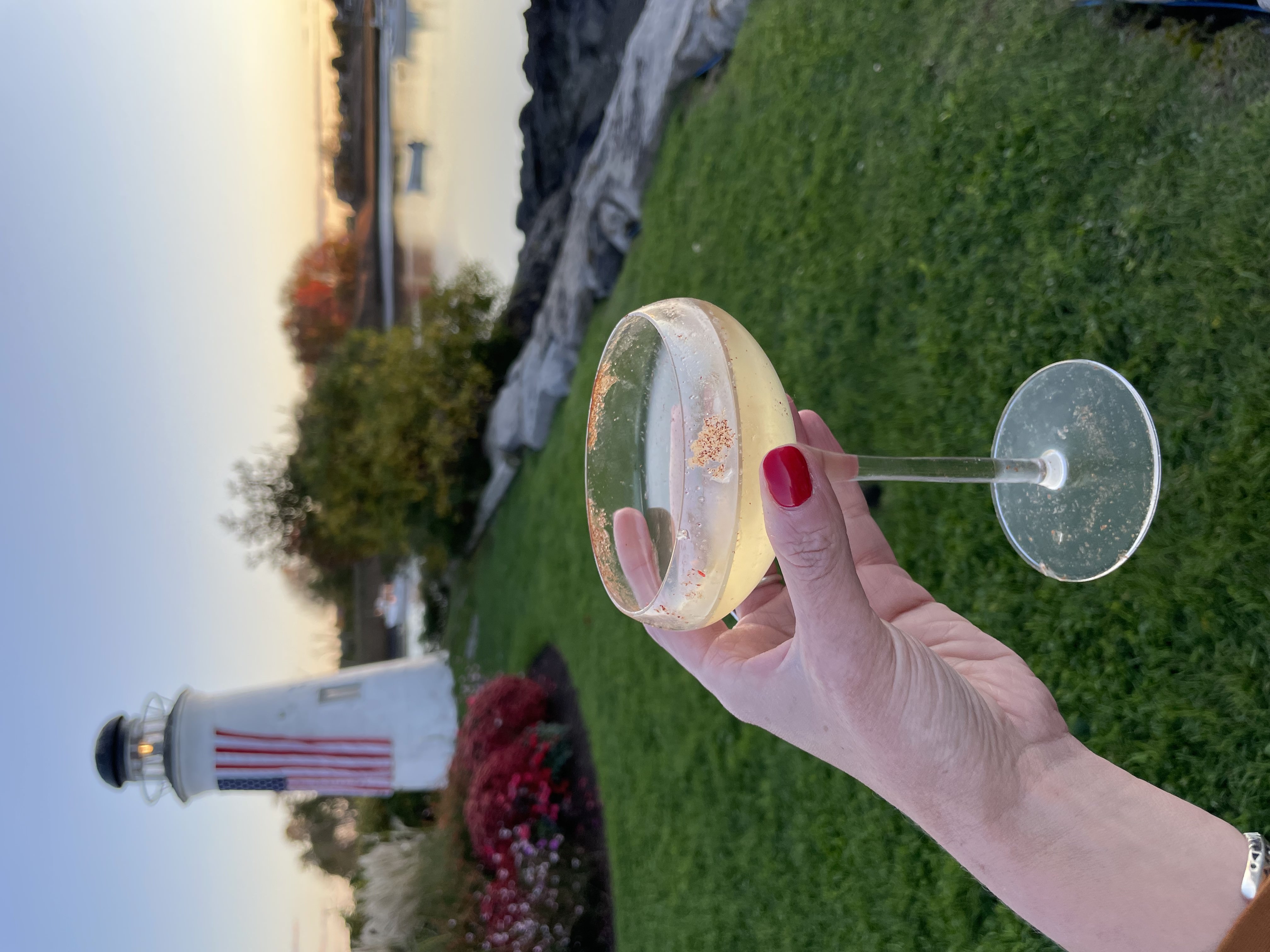 Everything is within walking distance in Kennebunkport, making it easy to visit the many watering holes.
I spent a lot of my trip reading and drinking in Heckman's Pub at The Nonantum Resort. It's small and friendly, with lots of locals stopping by for dinner and drinks. It had the congenial atmosphere I was looking for, along with great cocktails.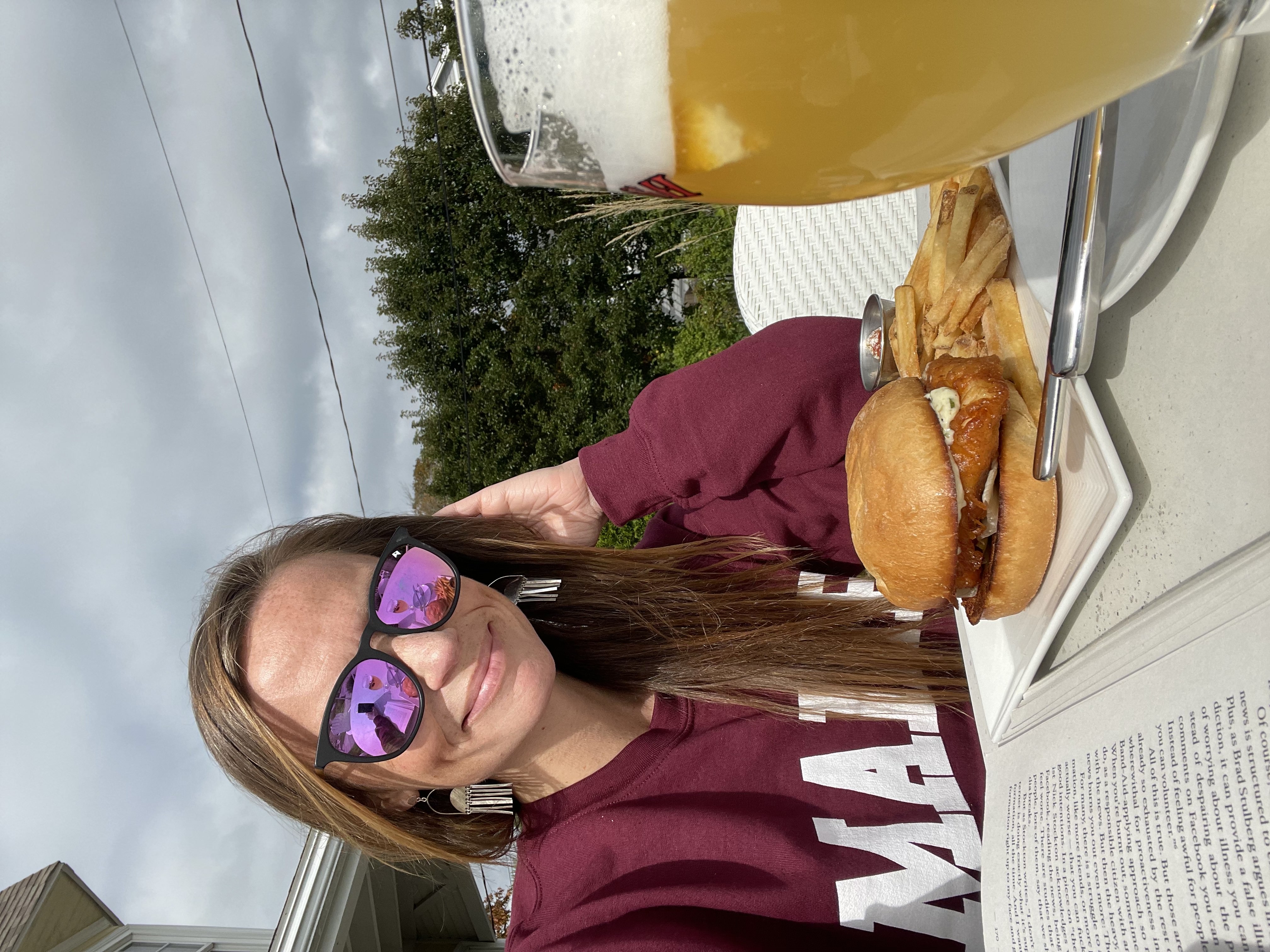 Another gem is The Tides Beach Club, which is open seasonally and is the best place to watch the waves with a local brew. I had another incredible fish sandwich and paired it with an Allagash Ale. The sun was warm in the late fall and the atmosphere felt worlds away from my normal life.
Other spots that were highly recommended were Old Vines Wine Bar and Batson River Brewing and Distilling.
Where to Explore: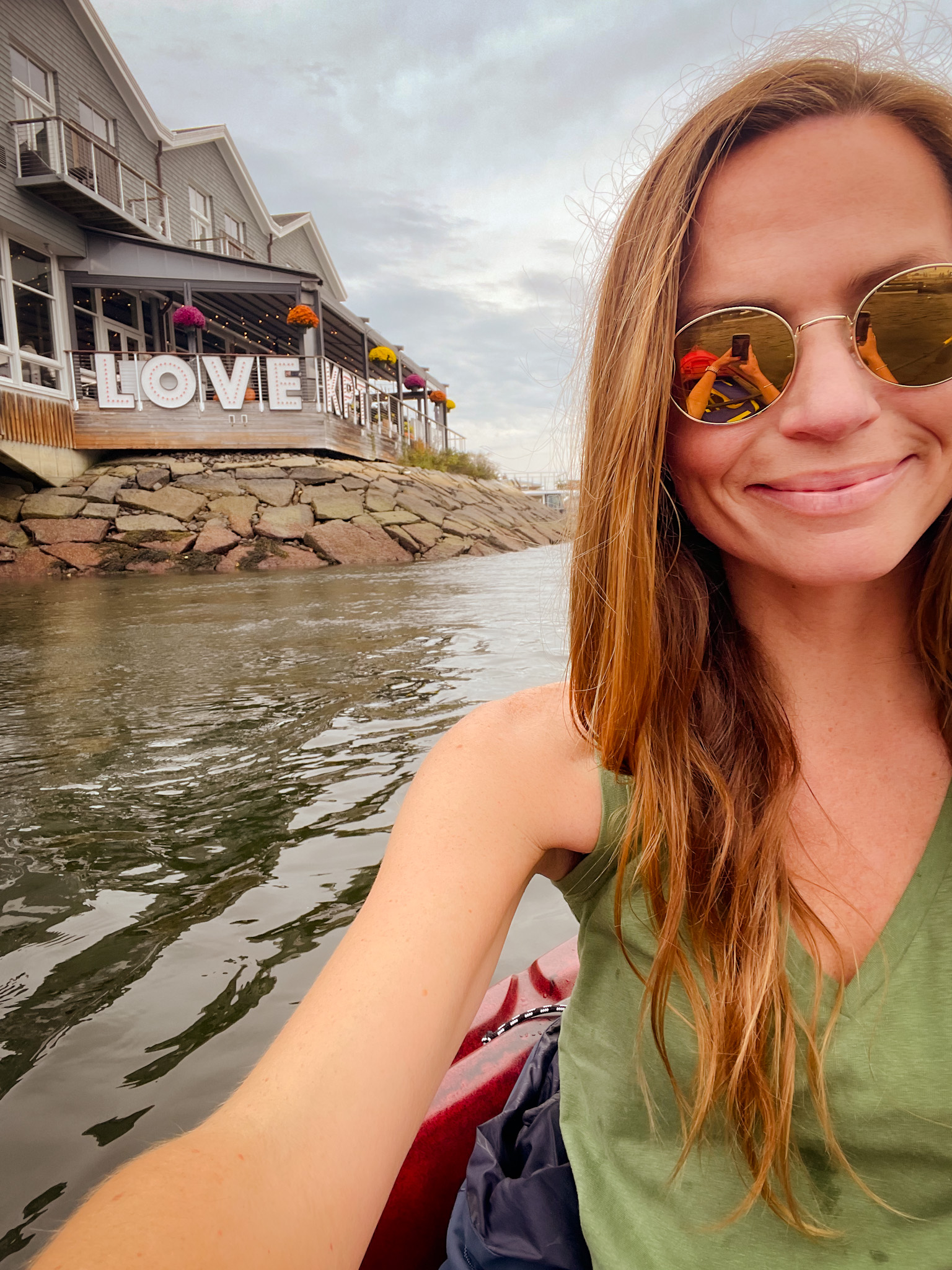 Kennebunkport is the perfect place to disconnect and relax, which is how I spent a lot of my time, but it's also a surprising hub for outdoor activity and recreation. Its position along the coast alone is enough to fill up your days — with beaches and nature reserves all nearby. I took a drive along the coast — stopping near Walker Point (the Bush family compound) and every pullout on the short drive to Portland.
The beaches on the southern coast of Maine are sandy and pristine — I loved spending the morning at Goose Rocks Beach listening to the waves and drinking coffee. There were only a handful of other people this time of year. With The Tides Beach Club just across the street, I can't wait to go back in the warmer months.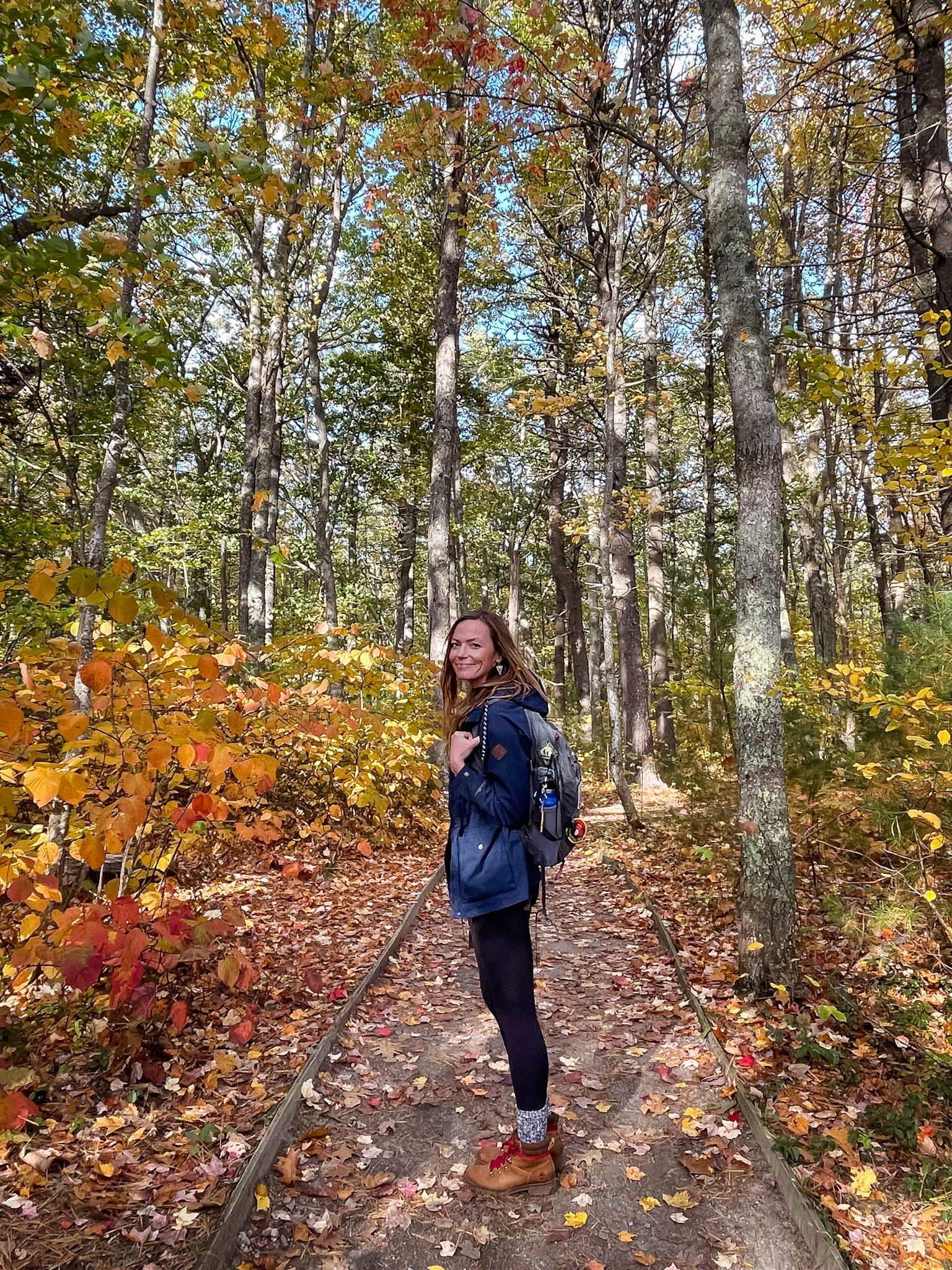 If you want to hike, the Rachel Carson National Wildlife Refuge — a nature reserve with ten sections spanning over 50 miles of coastal Maine — also has a Kennebunkport outpost. The trail I hiked was short but beautiful — especially in the fall. There are plenty of places to stop and relax, admire the view, and bird watch.
During the warmer months, there are endless activities on the water. Boating, SUP, kayaking, canoeing, or sailing on a historic Schooner are all easily accessible activities. I spent an afternoon kayaking through downtown on the Kennebunk River, which was the perfect mix of solitude and bustle.
Despite what you might think, the activities don't stop during the winter months in Maine. There are ski areas within a couple hours from Kennebunkport if that's what you're into, but even closer there are lots of options for snowshoeing and cross country skiing.
The area is also known for The Holiday Trail of Lights, where homes and businesses try to out-holiday-decorate each other — with the exact amount of quaint (but seriously over the top) New England vibes you might imagine.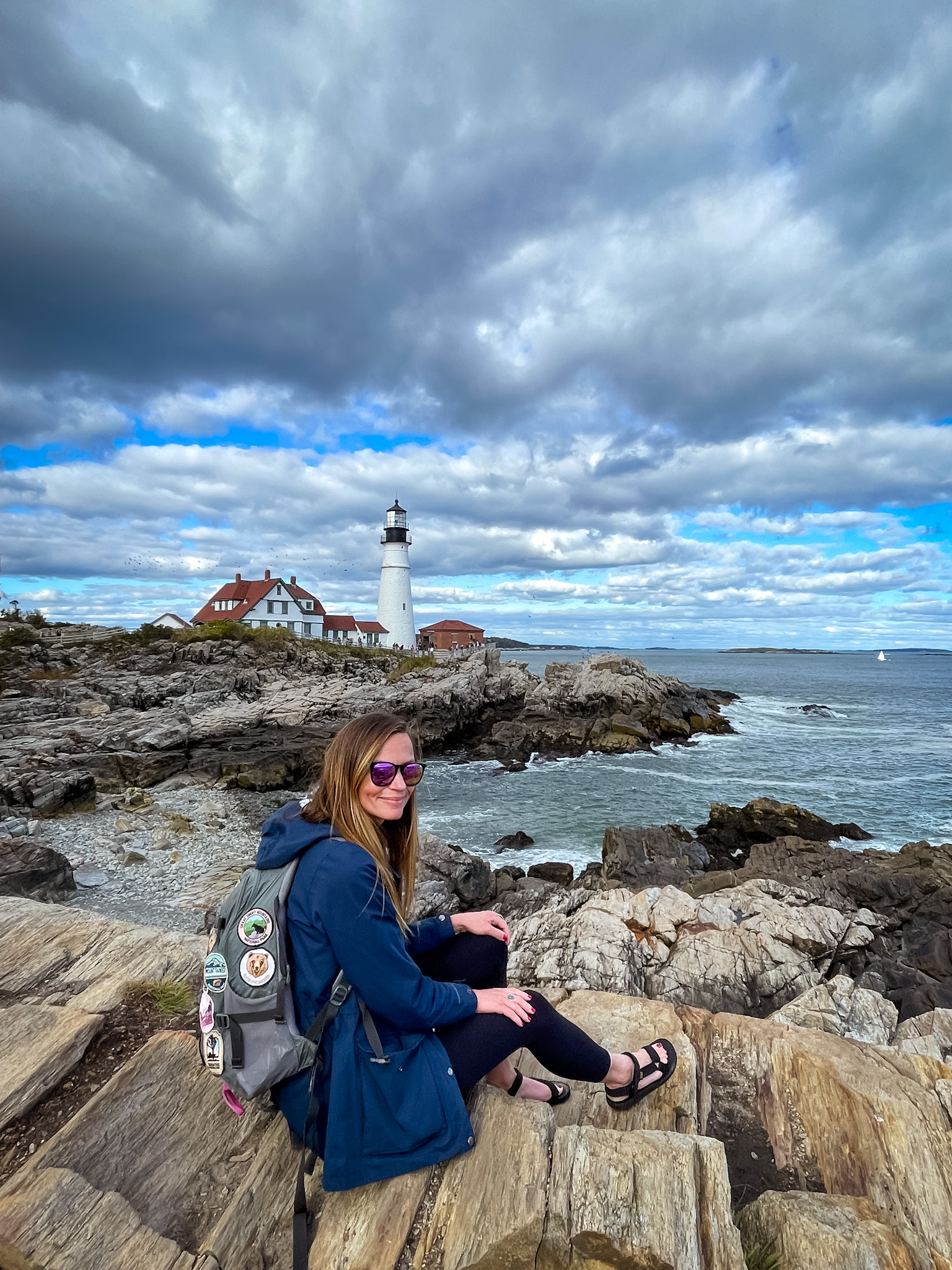 If Kennebunkport is too small for your style, Portland Maine is just a short 30 miles away, with tons of dining and drink options. It is worth the side trip in my opinion just to see the Portland Headlight on Cape Elizabeth — possibly the most quintessential and Instagramable place in all of Coastal Maine.