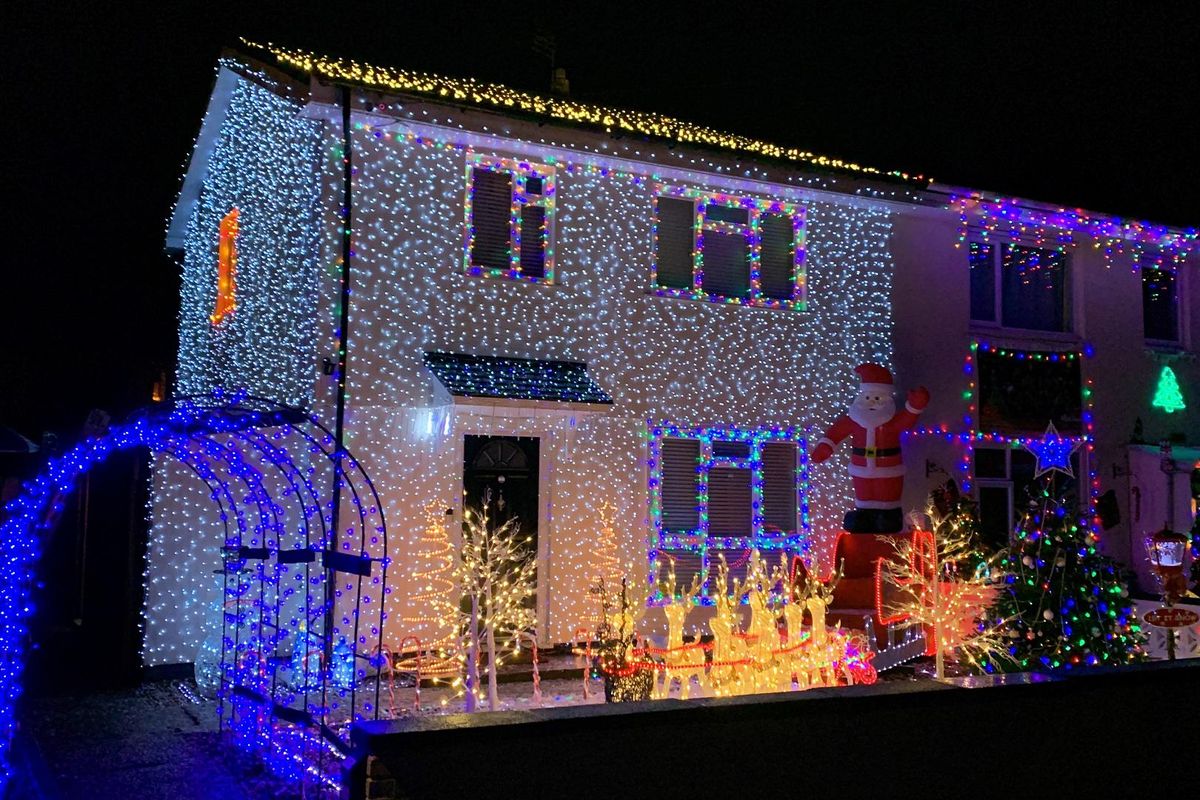 Looking for an authentic holiday feel-good story?
Mark Abbott has now been dubbed "Mr. Christmas" after transforming his home into an absolutely mesmerizing winter wonderland.
We're talking illuminated reindeer (all nine of them), a glowing blue tunnel of light leading up to the front door, a candy cane forest, a snow machine, some outdoor music and an eight-foot-long sleigh. If that's not enough seasonal spectacle, I don't know what is.
But how and why this dazzlingly decorated Christmas house came to be is the real heartwarming tale.
Fifteen years ago, Abbott was registered as homeless. He shared with The Big Issue that he had been juggling three jobs to make ends meet. Then he lost his home after an expensive bill racked up for work on his car. The one he used to get to all three of his jobs. Needlessly to say, it was a difficult time in his life.
Abbott had been couch surfing and sleeping in his car before getting help at St. Martins in Norwich, in the east of England.
---
St. Martins describes its mission as "enhancing understanding and compassion towards homeless people in our community through education and advocacy." It provides residential care for those with mental health and substance abuse related issues, housing care for the elderly and a "direct access hostel," where Abbott stayed at for the next nine months.
While there, he saved up enough money to get on a housing register. And now, according to The Big Issue, Abbott is a proud father of three and has turned his passion into a business running a children's dance company.
Not to mention, Abbott spares no expense for gorgeous Christmas lights each year.
"I've always liked Christmas lights, they're so pretty. And I've always liked the festive thing, even the cold weather," he told The Big Issue, adding "I do really love it when I see kids' faces. The biggest thing for me is that it's bringing people together."
He certainly succeeds in that department, as families flock from miles away to glance at the breathtaking scene.
This year, two onlookers suggested that Abbott should use his festive display for charity, and having never forgotten the support he received from St. Martins, he knew exactly who to raise money for. He told BBC News "With the pandemic you hear stories of families being made homeless. I've got three kids now and I couldn't imagine being homeless with children."
With around 17,500 lights and 4,000 feet of wires, Abbott is giving back to the institution that once helped him all those years ago. Which means running more than 50 sockets to power the lights. But that cost is being covered by a friend Abbott made while he was homeless. Gratitude and generosity really are the gifts that keep on giving.
If you'd like to donate to St. Martins, you can do so here.
Alternatively, there are many ways you can help make a difference for those experiencing homelessness this season. The Independent has a short-but-sweet list of ideas that you can find here.
If Abbott's "Christmas comeback" is any indication, you never know how a little kindness can help turn around someone's life in a major way.