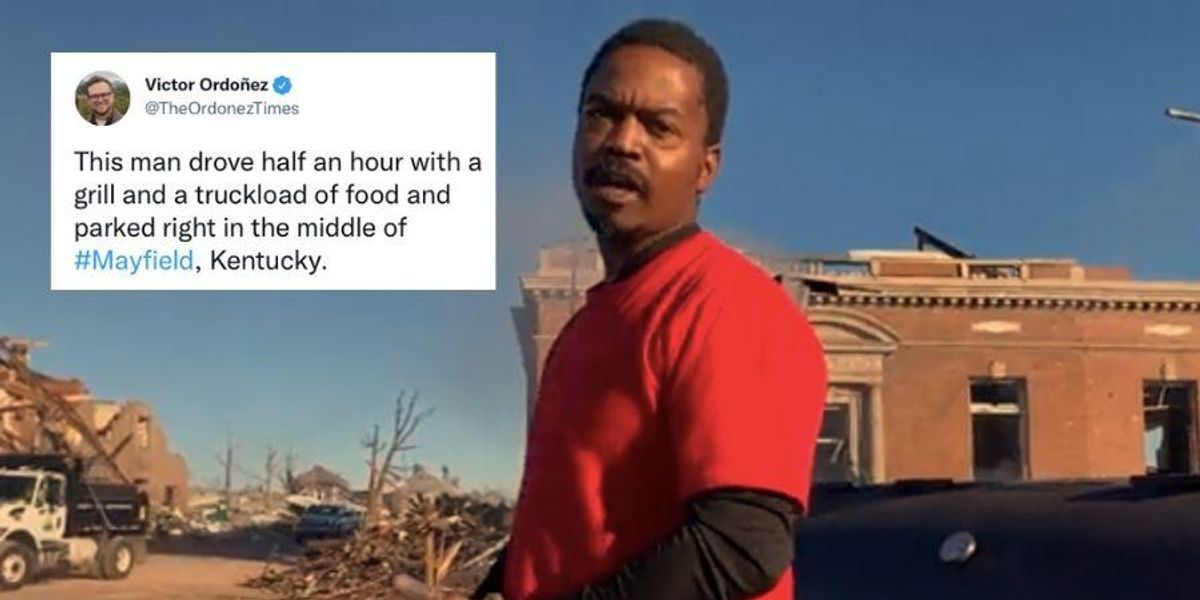 After historic tornadoes tore through towns throughout Kentucky, Arkansas, Missouri, Tennessee and Illinois Friday night, people were stunned to see the aftermath in the light of day Saturday morning. The devastation is hard to fathom. Scenes of not just buildings but entire city blocks leveled are hard to take in, but Mayfield, KY, where an entire town was ravaged, has become the viral face of the destruction.
The New York Times shared a video showing the apocalyptic aftermath in Mayfield, home to nearly 10,000 people. It looks like a war zone, or worse. An entire community laid flat.
Some of the worst destruction from the Kentucky tornado was centered in Mayfield, a town of nearly 10,000 people. At least 110 people were huddled inside a candle factory in the area when a tornado ripped through. https://nyti.ms/3GrWmaSu00a0pic.twitter.com/Mh3i3oEzZa

— The New York Times (@The New York Times)
1639250750
As messages of support started pouring in and emergency management began the daunting task of figuring out next steps, one man who lived a half-hour away decided to take a boots-on-the-ground approach and help the people of Mayfield in a way that he could.
Jim Finch packed up his grill, loaded up the back of his pickup truck with food and drove to Mayfield to, in his words, "feed the people."
ABC journalist Victor Ordoñez shared a video on Twitter of Finch in the middle of the destruction, standing in front of his grill in disposable gloves, explaining why he was there.
"I know they don't have any electricity, so that means they don't have any restaurants, no running water so I just figured I would do what I could do, show up with some food and some water," he said.
This man drove half an hour with a grill and a truckload of food and parked right in the middle of #Mayfield, Kentucky.pic.twitter.com/xrVbrMdJ9S

— Victor Ordou00f1ez (@Victor Ordou00f1ez)
1639343706
"Jim wore a smile the whole morning," Ordoñez wrote in another tweet. Finch laughed and shook his head when Ordoñez asked if he had a restaurant. "No sir," he said. "It just needed to be done."
Finch brought hamburgers, chicken, sausage, eggs, "just real simple stuff you can have and not worry about making a mess, grab and go type of food," he said.
Jim wore a smile the whole morning, we laugh when I asked if he had a restaurant. He shook his head, "it just needed to be done," he said. pic.twitter.com/tpZ1LMvdOA

— Victor Ordoñez (@TheOrdonezTimes) December 13, 2021
Humans helping fellow humans in a time of crisis is something we never tire of seeing. People are praising Finch as a hero—a selfless person who saw a need and decided to fill it. In times of extreme crisis, basic needs like food and shelter become more immediate and vital than ever, and for the people who are reeling from their world literally being torn apart, the simple, thoughtful kindness of being handed a warm meal from a stranger is surely appreciated.
Thank you, Jim Finch, for being an example to us all.
If you're looking for ways to help or places to donate to help western Kentuckians recover from the tornado damage, see this post from the Lexington Herald Leader.
Addendum: that message was for the children. Once you are an adult, if at all possible try to BE the helper the children are looking for.

— Nerdy Lawyer (@Nerdy Lawyer)
1639395660