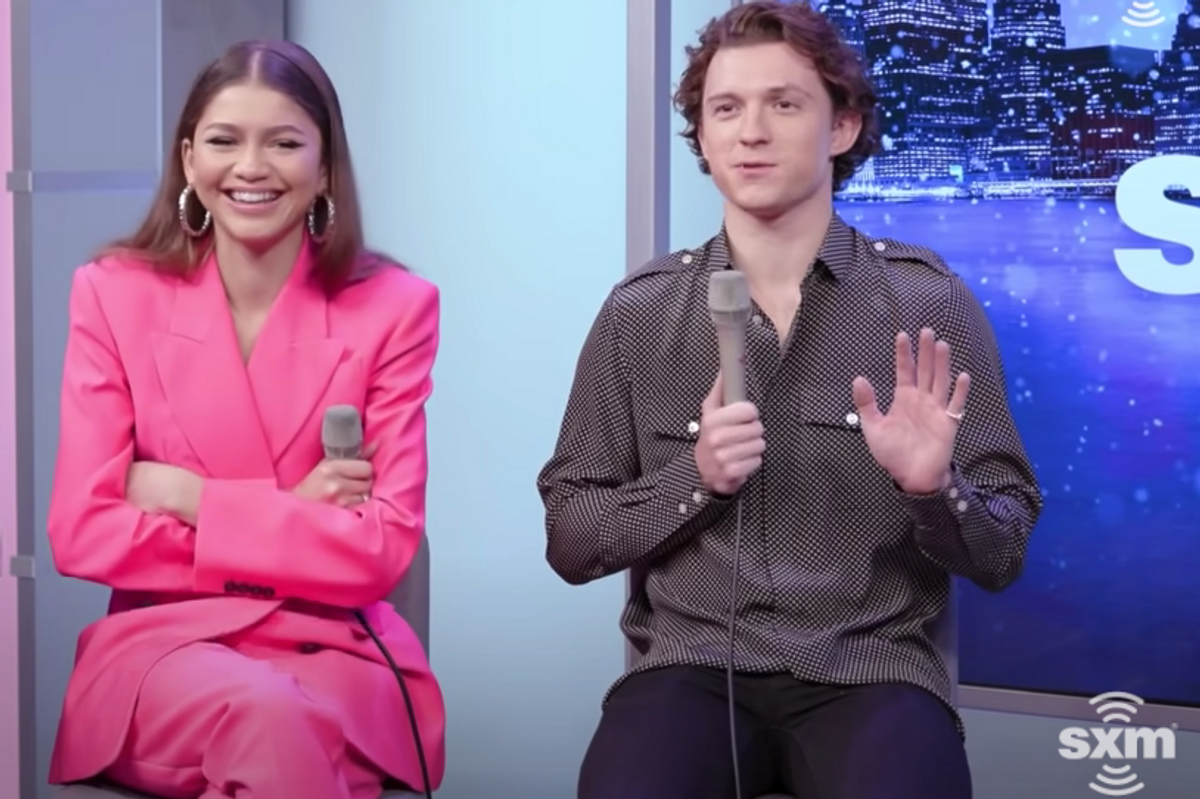 Tom Holland and Zendaya are no strangers to shutting down public interference when it comes to their relationship. The "Spider-Man" co-stars have already addressed feeling "robbed of privacy" after photos were leaked of Holland kissing Zendaya, before their relationship had been made publicly official.
For the record, Holland is reported to be 5' 8". Zendaya, on the other hand, is 5' 10". And for some reason, that height difference causes quite a commotion for fans. So much so that both Holland and Zendaya ended up addressing the "issue" while promoting "Spider-Man: No Way Home" on SiriusXM last Friday (Dec 10).

Tom Holland and Zendaya on the "ridiculous"stereotypes about their height difference.

www.youtube.com

SiriusXM host Jessica Shaw mentioned that in the previous movie, "Spider-Man: Far From Home," Peter Parker (Holland) and MJ (Zendaya) share an onscreen kiss. No efforts were made to cheat the fact that Zendaya had a couple of inches over her co-star.
---
"And then it became this thing," Shaw reflected.
In jest, Holland quickly defended that Zendaya was "not that much taller" than him. One, two inches tops.
He then noted how utterly bewildered he was that people just couldn't figure out how the kiss could possibly be done. "It must have been so difficult," he says sarcastically.
Zendaya also added, "it's a nice sweet moment between them … why not just let it be?"
Shaw pivoted the conversation, saying that the public reaction indicates something much more misogynistic and problematic: the expectation that men should always be taller than women in straight relationships. Anything else just isn't normal.
"My mom is taller than my dad, my mom's taller than everyone," Zendaya rebuked, saying, "this is normal too."
"It's a stupid assumption," added Holland, as he shared that during Spider-Man screen tests, every girl tested was taller than him.
"I had wondered if that was a decision that Jon [Watts, the director] had made. There was no one tested that was shorter than me," he told Shaw, adding, "maybe that was a decision Jon Watts made and something he was aware of and wanted to break the stereotype. I think it's great."
Holland, never short on fun quips, also gave the disclaimer "to be fair, I am quite short."
Despite the polite pushback, Zendaya and Holland remain good sports. As seen in this clip from "The Graham Norton Show," where they joke about how their height difference affected some of the movie's stunts.
As Zendaya explains, "There's a particular stunt where Spider-Man swings us on top of a bridge, and he places me there. … Because of our height difference … we were attached, so I would land before him. My feet obviously hit the ground before he does."
Then there's a hilarious demonstration where Zendaya catches a falling Tom Holland. Physics fundamentals are no match for movie magic.
"It's so nice to be caught for a change!" Holland exclaims.
"Like … it's not a weird thing for women to be tall," chorused "No Way Home"'s Jacob Batalon, who also appeared at the SiriusXM interview, adding "it just sucks that it has to be a conversation. Like it can't just be normal."
Zendaya reflected coolly, "I honestly never thought of it as a thing because my parents were always that way, so I didn't know that people cared."
It most certainly does not have to be a thing. And, as Shaw pointed out, seeing a taller MJ alongside a shorter Peter Parker seems tiny, but it can make a huge impact. Dispelling societal myths on the big screen can help change the mainstream real-life narrative as well. That is, after all, the true power (and great responsibility) of pop culture.
Hopefully with this obsolete construct out of the way, we can all focus on what really matters: that "Spider-Man: No Way Home" will be in theaters in only a few days time.