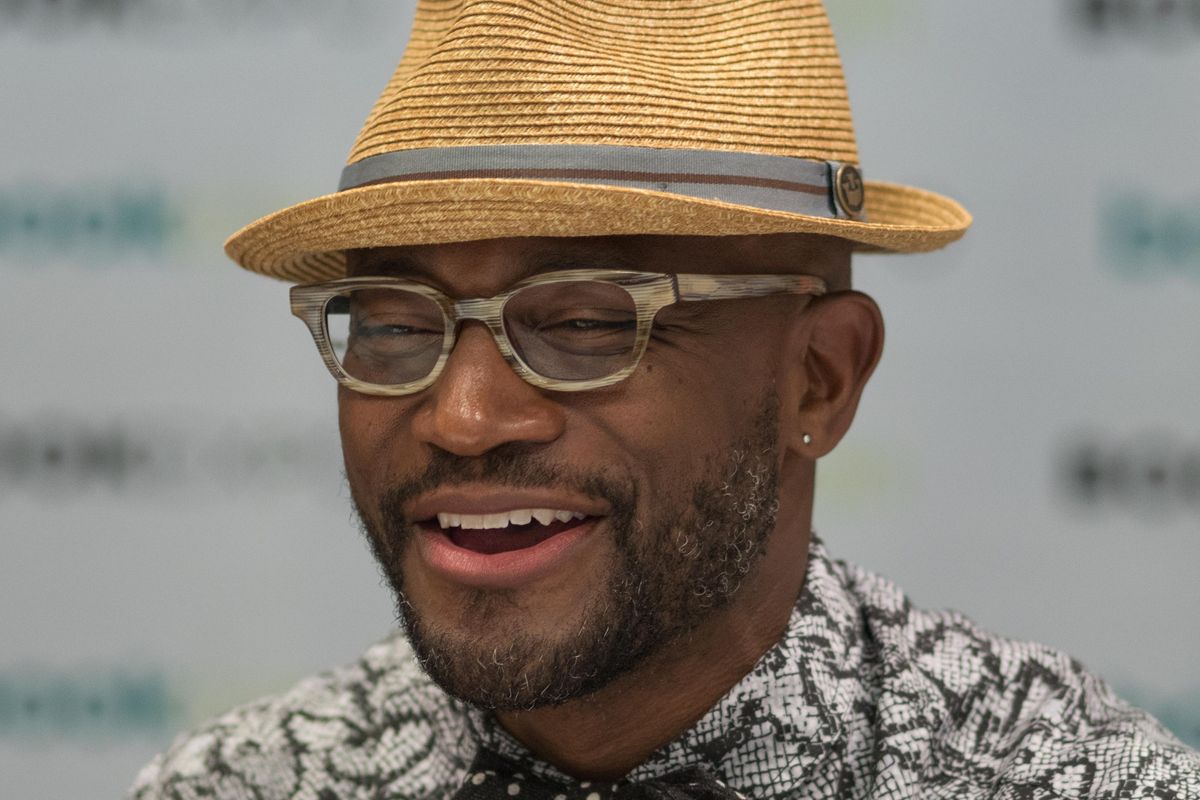 Some people were just born to entertain. Taye Diggs is one of those people.
Diggs has graced Broadway stages, the silver screen and our television sets. Now he's found a new platform: TikTok. And let me tell you, this man has got it, whatever "it" is.
You want pure comedy? He delivers. You want weird? He's got that too. Diggs is already serving up plenty of entertaining content, ranging from driving selfies to dance clips to songs about putting fish in the microwave. Yup, it's a one-stop TikTok shop.
Having only joined the app this week, Diggs hasn't quite figured everything out, like how to use TikTok sound effects. But who needs it when you can just make your own? You could say the actor is going for a no-frills approach—his videos are without transitions, effects, filters … or planning, apparently.
As one person wrote on Twitter, the entire account is "pure chaos and comedy."
---
Diggs is most famous for playing calm, cool, collected (and utterly smooth) roles like Benny in "Rent" and Harper in "The Best Man." Which is in part why fans are eating up his goofy schtick and silly TikTok antics.
Case in point: his "ICON trying…." video where he attempts—and fails—to recreate some of those influencer-worthy flashy transitions. What we get instead is a roller-coaster ride of clumsy shots (at one point he's upside down and putting on a hat?), some gibberish lyrics, and all the while Diggs sporting a highly appropriate "DAD" sweatshirt. It's nothing short of hilarious.
ICON trying…. pic.twitter.com/eO74eOnxVq

— Taye Diggs (@TayeDiggs) December 10, 2021
Nothing says "cool" quite like stomping on your phone, am I right?
I mean, just take a look at some of his greatest hits…
Like when he was on set for "All American" and tried to get Kareem Grimes to dance with him. 
Grimes would not budge. Well, at least until the very end.
Or laughing at himself in the car. Literally. 
Totally fine if you're not entertained. Taye Diggs is happy just making himself laugh.
Or his "jerk, jerk jerk" dance. 
Reminding us all the "everybody's a jerk, jerk, jerk."
Now that Diggs has has begun cross-posting some of the gold onto Twitter, the reactions are growing tenfold.
Some are calling for a "Taye Diggs TikTok timeout."
I really want somebody to take Taye Diggs' phone away😭😭 pic.twitter.com/2faGJo2O3r

— Zulu.1920 (@Yatande_) December 14, 2021
Who let taye diggs on tiktok I'm cryinggggg

— Aishwarya Rai (@lovea__) December 15, 2021
This poor person was brought to tears.
they should've never given Taye Diggs a tiktok 😭 https://t.co/elCkjjUPc1

— jaeden ✨💕 (@whitleygwayne) December 14, 2021
Though most just wanted to praise him and get a taste of that secret sauce.
Taye Diggs hasn't figured out how to add music to his TikTok's yet, but I'll take two of whatever he's sipping 😭 Good morning #clique! ☀️ pic.twitter.com/GOiHpuvr8k

— Onsite! Tv (@Its_Onsite) December 15, 2021
I wanna be taye diggs when I'm older

— Iyosias (@whitest_injera) December 15, 2021
No one has enough Taye Diggs in their life, so you're welcome. https://t.co/aup0pwB9zK

— OG McDuck (@OG_McDuck) December 8, 2021
Feel like I would get along with Taye Diggs cuz he really don't be giving a damn just expressing himself without a care in the world lol. Love it https://t.co/aubsq1I9P2

— Chris Williamson (@CWilliamson44) December 13, 2021
He might have even converted a few former non-Tokkers.
Me and the other 40 year olds on our way to join tiktok for more taye diggs pic.twitter.com/CeduuuuXWX

— hug a pit bull 🐶 (@limaretto) December 15, 2021
I only downloaded Tik Tok because of Taye Diggs that man have me crying

— King B✊✊Z🤙🇭🇹 (@ZoeBeezy6) December 15, 2021
Another poor soul overcome with emotion at Diggs' shenanigans.
Love it, @TayeDiggs you maybe the reason I get a #TikTok 😂

— AnimeGirl (@darkdzyerz) December 15, 2021
Some were feeling a certain … comradery … with Mr. Diggs. 
Taye diggs' tiktok is literally what its like for me living alone😂😂

— Black lives still matter!!! (@gabbacchino) December 14, 2021
i'm laughing with Taye Diggs not at him cause he doing what i do when i'm alone😭😭

— maybe: janeā 🎄 (@byeeitsjanea) December 15, 2021
The general consensus? Taye Diggs + TikTok = the best kind of chaos.
taye diggs' tiktok is chaotic but in a good way lmfaoo

— miriam (@meryyy____) December 15, 2021
If you want fulfilment in life, then follow Taye Diggs on TikTok. He is truly unhinged

— michaela coel's doppelgänger (@shopsonarampage) December 15, 2021
Taye Diggs is a different type of chaotic on TikTok 😭 that man is so nutty.

— Chellz (@b0mbchell_) December 15, 2021
Nicole Byer and Taye Diggs to Host the 27th Critics Choice Awards https://t.co/Wk0D2YjiLM pic.twitter.com/gG0cUXmtsJ

— Black Girl Nerds (@BlackGirlNerds) December 12, 2021
Now that you've made it this far down the Taye-Diggs-TikTok-rabbit hole, you might be feeling like you just can't get enough of the online discord. Don't fret, you're in luck!
Diggs will be hosting the 27th Annual Critic's Choice Awards on Jan 9, 2022 alongside the equally hilarious Nicole Byer. It's sure to be a riot.
And then of course, you can always follow @theofficialtayediggs on TikTok. If you're brave enough.