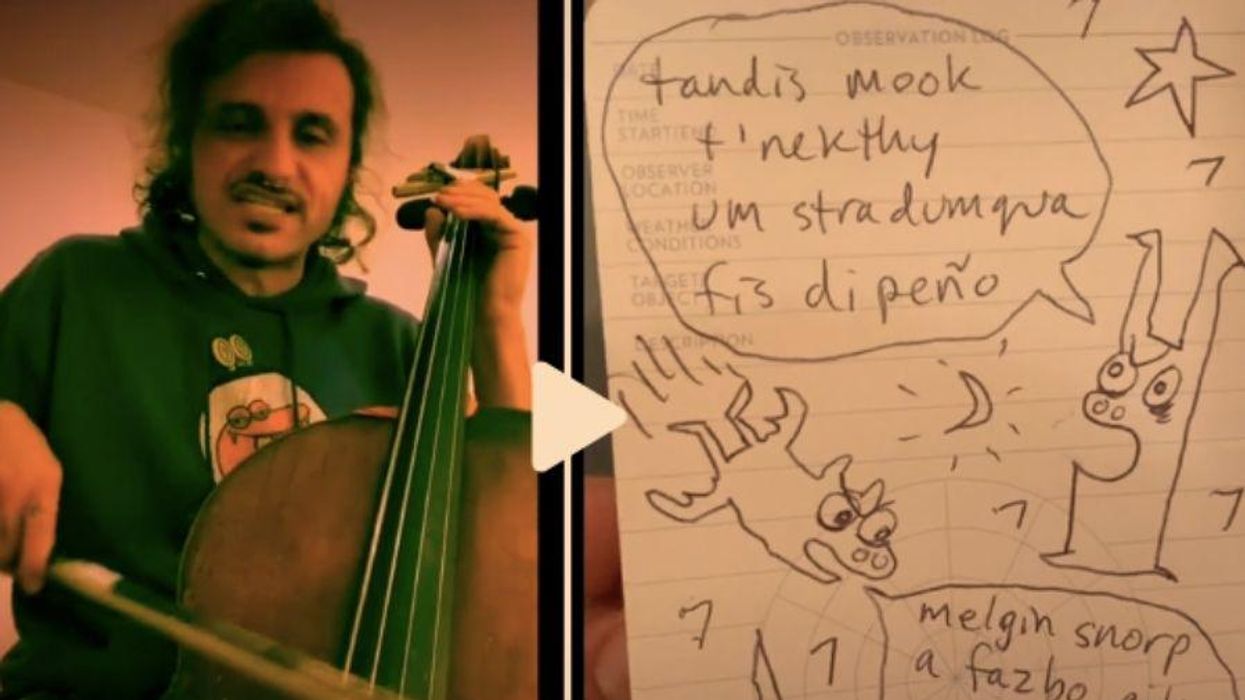 The other day my 21-year-old daughter came into the living room singing a random, rhythmic chant of some sort that sounded like it was a different language. She got to a line that I misheard as "pequeño" and then giggled. I asked her what she was singing, and she said it was a TikTok of a guy playing the cello and the kazoo and singing gibberish.
"Let me just show you," she said. "It's too hard to explain."
She was right. When you watch a Rushad Eggleston video, it's hard to explain. Most will leave you saying, "What the heck did I just watch?" yet still wanting to watch more. They are riveting in the weirdest way possible.
---
I've never seen anything like this, and chances are you haven't either. In this video, Eggleston plays the cello in a 7-in-1 beat bouncy rhythm (which my string-playing, music major daughter assures me is much harder than it looks) while singing/chanting random, nonsensical words in a voice that can only be described as goblin-like. Not only that, but he does so while showing his drawings of cartoon creatures with text boxes in which the gibberish lyrics he's singing are written.
Super bizarro but catchy, right? And what about the kazoo attached to his cello? That part killed me.
The comments on the video are hilarious.
"Goblin metal," wrote one person, which is genuinely the perfect description. "Gremlin core" is a close second. Another wrote, "'otherworldly' usually means 'heavenly' but this has big purgatory energy and I'm here for it."
But my personal favorite was: "The devil went down to Georgia in a different timeline."
Eggleston has created a whole fantastical world—The Land of Sneth—where these creatures live and have their own language (though they sometimes speak English, too, which for some reason makes it even funnier).
"I do what I want, though?" I died. Why is this so random and so weird and so fantastic?
I had no idea who Rushad Eggleston was when my daughter introduced me to his TikTok channel. It seemed pretty clear to me that he had musical talent, but as it turns out, the guy has wicked musical talent.
Eggleston attended Berklee College of Music—one of the most prestigious music schools in the nation—on a full scholarship after winning a competition. He was nominated for a Grammy in 2002 for his collaborative work with Fiddler's Four. He's taught string camps to kids. He's recorded albums and toured the world doing live shows.
Who knew?
The Berklee website describes Eggleston as "an eclectic, whimsical, inventive performer and personality." On Facebook, he describes himself as "an imaginative nomadic wild cello goblin, ambassador of sneth, and spreader of joy."
How else would you describe this?
Eggleston does make more traditionally beautiful music as well. You have to wade through the goblin metal and gremlin core to find it, but it's there.
Case in point:
Eggleston's musical stylings may not be everyone's cup of tea, and his Land of Sneth with its "bnithual" characters may be too out there for some people, but my family has found a great deal of joy watching his truly one-of-a-kind videos and enjoying his unique musical offerings.
In today's topsy-turvy pandemic-ridden world, some silly, creative joy is more than welcome. You can find more of Rushad Eggleston on TikTok, Instagram and Facebook.