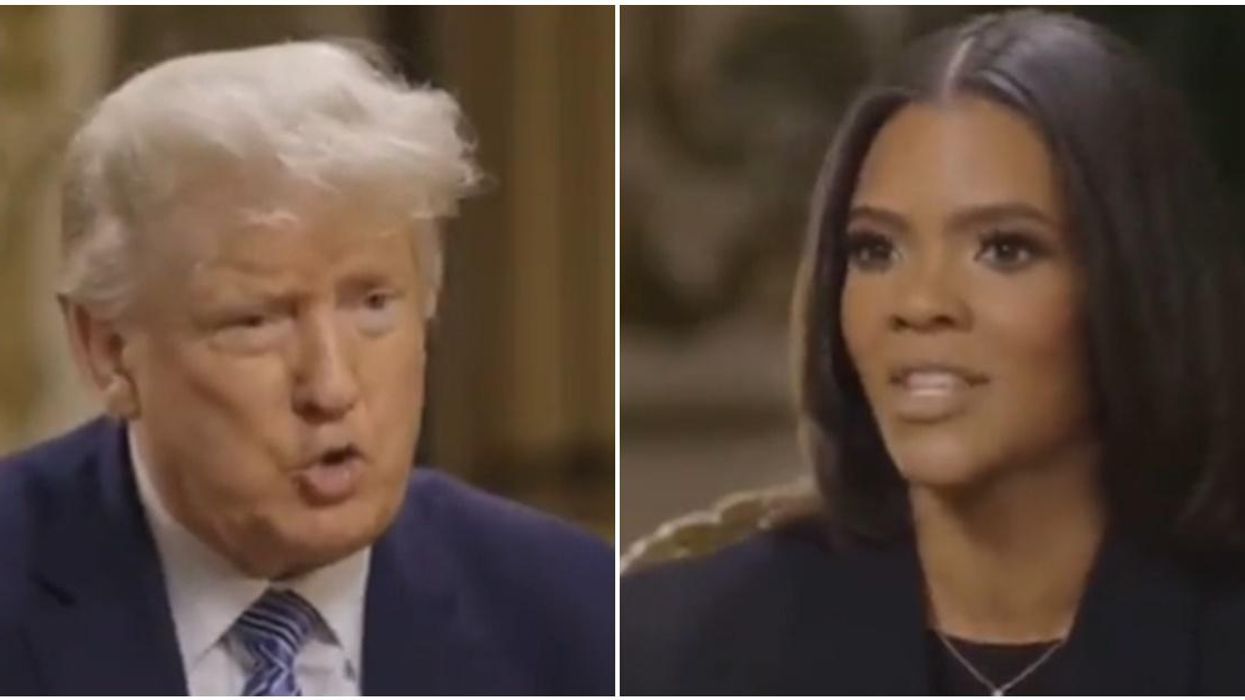 Former President Donald Trump made a strong statement about the importance of COVID-19 vaccines on Tuesday in an interview with conservative firebrand Candace Owens. His full-throated endorsement of their effectiveness could inspire his supporters—who are among the least likely to get vaccinated—to get the jab and help stop the virus' spread.
Owens has a long history of spreading deadly misinformation about vaccines. In the interview, she attempted to lead Trump into a discussion on their ineffectiveness, repeating the false claim that more people have died of COVID-19 during the Biden administration than during Trump's.
In reality, the numbers show that more people died of COVID-19 under Trump's watch (424,401 to 379,192) and according to the Centers for Disease Control and Prevention Director Dr. Rochelle Walensky, MD, unvaccinated people are 14 times more likely to die of COVID-19 than the unvaccinated.
One can imagine how high the death toll would have been without lifesaving vaccines.
---
Just going to echo former President Trump here on the safety and efficacy of the vaccines. Merry Christmas eve eve. go get boostedhttps://twitter.com/Kukicat7/status/1473743177806974977u00a0u2026

— Jen Psaki (@Jen Psaki)
1640277472
Trump: I came up with three vaccines—all are very, very good. I came up with three of them in less than nine months. ….
Owens: And yet more people have died under COVID this year, by the way, under Joe Biden than under you. And more people took the vaccine this year, so people are questioning how—
Trump: Oh, no. The vaccine worked. But some people aren't taking it. The ones that get very sick and go to the hospital are the ones that don't take the vaccine.
But it's still their choice, and if you take the vaccine, you're protected. Look, the results of the vaccine are very good, and if you do get it, it's a very minor form. People aren't dying when they take the vaccine.
Donald Trump admits on stage that he got a vaccine booster shot, but his Dallas audience then begins to boo him. Hope his supporters will listenu2014#Omicron is coming. #GetBoosted #vaccinatepic.twitter.com/Oq4QynKdjt

— Eric Feigl-Ding (@Eric Feigl-Ding)
1640018602
Trump was far from honest in saying that he "came up with three vaccines," but he was right in touting their effectiveness. Trump has a very big influence over American conservatives, who are one of the largest contingents of unvaccinated people. By talking positively about vaccines, he may cause some to change their minds and get the lifesaving jab.
Trump's pushback against Owens comes three days after he was booed in front of an audience in Dallas with Bill O'Reilly for saying he recently received his COVID-19 booster shot.
When Trump was president he downplayed the severity of the COVID-19 pandemic, creating the perception that it wasn't a serious problem. He's also been criticized for not promoting vaccines as much as he should.
However, Trump's recent high-profile endorsement of vaccines is important because the areas where his supporters live have been hit much harder by the virus than in places that supported Democrat Joe Biden for president.
According to NPR, since the vaccines became available:
"People living in counties that went 60% or higher for Trump in November 2020 had 2.73 times the death rates of those that went for Biden," the report states. "Counties with an even higher share of the vote for Trump saw higher COVID-19 mortality rates."
A new NPR analysis reveals that pro-Trump counties now have a higher death rate from COVID-19 than counties that voted for Joe Biden. n nMistrust and vaccine misinformation are to blame.https://n.pr/3Et9rjp

— NPR (@NPR)
1638709396
A major reason for the lack of vaccination among Republicans is misinformation. According to NPR, more than 90% of Republicans surveyed believe or are unsure about at least one false statement about COVID-19.
Trump played down the deadly virus while in the White House, leading to countless deaths. Now, in his post-presidency, he has the opportunity to right that wrong by continuing to be a vocal supporter of COVID-19 vaccinations. On Wednesday, the Biden administration acknowledged the important role that Trump can play in the nation's COVID-19 health initiatives, saying he sent an "important signal to many Americans about the importance of getting boosted."
Let's hope his supporters listen.