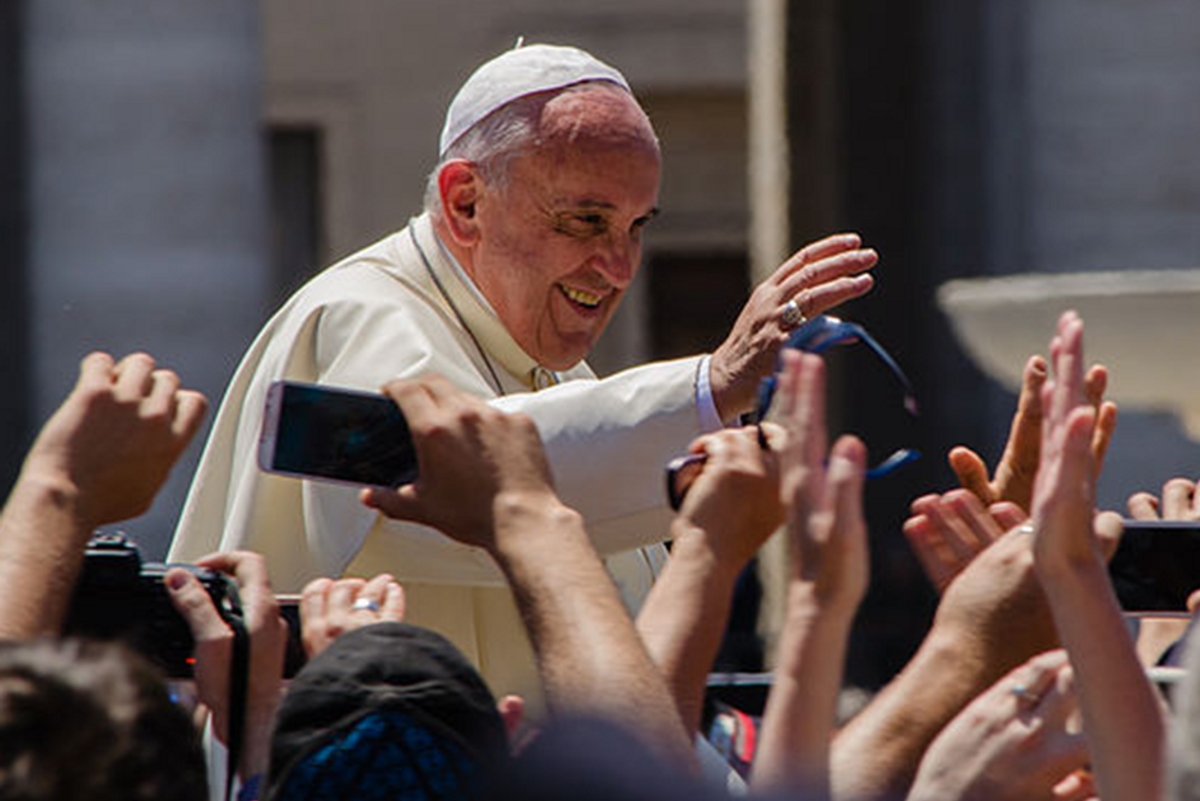 Living through 20 months of a worldwide pandemic has definitely taken a toll on everyone's mental health. It's also had a significant effect on marriages and families.
A recent group of studies cited by PBS found that the pandemic has created a range of parental stressors, such as school closures, job losses and interruptions in care for children with chronic diseases.
Parents are also dealing with higher levels of stress, clinical anxiety and depression.
A study out of Canada found that 44.3% of parents with children reported worse mental health as a result of the COVID-19 pandemic compared to 35.6% of respondents without children.
On Sunday, Pope Francis released a letter aimed at families called, "Christmas present to married couples," with some advice for those trying to keep their families healthy in troubled times.
---
Dear married couples throughout the world! In this u201cAmoris Laetitia Familyu201d Year, I am writing to express my deep affection and closeness to you at this very special time. #LetterToMarriedCouples https://www.vatican.va/content/francesco/en/letters/2021/documents/20211226-lettera-sposi-anno-famiglia-amorislaetitia.htmlu00a0u2026

— Pope Francis (@Pope Francis)
1640518200
"For some couples, the enforced living conditions during the quarantine were particularly difficult. Pre-existing problems were aggravated, creating conflicts that in some cases became almost unbearable," the pope wrote. "Many even experienced the breakup of a relationship that had to deal with a crisis that they found hard or impossible to manage. I would like them, too, to sense my closeness and my affection."
The pope provided some hope in the letter by reminding his followers of three simple words that can work miracles in marriages.
"May every family be a place of acceptance and understanding," he wrote. "Think about the advice I gave you on the importance of those three little words: 'please, thanks, sorry.'"
The pope's advice may seem just like common sense, but it works. According to Positive Psychology, research has found that forgiveness among married couples improves their commitment, conflict resolution skills and overall relationship quality.
It's important to remember that forgiveness works both ways. It's great for those who have been forgiven but it also improves the mental well-being of those who are able to accept an apology. According to Psychology Today, "An apology actually affects the bodily functions of the person receiving it—blood pressure decreases, heart rate slows and breathing becomes steadier."
He also repeated an oft-cited piece of marriage advice, don't go to bed angry. "After every argument, 'don't let the day end without making peace,'" the pope urged.
The pope says that the failure to make peace before bedtime can cause resentments to ferment. "How many times, unfortunately, conflicts originate within the domestic walls due to prolonged periods of silence and from unchecked selfishness!" he wrote. "Sometimes it even ends up in physical and moral violence. This lacerates harmony and kills the family."
He also urged people to put down their phones and talk to one another. "It's sad to see a family at lunch, each one with his or her own cell phone not speaking to one another, everyone talking to the mobile phone," he wrote.
The pope's advice may not have been world-shattering but at a time when many people are at their wit's end, it's important to be reminded that one of the most important gifts that we can give to one another is grace.