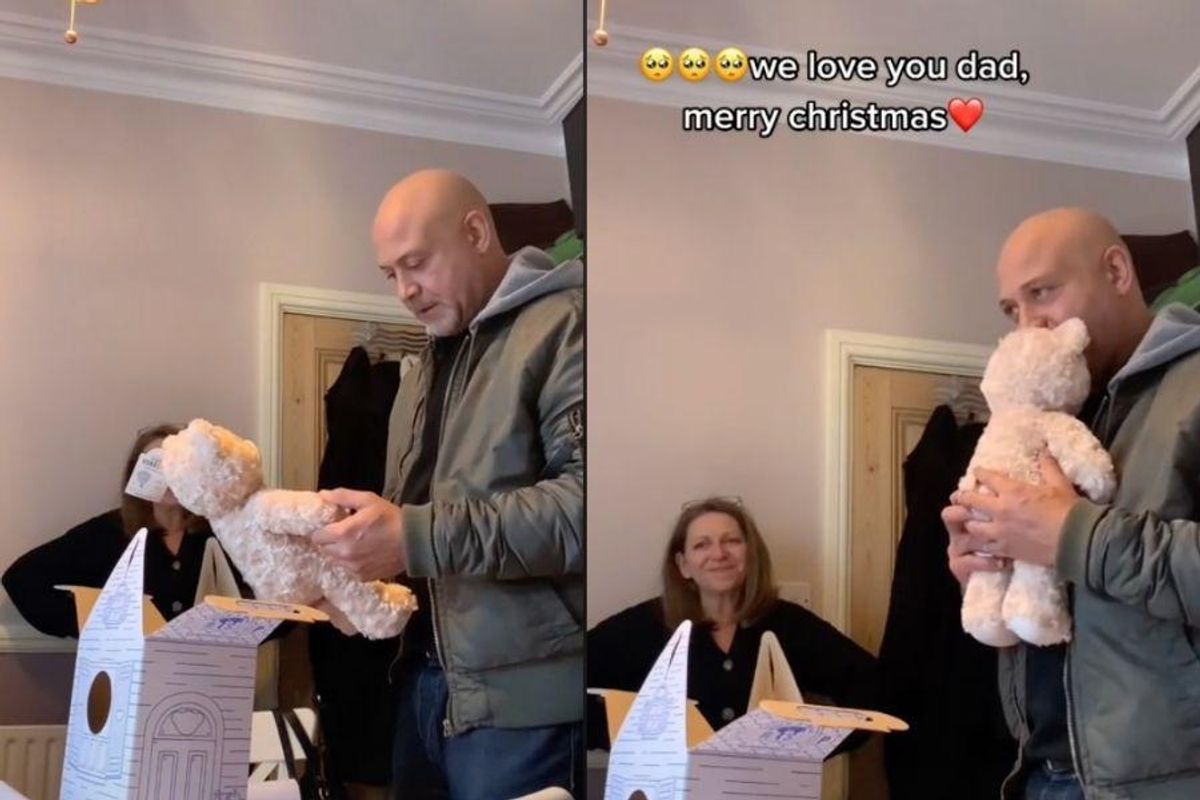 Nothing can ever truly bring back those we've lost. However, there are many creative ways to keep their spirit alive and provide gentle reminders of their love.
Summer Hammond (@summerhammond) wanted to give her dad a Christmas present to help ease the loss of his mother, who passed away earlier this year. So she went to Build-A-Bear, the company known for making completely customized toys.
Hammond's father was probably not expecting to get a teddy bear for Christmas. But he was in store for an even bigger—and more heartwarming—surprise with this incredibly thoughtful gift.
In her video posted to TikTok, Summer lets us in on her little secret: that she had her grandmother's voice put inside the stuffed animal.
---
Thinking it to be a joke, dad playfully opens the box and pulls out the bear's birth certificate and learns that his new friend is named "Milk Biscuit," which Summer explains is an "inside joke with nan."
Dad picks up Milk Biscuit, who smells of bubblegum (another special request from Summer), and is instructed to press the paw. The next thing we hear is nan's voice, sweetly saying "Hello darling," her go-to phrase.
Dad's reaction is instant. He begins to hug the bear in a way that feels like he's turned into a young boy again. As he begins to cry, the family embraces him in a big, comforting hug.
People who saw the touching moment were equally moved.
One person wrote, "There's just something about the way he says "that's really kind" that melts my heart."
"Your dad must be a good man to help raise such thoughtful kids. Your nana would be made-up with this. Well done both of you," wrote another.
Even a Build-A-Bear employee commented, saying, "as a bab employee, it makes me so happy we can help you guys create special moments like this."
The video of this absolutely lovely gesture has now racked up more than 400,000 likes. Can we please make teddy bears for grown men a thing?
And if you're thinking about making your own stuffed animal, perhaps one that also offers a loving phrase, you can check out the Build-A-Bear website here.