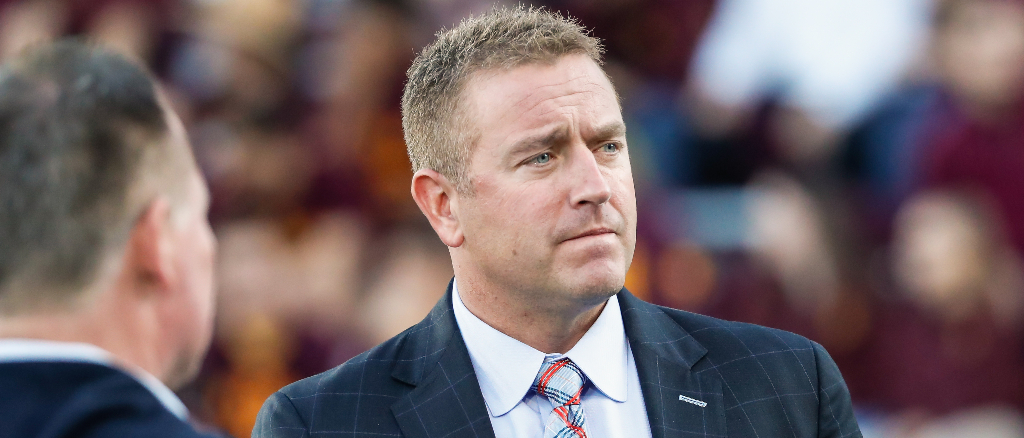 Kirk Herbstreit drew the ire of college football fans for a comment he made on Saturday morning. While appearing on College GameDay live from the Rose Bowl, Herbstreit spoke about the rise in opt-outs among football players whose teams are not appearing in the College Football Playoff.
and, as befits a show that shouldn't even need to be on, the hosts are wilding out with "today's youth are entitled and it's the fault of video games" nonsense pic.twitter.com/4EdBFuTivH

— Timothy Burke (@bubbaprog) January 1, 2022
"What's the difference, as a player, in saying these games are meaningless when, [Desmond Howard], we played in 'meaningless games.'" Herbstreit asked. "I know you guys were here a lot. But, I just don't understand, if you don't make it to the playoff, how is it meaningless to play football and compete? Isn't that what we do as football players? We compete? I don't know if changing and expanding [the playoff] is gonna change anything, I really don't. I think this era of player just doesn't love football."
Howard did add some perspective by saying much of this stems from players having a singular focus on winning a championship and that they don't value other bowl games as a result, but followed it up by saying "kids don't really care about that, they have a sense of entitlement, and it's like, 'if we're not going to the one that matters, then it just doesn't have as much value' to them as it did us growing up."
For context, Ohio State, one of the teams in the Rose Bowl, is without starters at wide receiver, offensive tackle, and defensive tackle because those players have stated their intent to focus on getting ready for the 2022 NFL Draft. That's also been the case with other high-profile players like Pitt quarterback Kenny Pickett and Michigan State running back Kenneth Walker, who both skipped the Peach Bowl to do the same. While the New Year's Six games that aren't part of the playoff have long managed to avoid these sorts of widespread opt-outs, it hasn't happened to this level in the past and has led to conversations about whether or not a rubicon has been crossed. (It must be stressed that, you know, there's a pandemic happening right now, and there is no way to know how that impacted these decisions unless the players explicitly say it weighed into their decision.)
Of course, there's having that conversation and then there's accusing players of not loving football, particularly when these players are not compensated for the millions they generate in revenue beyond the recent steps forward in benefitting from name, image, and likeness opportunities. So he tried to explain himself and didn't do himself a ton of favors.
Just wanted to clarify some of my comments from earlier today. Of course some players love the game the same today as ever. But some don't. I'll always love the players of this game and sorry if people thought I generalized or lumped them all into one category. pic.twitter.com/PS9Pu5rcoo

— Kirk Herbstreit (@KirkHerbstreit) January 1, 2022
"Not all of them," Herbstreit said. "Let me put it to you this way: Every coach that I talk to in the country, when I'm breaking down a roster, I'm going over their two-deep in a production meeting, and one of the things they'll say to me with a guy — like [Georgia linebacker] Nakobe Dean, 'this guy loves ball.' And then I'll be like … when they first started to say that to me, I was like, 'yeah.' But now I'm starting to realize, no, this guy's a gym rat. He'd be here even if we didn't ask him to be here. And that's becoming more rare, and the reason that's becoming more rare is they have so many distractions — they have [cell phones], they have video games, they just don't grow up with the same passion that I think we had. There are some that still do, but I don't think as many."
While one has to wonder if any coaches have explicitly told Herbstreit that a player does not love football or if this is just him reading between the lines on a compliment they pay their athletes, the obvious thing hanging over this is that Herbstreit and his employer, ESPN, are responsible for airing most every bowl game, including the New Year's Six and the College Football Playoff. They're also the main driving force behind the conversation surrounding the sport, and like basically any sport in the world, the conversation around college football is largely about who wins a national championship. This has especially been the case since the advent of the playoff — ESPN, beyond its airing of the games, has a once-a-week show during the latter half of the regular season explicitly designed to generate conversation and drama about the race for a national championship.
It must be stressed that ESPN isn't the only guilty party here by any stretch of the imagination. The sheer amount of money involved in the sport in the race to win a title, even before the playoff became a thing, is pretty stunning — the schools with the best stuff get the best coaches and players, who generally win the most games and championships, and as such, lucrative salaries for coaches and gigantic investments into things like facilities and infrastructure around a program to appeal to the nation's top recruits have become more and more common. Georgia, for example, has famously spent hundreds of millions of dollars in recent years with the singular goal of toppling Alabama and winning a national championship.
And of course, if a coach feels like it, they can cut bait at almost any time and go to another place to try and achieve their goal of winning a ring. Many coaches at the highest level have relatively low buyout numbers in their contracts if they want to go get another job, but if the school wants to fire them without cause, they're owed much, if not all, of whatever they have left on their deal. An example: Lincoln Riley's buyout to leave Oklahoma for USC was $4.5 million, but USC needed to pay his predecessor, Clay Helton, more than $10 million to fire him. That buyout had to descend considerably over the years, and was reportedly a reason why USC was hesitant to fire Helton in the past.
So basically, there's a ton of money in the sport, all of it channeled at the highest level towards the ruthless pursuit of a national championship. Players get none of it, and don't get huge paydays until they finally make it to the pros. The most important thing is winning a championship, something that is hammered home so frequently on the network that airs the playoff that one of its higher-ups quite literally said earlier this year that its coverage can be far too playoff-focused. Considering this, one can argue, the logical endpoint for all of this is players who are not playing for a national title but are four months away from making a ton of money in the NFL Draft are going to prioritize that over everything else.
Herbstreit is someone who legitimately loves the sport of college football and the pageantry that surrounds it — as a Penn State alumnus, I watch Herbstreit, every single year, effusively praise the environment at the White Out game, and I posit alma mater's football marketing department really appreciates that. It really stinks to see him say this sort of thing about this generation of college football players, in part due to the environment with which the sport exists right now. Hopefully all of this leads to some reflection on how we got to this point and how those with the ability to make things better going forward begin really discussing the sport of college football beyond the race to win a title.