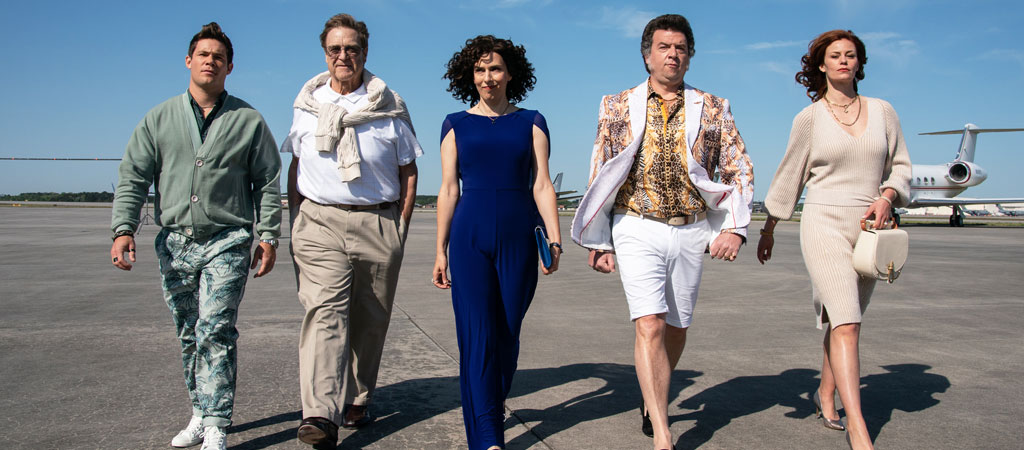 The appeal of watching dysfunctional families never grows old, and that's why January is a fantastic month on TV. Not only will we see the return of evangelistic mega-church shenanigans but also a money launderer who ended up way over his head. In other words, John Goodman and Jason Bateman's money-hungry patriarchs are back for more in The Righteous Gemstones and Ozark, respectively. That's great news for everyone who's missing those other screwed-up fathers from Succession and Dexter, but family isn't the only theme on the agenda. HBO and HBO Max cannot stop with the stellar offerings for everyone, from more Euphoria and Search Party to the return of The Suicide Squad's douchiest character in his own spinoff show.
Not only that, but HBO's got a followup from the Downton Abbey creator, and let's not forget the other options on your TV. Showtime's back with more hedge-fund drama, TNT's got more to show us with perpetually running trains, and Hulu has a revival series that could be worth your time. On FOX and Netflix, Rob Lowe and Ricky Gervais also bring their leading-men status back, and surely, all of these shows will keep you busy.
Here are the biggest shows worth noticing in January:
9-1-1: Lone Star: Season 3 (FOX series returning 1/3)
God bless this franchise for keeping things chaotic and absurd, long after the flaming burrito that started it all. Since that time, the Austin setting has seen a volcano and a dominatrix-centered storyline. On, and there's been roller-derby and military-tank madness, but in the midst of it all, handsome Rob Lowe is keeping things handsome while carrying the weight of the 126 on his still-sculpted shoulders.
Search Party: Season (HBO Max series returning 1/7)
Alia Shawkat's Dory is a kidnapping-victim-turned-apparent-cult-leader in this final season. That's already an interesting turn of events, but Jeff Goldblum arrives on the scene to support all of this cult-y business as some dude named Tunnel Quinn, and of course, no one should expect this series to grow any less intense before all is said and done. Dory's dangerous, and that ain't changing.
Euphoria: Season 2 (HBO series returning 1/9)
Following a few gut-punch special episodes featuring sad pancakes, the Zendaya-starring, mascara-streaked phenomenon returns with a second full-on season. Naturally, Rue's not on the straight-and-narrow, and in fact, she's relapsed and may have descended into the drug trade, so expect violence atop the customary drama. Drake's an executive producer, and the cast is absolutely incredible while giving us more of a lesson than we ever wanted on the subjects of trauma and social media and that elusive love that so many people are seeking.
The Righteous Gemstones: Season 2 (HBO series returning 1/9)
Walton Goggins' Baby Billy is back to be a thorn in the side of John Goodman's patriarch and the rest of the fam, including Danny McBride and Edi Patterson's sibling characters. Hopefully, everybody will be running around the house with pickles in their mouths, and all prayers have been answered for this dysfunctional family to return after the Succession gang dropped that betrayal-filled season finale. Settle in because it's gospel time, so crank up the glitz and the grifting for another round.
Peacemaker: Season 1 (HBO Max series returning 1/13)
One of The Suicide Squad's characters who seemed least likely (well, there actually were a lot of them, including poor Boomerang) to make it out alive has his own spinoff series. That would be John Cena's horribly patriotic title character, and it's still hellaciously funny that this is happening because James Gunn got bored during quarantine and decided to write this TV show. Never fear, though. He Of the Butthole Jokes is still as worthy of contempt as always. There's no telling whether we'll see another Squad movie, so soak up as much of this end of the DCEU while it's hot.
After Life: Season 3 (Netflix series streaming 1/14)
Ricky Gervais returns as Tony, the widower who decided to not commit suicide out of impression but, instead, to take his angst out in the world. He fancies this attitude to be a Super Power, all while everyone around him grows concerned. This final season sees Tony still struggling with enormous grief but realizing that he actually enjoys making people feel good. It's both an end and a beginning to this story, and here's to the celebration of hope.
How I Met Your Father: Season (Hulu series debuting 1/18)
One of the bigger things to know about this particular franchise revival is that it includes Kim Cattrall, who opted out of another franchise revival (the Sex And The City continuation, And Just Like That). Cattrall portrays the future version of Hilary Duff's Sophie, and of course, we're going to hear all about how Sophie met her son's dad, way back in 2022 when the realm of dating apps made looking-for-love even more complicated than in the IRL days. 87 Tinder dates in one year sounds like a total nightmare, right? Let's live vicariously with this bingewatch.
Ozark: Season 4, Part 1 (Netflix series streaming 1/21)
The bad news is that Marty Byrde and fam will only be with us for one more season. The good news is that this is a supersized season that will arrive in two halves, so I'm pretending that we're getting two more seasons. Jason Bateman's baby has been good to us all, even if it's been bad for Marty, Wendy, and the kids, and so-so for Ruth. This season, we'll see what happened after the blood-spattered tarmac happenings. Marty and Wendy were received with opened arms (for a new life in Mexico?) after Helen took a gunshot to the head, and one can bet that this new beginning won't be any more relaxing than the Byrdes' money-laundering U.S. life. Luckily, Laura Linney and Julia Garner will still be around to make Marty's life a little more hellish, and then I hope the ladies can take a nice vacation.
Billions: Season 6 (Showtime series returning 1/23)
God only knows how the Powers That Be plan to shake things up and carry on after Damian Lewis' Bobby Axelrod has left the building. Heck, don't ask me. I'm still pretending that there's a way to make Frank Grillo's character come back as king, but there ain't no drama like hedge-fund-king drama. Last season brought us Janeane Garafalo as the owner of a cannabis venture, so god only knows who's coming next because this show does a fine job with guest stars.
The Gilded Age: Season 1 (HBO series premiering 1/24)
Downton Abbey creator Julian Fellowes heads into (as the title suggests) the American Gilded Age with Christine Baranski in a dramatic role and Cynthia Nixon making us all imagine how Miranda Hobbes would fare in Old New York. This story takes place in the highest society of 1880s New York, where old and new money collide, as do the wigs and costumes on familiar faces. Those include Carrie Coon and Morgan Spector, oh and also, Louisa Jacobson happens to be the daughter of Meryl Streep, so you'll want to hop on that bandwagon early.
Snowpiercer: Season 3 (TNT series returning 1/24)
Somehow, this TV adaptation of the 2013 Bong Joon Ho movie began on a procedural note and then gained momentum in Season 2 before it did the unthinkable: decided to cast Sean Bean and not kill him. Well, Bean's Mr. Wilford must be hellaciously angry over the split-train thing, and fortunately, Jennifer Connelly will return after Melanie pulled a fast one. This is one reimagining that hits the nail on the head against all odds, especially considering that the film remains so beloved, and Chris "Babies Taste Best" Evans and Tilda Swinton aren't even aboard.
Resident Alien: Season 2 (USA Network and SYFY series returning 1/26)
Alan Tudyk (who genre fans know and love from Firefly, Rogue One, and many more entries) is still a freaking alien in this adaptation of the Dark Horse comic of the same name. If that's not enough to stoke your curiosity, then please know that he's also an alien who decides to become a small-town doctor as a cover for his true desire: to murder humans. Somewhere along the way, he decided to reevaluate that mission and then decided to help solve a murder. You won't be disappointed if you give this one a shot.