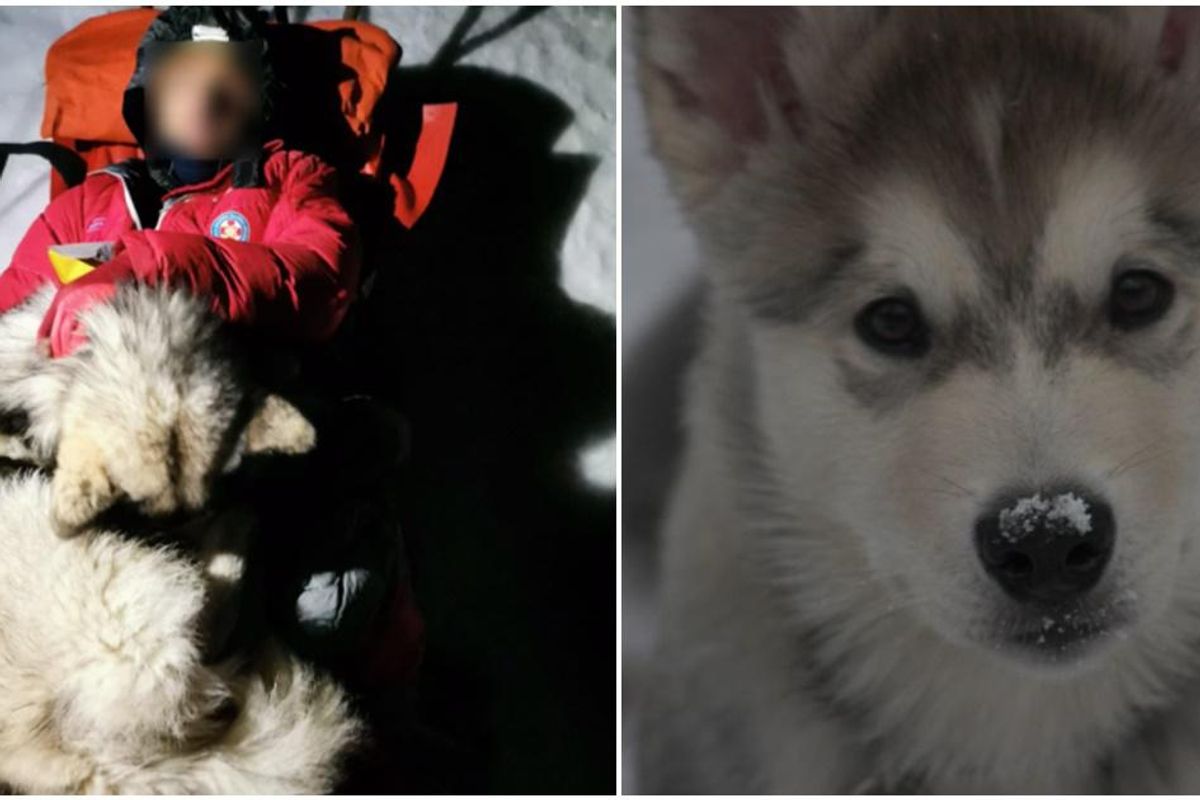 An incredible story from Croatia shows just how far dogs will go to take care of their human companions and how in-tune they can be to our needs.
Grga Brkić was climbing the highest peak of the Velebit mountain range about 5,800 feet above Croatia's Adriatic coastline on Sunday when he fell nearly 500 feet down a snowy slope. The fall resulted in Brkić severely fracturing his leg, rendering him completely immobile. He had to be frightened knowing there was nothing he could do to prevent himself from dying of hypothermia.
Two nearby hikers spotted Brkić and his companion North, an eight-month-old Alaskan malamute, at the bottom of the embankment but were unable to safely get to them. So they sent for rescuers.
Brkić lay in the snow shivering, so his canine companion laid on top of him to keep him warm until help arrived. Alaskan malamutes do particularly well in cold weather and can withstand temperatures as low as -20°F. They have thick, waterproof double coats that can keep them warm even in the frozen Arctic.
---
An 8-month-old Alaskan malamute, North, was the hero during a rescue effort in the mountains of Croatia. He rescued an injured mountaineer by lying on him for 13 hours. North kept Grga Brkic warm after he fell and was injured and his friends could not reach him.pic.twitter.com/MSSuARkn4n

— Kosmos 94.1 (@Kosmos 94.1)
1641371618
The two waited for 13 hours in the freezing cold until more than a dozen first responders arrived at the scene. When they got to the pair they were amazed to find the dog had "curled around [Brkić] and warmed him."
Brkić later told Croatian media that "The minutes and seconds before they arrived were so slow" but "this little dog is a real miracle."
The Croation emergency mountaineers, the Hrvatska Gorska Služba Spašavanja, got to work trying to save the hiker and his dog in what they later called "one of the most difficult rescue operations" they had ever attempted.
Throughout the entire ordeal, the dog refused to detach from his friend.
"The dog was curled up next to the owner in the pit the entire time; he warmed his owner with his body, thus preventing the mountaineer's significant hypothermia who suffered a severe fracture of the lower leg and ankle when he fell," Josip Brozičević, head of the Croatian mountain rescue services, said.
The rescuers were finally able to save the hiker and his brave dog and they were airlifted by helicopter to a nearby hospital. At the hospital, the hiker went through an emergency operation. The dog was unharmed in the incident.
After Sunday's rescue, the Brkić family shared an update on Grga and North, letting everyone know they were doing just fine.
"North is home, saying hello and relaxing," wrote Antonija Sjauš Brkić. "Grga is going to be fine. HGSS … we have no words … thank you!!!"
The rescuers say the dog's bravery and compassion are a lesson that we can all learn from. "Friendship and love between man and dog have no boundaries," rescuers wrote on Sunday. "His loyalty did not stop even from the arrival of the savior … From this example, we can all learn about caring for one another."