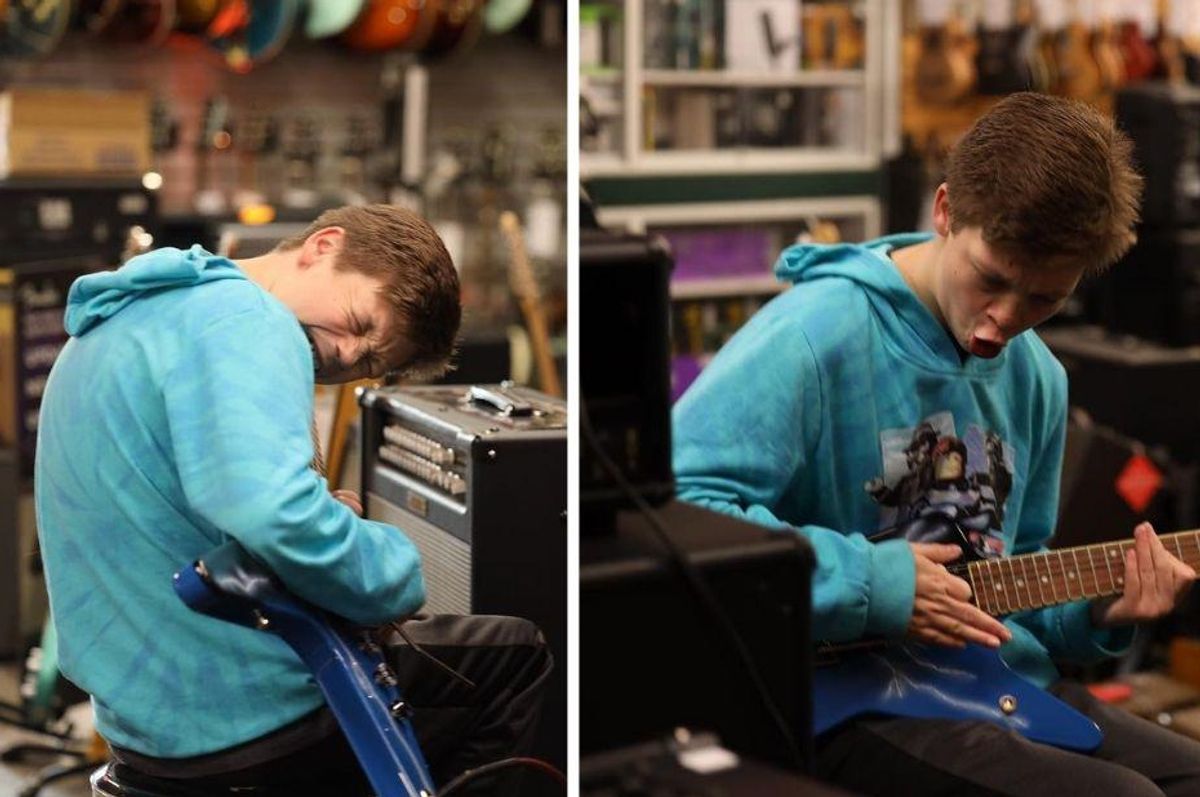 Is there anything better than someone going out of their way to make a kid's dream come true? Yes, there is. It's an anonymous person going out of their way to make a kid's dream come true.
Fallon is a kid who loves music. Metal music in particular. He's also a kid who has Williams syndrome, a rare genetic disorder that comes with a host of developmental and physiological challenges. It also comes with the gift of extreme friendliness and abundant love for people, often leading them to interact with people over toys as children.
For years, however, Fallon has enjoyed interacting with one specific guitar at J.B. Hart Music Co., Inc. in Grand Junction, Colorado. Fallon would ask to play it every time he came into the shop, and another patron took notice.
---
The music store posted the delightful story on Facebook, sharing photos of Fallon with the guitar and writing:
"This is Fallon. Over the last couple of years, he would visit the store from Montrose. His request each time was to play the 'Pantera' guitar, meaning the Dean Dimebag Darrell ML Guitar. We were shocked he knew some Dimebag riffs. Fallon is impacted by Williams Syndrome and has an excellent knowledge and a love for music. His dream was to own this guitar.
Eight months ago, when he was in the store playing it, another customer took notice of Fallon. It moved this customer so much he returned to the store later, purchased the guitar, and asked us to give the guitar to Fallon anonymously the next time we saw him. However, we didn't see Fallon until today. We tried finding him to no avail. Today, his family came in the store, and we learned they had moved to Texas and returned this week for a visit. It was a wonderful experience to gift Fallon his dream guitar as a gift from a kind stranger. His mom burst into tears, and Fallon beamed with excitement. It was a special moment. There are still good people in this world."
Pantera themselves reshared the story:
So darn sweet.
It's particularly sweet considering Pantera's history with special guitars.
Dimebag Darrell, the "Pantera" guitar's namesake, was the lead guitarist for Pantera before the band broke up. He was tragically shot and killed in 2004 by a deranged fan while performing on stage with a different band, sending shock waves through the heavy metal world.
As reported by Loudwire, Darrell had been a huge fan of Eddie Van Halen and had been delighted to meet him just weeks before his death. After he was murdered, Eddie Van Halen called Darrell's family to ask if there was anything he could do for them. They wanted to bury him with a guitar, so they asked Van Halen to stripe one for Darrell like his iconic yellow striped guitar from the Van Halen II album cover.
Instead, Eddie Van Halen brought his original 1979 yellow striped guitar that Darrell loved so much to the viewing and memorial service so he could be buried with it, saying, "Dime was an original and only an original deserves an original."
When Dimebag Darrell was killed in 2004, Eddie Van Halen insisted that he be buried with the original guitar from the cover of Van Halen II.nnHis partner Rita Haney explained what Eddie told her.pic.twitter.com/kIkFWXWQhU

— Mike Beauvais (@Mike Beauvais)
1602015867
How wonderful to see such care for one another carrying on, and the love of music being shared by people who don't even know each other. Rock on, humanity.