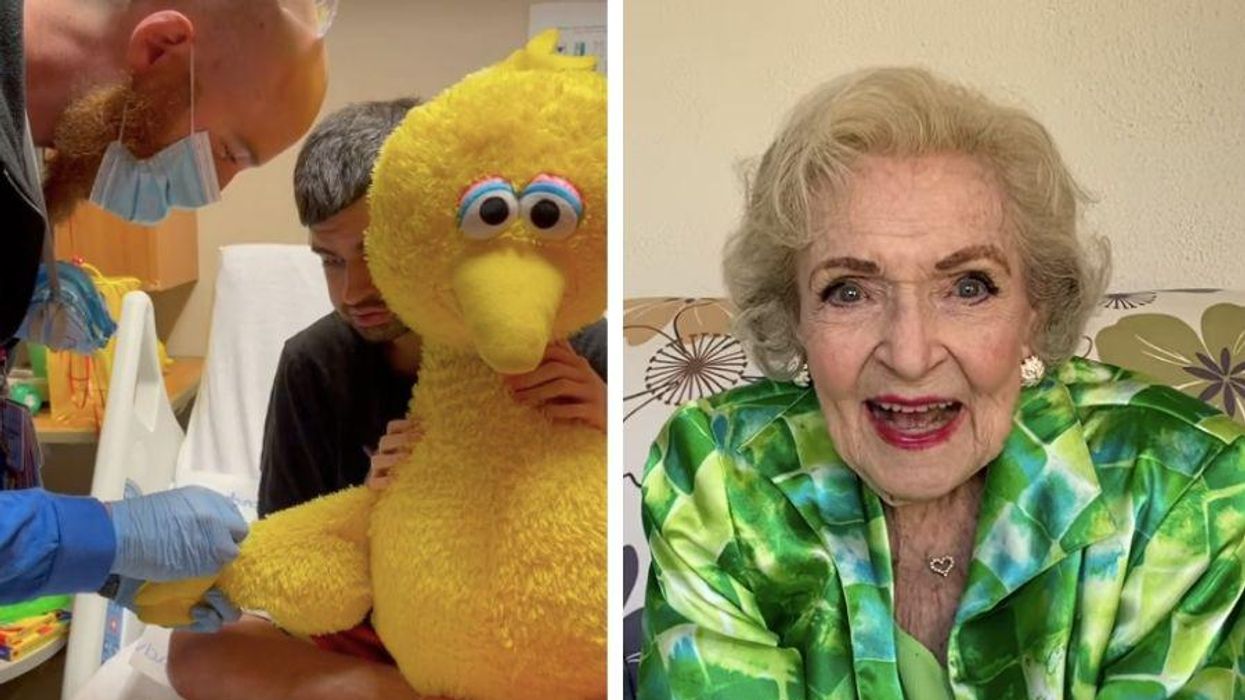 Hey all!
Welcome to Upworthy's weekly round-up of delights from around the internet. This week's list features a little of everything—gorgeous music, cute kids, adorable animals, hope for the planet, and a brand new video message from the late and great Betty White.
That's right, Betty White left us one last message of gratitude shortly before her passing. It's brief, but how lovely to see and hear her speak to her millions of fans one last time. Few celebrities are as universally beloved as Betty White was, and though we knew she couldn't live forever, it would have been fun to see her celebrate her 100th birthday. Now at least we get to experience her joy and warmth one last time with a few last words.
---
Hope these 10 things make you smile as well:
Kid's parents have a stuffed toy made from his drawing and his reaction is everything.
His parents had a stuffed toy made from one of his drawings, so cool. pic.twitter.com/vQfdYb2uBS

— Fred Schultz (@Fred Schultz)
1642696454
Kids' artwork is precious. There's nothing like seeing the unique imagination of a child take form in the real world, so having something they created in 2-D be transformed into 3-D is so cool.
This puppers desperately wants this statue to play fetch, and now I need a puppy.
Come on man….throw it. pic.twitter.com/Urs980U6r0

— Laughs 4 All ud83eudd1f (@Laughs 4 All ud83eudd1f)
1642342383
I'm a cat person, but I want to take this dog home and give them all the peanut butter and let them sleep on all the furniture all the time, thankyouverymuch.
Cellist plays a 12-part cello piece solo, and it's absolutely stunning.
Music already seems like magic. But the things people can do with technology these days is incredible—and so very appreciated during the pandemic, when playing in groups isn't always safe. This performance is just beautiful in every way.
Surfer offers to write the names of strangers' lost loved ones on his surfboard so they can ride 'one last wave'
I loved writing this story and hearing about what made Dan Fischer decide to do it. Such a great example of the power of one person doing what they can, using what they have, to bring whatever comfort they can to their fellow humans. Just wonderful. Read the full story here.
Nurse treats patient's Big Bird stuffy, illustrating how nurses really are superheroes.
@ownedbyahoula

Some people were just born to be nurses. #nursesoftiktok #nurses #CowboyBebop #cohenskidsrock
This patient has Cohen syndrome—a genetic disorder that can cause developmental delay, intellectual disability, small head size and weak muscle tone—and his nurse taking the time to treat Big Bird to comfort him is so compassionate and caring.
6-year-old cheerleader breaks down in tears, but the crowd's support helps her rally.
Oh, this sweet baby girl. She was so nervous and overwhelmed, but she stood her ground and–with the help of a supportive crowd—gathered her wits about her. Well done, everyone.
Zoologist captures 1,000 fin whales in one spot—a ray of hope for the endangered species.
We found about 1000 fin whales over a 5×5 mile area off South Orkney. Blue and humpback also mixed in. Mind completely blown @LindbladExp #NationalGeographicEndurancepic.twitter.com/xtdvexXwI5

— Conor Ryan (@Conor Ryan)
1642121461
Conor Ryan describes himself as a "whale nerd" which is literally true. He's a zoologist, photographer and expert on whales, and even his mind was blown upon seeing this many fin whales in one spot. The endangered species nearly went extinct last century, so this is a hopeful sight. Read the full story here.
Bird researcher turns herself into a human bird feeder. (Wait for it.) 
Oh, when her patience and stillness paid off! Her face tells the whole story.
TSA dog gets a perfect surprise on his final bag search before retirement.
After more than eight years of service, this TSA airport sniffer dog officially retired..nnThis is how they surprised him on his final bag search.. pic.twitter.com/sPyRzLee5U

— Buitengebieden (@Buitengebieden)
1642596519
It's doggo happiness raining down from the heavens.
Betty White's publicist shared her final message to her fans this morning.
Betty White's publicist shared the video on White's official Facebook page this morning. "When we recorded her special message to fans who attended the movie, we also recorded one that we had planned to put on social media on her birthday," she wrote. "She was using the occasion of her 100th birthday to celebrate YOU – her fans. She knew how lucky she was; she felt the love, and she never took it for granted."
Hope that brought some joy to your heart! Come back next week for another round-up of timeline cleansers.