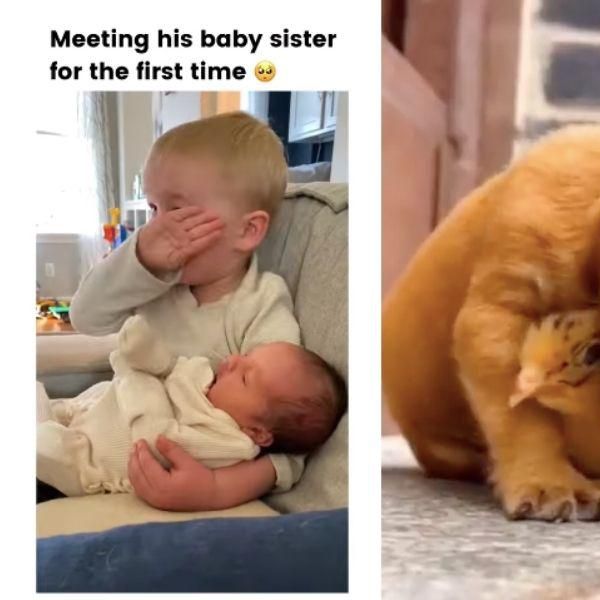 When the world is heavy—and it is right now, very much so—it's wise to try to balance digesting the 24/7 news cycle with some positive things. Not because we should ignore reality or turn a blind eye to tragedy, but because we are human beings with emotions and psyches, and focusing on what's going wrong all the time isn't good for us.
In fact, joy and laughter can be incredibly healing, even in the midst of struggle or sadness. That's really the whole point of these weekly roundups—to provide some wholesome, healthy endorphin-pushing delight when you need a little lift.
Fair warning: At least one of the things in this list might evoke some unexpected emotions, so you might want to grab a tissue. Not sad tears, just … well, you'll see. Totally worth it, I promise.
And with that, off we go.
---
Who broke this cat and why is this so funny? 
The way this cat eats.. pic.twitter.com/b0xatDFXUG

— Buitengebieden (@Buitengebieden)
1645341028
I've had over a dozen cats in my lifetime, and I've never once seen any of them do anything like this. Seriously, what? And the way it falls over backward? Hilarious.
Journalist's mom interrupts him while he's working and it's too precious.
Myles Harris is an Ohio-based journalist for ABC and he shared this video of his mom Sandi's drive-by hello. "HI BABY!!!" People loved it. Sandi is everyone's mama.
Middle schoolers' homemade boat sailed all the way from New Hampshire to Norway.
A group of middle schoolers in New Hampshire launched a homemade boat into the ocean in October 2020. Miraculously, 462 days and 8,300 miles later, a group of Norwegian sixth graders found it. Amazing. Read the full story here.
Oh, this little sweetheart big brother and his big feelings.
This is what true love looks like. That is one lucky baby sister.
Indiana Jones themed Rube Goldberg video is super cool.
When you first watch this video, it may not be apparent that it's computer generated, but if you see how perfectly it loops from the end back to the beginning, it's pretty clear. Still a super cool video. Read the full story about it here.
Did you know baby x-rays are the cutest thing ever? 
Scroll through and wook at dose widdle bones in the widdle hand! And the widdle bones in the widdle footsy! And the kid in the x-ray machine? Oh my goodness.
Don't you just hate it when you get the static hair flyaways?
Itu2019s so dry in hereu2026Humidifier, Hello?! pic.twitter.com/VjDiWk8pDs

— Fred Schultz (@Fred Schultz)
1645305227
HAHAHAHAHAHAHA. [Deep breath.] HAHAHAHAHAHAHA.
Be right back, gotta go get myself a pet squirrel.
u201cPlease donu2019t stopu201d pic.twitter.com/1IiF1U82ol

— Buitengebieden (@Buitengebieden)
1645743173
Any time I'm feeling stressed, I'm just going to put this video on repeat. Talk about soothing. Sheesh.
Grab a tissue and watch this fixer of beloved stuffies get to work.
Don't say I didn't warn you. I didn't expect it either. Oof. So sweet.
And finally, this is just about the cutest thing I've ever seen. Like, ever. 
What the world needs right now..pic.twitter.com/TYpPQ3b5I6

— Buitengebieden (@Buitengebieden)
1645482434
You think it's just an unbelievably cute puppy standing next to a painfully cute chick, and then the puppy starts falling asleep (which isn't even fair), and then the chick tucks itself under the pupper's chin, and then you pass out because no one can handle this much cuteness.
There you go, friends. I hope that brought a little brightness to your day and a little joy to your weary hearts.