Kentucky Owl remains a collector's darling and a high-end whiskey drinker's choice pull. The rare sourced juice has the patina of something special in the bourbon universe, thanks to being hand picked from some of the best barrels in the world by an industry legend: former Four Roses master John Rhea. Rhea brings 40 years of experience to Kentucky Owl, which shines through in each release.
Now, he's teamed up with J.J. Cory Irish Whiskey's Master Bonder Louise McGuane to create a new whiskey that marries Kentucky bourbon and Irish whiskey.
While "bond" in bourbon means a certain proof under the fed's watchful eye, in Ireland it has a different meaning. McGuane is what we'd call a Master Blender. "Bonding" in Irish whiskey terms simply means "blending." McGuane has been pivotal in reinvigorating the role in Irish whiskey in recent years, while helping drive the current Irish whiskey boom. McGuane and Rhea came together for this special release of Kentucky bourbon, blending McGuane's talent and palate with Rhea's decades of experience to create a unique whiskey for St. Patrick's Day.
Now then, let's get tasting.
Also Read: The Top 5 UPROXX Bourbon Posts Of The Last Six Months
Kentucky Owl St. Patrick's Day Bourbon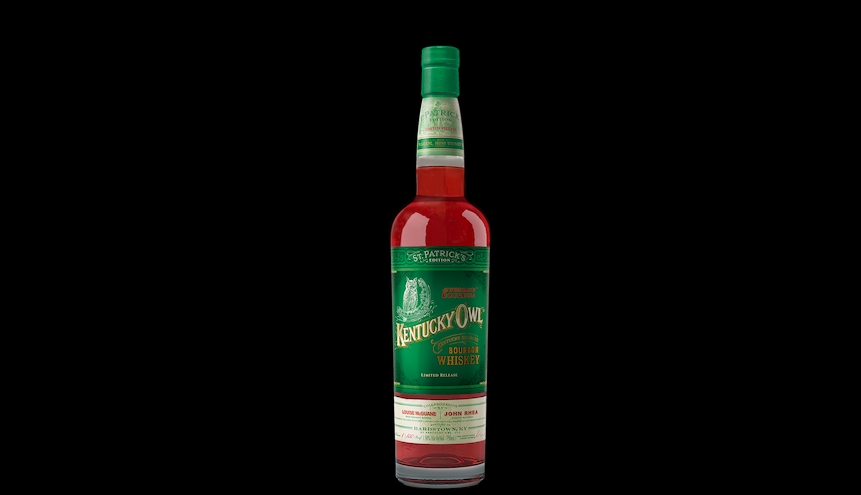 ABV: 50%
Average Price: $149
The Whiskey:
The juice ended up being a blend of four to 11-year-old bourbons, with barrels sourced from an undisclosed distillery in Kentucky. Those barrels were blended by Rhea and McGuane to create a flavor profile that represented both Kentucky and Ireland.
The Bottle:
The bottle is a classic long-neck bourbon bottle. The label is bright green with a real "St. Paddy's Day" vibe. Overall, this can't help but stand out on any bar cart, thanks to that bright green label.
Tasting Notes:
The nose opens with a clear sense of fresh honey next to cinnamon toast, apple fritters, toffee sauce, crunchy peanut butter cookies, a smidge of new leather, and pine kindling. The palate bursts forth with butterscotch that leads to sticky and warm cinnamon rolls drizzled with caramel sauce and stuffed with raisins and walnuts while dark chocolate oranges and lightly singed marshmallows create a sweet mid-palate. The finish veers away from all of that toward huckleberry bushes and tart, almost woody berries while a vanilla tobacco leaf and more of that pine linger on the end of the taste.
Bottom Line:
I have to say, I liked this. It's a great on-the-rocks pour that works really well neat if you add a little water. That being said, you can probably find a whiskey this nuanced and fruity from Four Roses for half the price. But this is a special holiday release, so there's a collectability factor at play, if you want to lay a bottle down in your vault.
Ranking:
90/100 — This was super solid with a great fruity throughline. That said, I can't see buying this for this price unless you're a collector.