Jameson and Bushmills are two quintessential Irish whiskeys. They're also the top two tipples in the U.S. when it comes to whiskey from the Emerald Isle. Though Jameson is by far the bigger seller, it's hard to mention one without the other. Bushmills and Jameson feel like eternal competitors, the ultimate this-or-that order, like Ireland's equivalent of Jim or Jack.
Related: We Blind Tasted Jack Daniel's Versus Jim Beam To Pick A Final Winner
It's a heated rivalry between supporters of the rival camps, with deeply entrenched biases and decades of contentious history. Thus, we figured the only fair way to truly settle this was with a blind tasting.
For this blind taste test, I poured two Glencairns and dove in like I would for any high-end pour of whiskey. This was about finding the minutiae that would separate these two powerhouses. That part turned out to be easy. It turns out, there's much more separating them than just the fact that they come from opposite sides of the same isle. So much so that it became a real trial trying to put one over the other (even if I secretly was sure I knew which was which from very the first nose).
Anyway, enough talk, let's dive in.
Part 1: The Tasting
Taste 1
Tasting Notes:
There's a sense of lemon-infused shortcake that draws you in with a touch of buttermilk cut with honey that leads to an almost floral leather pouch. Sweet grains and dried dark fruits round out the nose. The palate is slightly malty with vanilla peeking in behind Christmas cake spices, roasted almonds, and sweet oak. The finish almost doesn't happen but then kicks in with a (very light) creaminess that almost leans back into that buttermilk and honey as a light touch of that sweet oak lingers on a relatively short finish.
Taste 2
Tasting Notes:
This is vastly different on the nose with applewood and apple candies counterpointed by steak pie crust (no filling) with orchard blossoms, a touch of apple bark, and wet, almost creamy oats rounding out the nose. The taste starts off with a soft vanilla extract that leads to black licorice, spice malts, and Honeynut Clusters. There's a rush of red berry candy on the mid-palate that leads back toward that licorice for a small moment before the creamy oats fade towards a soft caramel and dry reed finish.
Part 2: The Ranking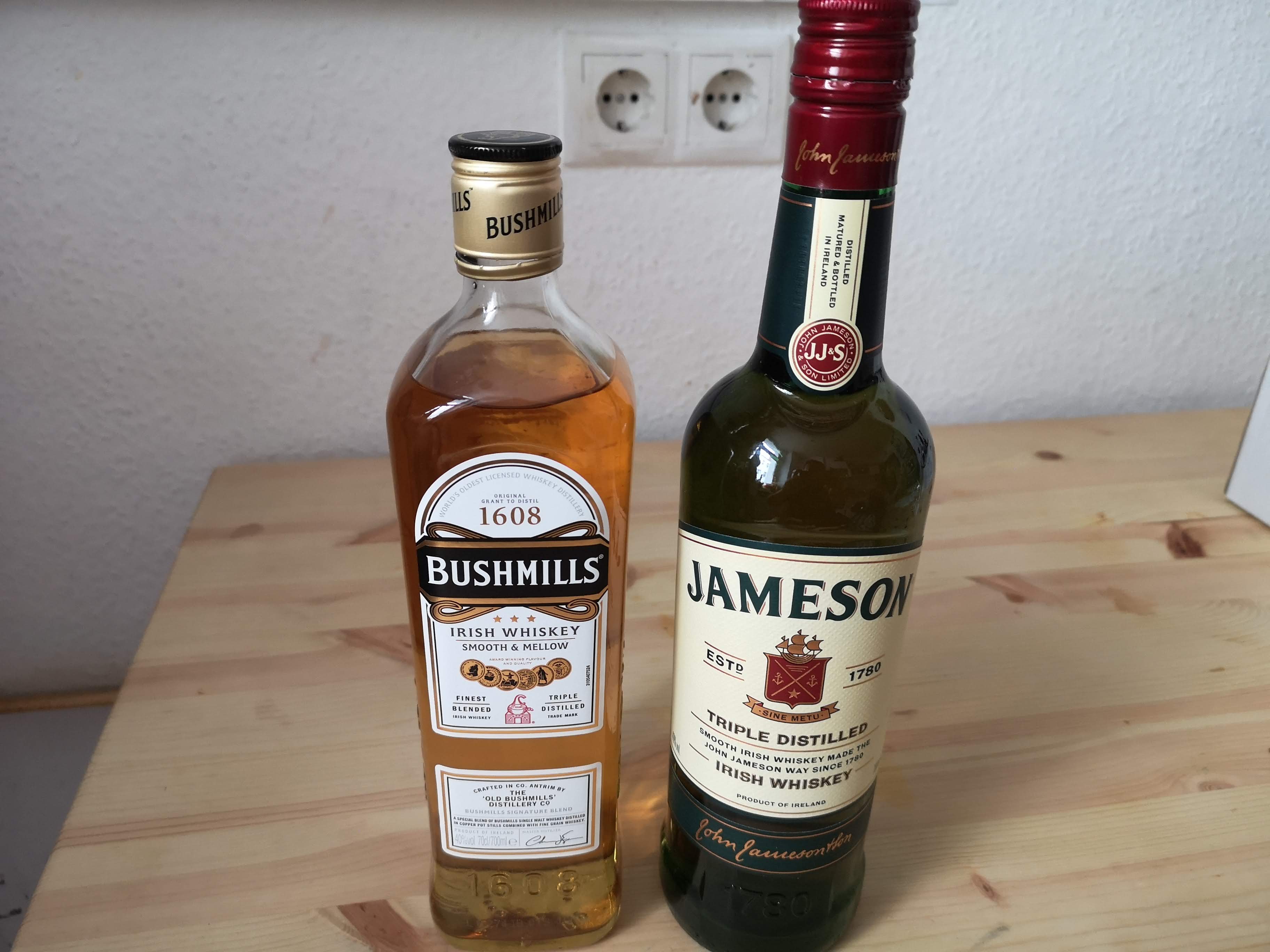 2. Jameson — Taste 1
ABV: 40%
Average Price: $30
The Whiskey:
Jameson is the classic tripled distilled Irish blend. The juice is a blend of single pot (unmalted and malted barley) and grain (mostly corn) whiskeys. Those age in oak — primarily ex-bourbon barrels with ex-sherry thrown in too — until they hit that classic sweet spot.
Bottom Line:
That creamy end couldn't save Jameson this time. This had a great nose and first half of the palate. Then it faltered. The finish was mostly just "creamy" without any real sense of any particular flavor note. Had it been creamy almonds, creamy oats, or even creamy bourbon vanilla, at least it would have been distinct.
That all being said, this is a whiskey that's built to be mixed, so drinking it neat might be asking too much.
1. Bushmills The Original — Taste 2
ABV: 40%
Average Price: $27
The Whisky:
This is Bushmill's classic and "original" recipe. The grain and malted whiskeys from Northern Ireland are rested in ex-bourbon and ex-sherry casks before they're married, proofed, and bottled.
Bottom Line:
Maybe I'm just hankering for a good steak pie, but the nose on this was a little more enticing though very apple-heavy. Overall, the palate really ebbed and flowed with distinct flavors that built on one another, called back nicely, and felt well-rounded. This just spoke more to me today is what I'm getting at.
Again, this is really built to be a mixer, so treat it as one. That said, if you're ordering a shot of something later to chase with a big ol' pint of Guinness, I'd go with Bushmills. Then maybe order a Jameson and ginger once you're full of Black Stuff.