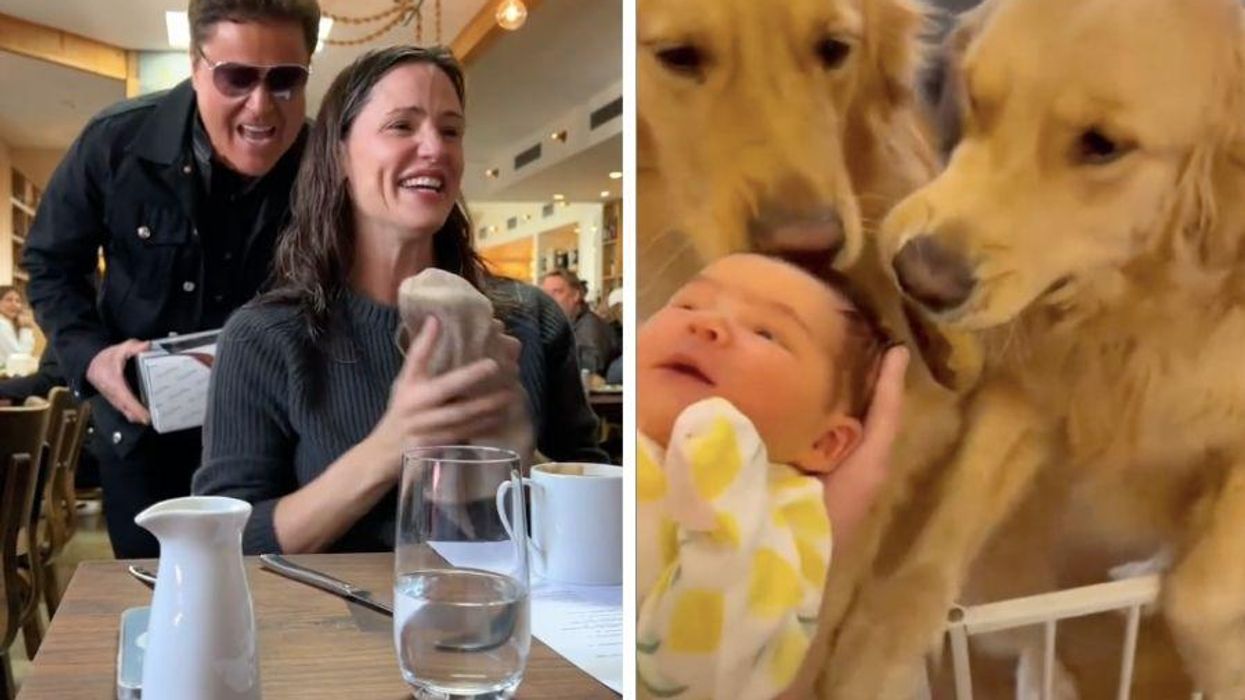 Do you ever feel like the world has officially entered hell-in-a-handbasket territory? Like division and hate are dominating and kindness and compassion are dwindling?
I have a strong faith in humanity, but the past handful of years has shaken that faith pretty hard. When I step back, though, I realize that most of my perception about the state of the world is coming from this electronic box in front of me. The nature of my work has me spending lots of time paying close attention to the media and spending lots of time on social media—which can be useful, but which also thrives on viral negativity. It's easy to walk way from a social media scroll session with the perception that people in general are getting worse.
But that's not what the data shows. While there are some serious issues we need to deal with, people in general have been actuallymore excellent to one another. In fact, the World Happiness Report, which uses data from Gallup World Poll, shared that people volunteered, donated and helped strangers 25% more in 2021 than before the pandemic. The report authors called it "a pandemic of benevolence."
---
Just let that shot of faith in humanity sink in. Don't fight it. It's a good thing, truly. Let's let it be good without trying to explain it away. It's OK to shift our focus from the negative to the positive. It's energizing. It gives us hope. It reminds us that there is always good happening in the world at the same time as the bad.
It's also OK to take a break from the headlines and indulge in some purely feel-good content. Those delightful little doses of endorphins from watching a cute animal or baby video can be just the thing we need to help us through the day. No shame in that game.
Let's celebrate good things large and small with these 10 smile-worthy tidbits from around the interwebs:
Jennifer Garner got the best birthday surprise from her childhood crush, Donny Osmond.
Jennifer Garner's relatability is legendary and totally evidenced in this video. The part where she had to take off her sweater is the best. Such a pure, sweet reaction to a dream come true. Read the full story here.
Cameron the Lyft driver's list of different drives he offers is hilariously genius.
Have you ever gotten into an Uber or Lyft or taxi and wished the driver would either talk more, or talk less, or stop talking, or talk about something else? Cameron lets his passengers choose what kind of ride they get, from the Small Talk Ride to the Therapy Ride to the Funny Ride to the Creepy Ride. One ride even involves bubbles. Read the full story here.
12-year-old raises more than $300,000 for Ukraine with his handmade wooden bowl.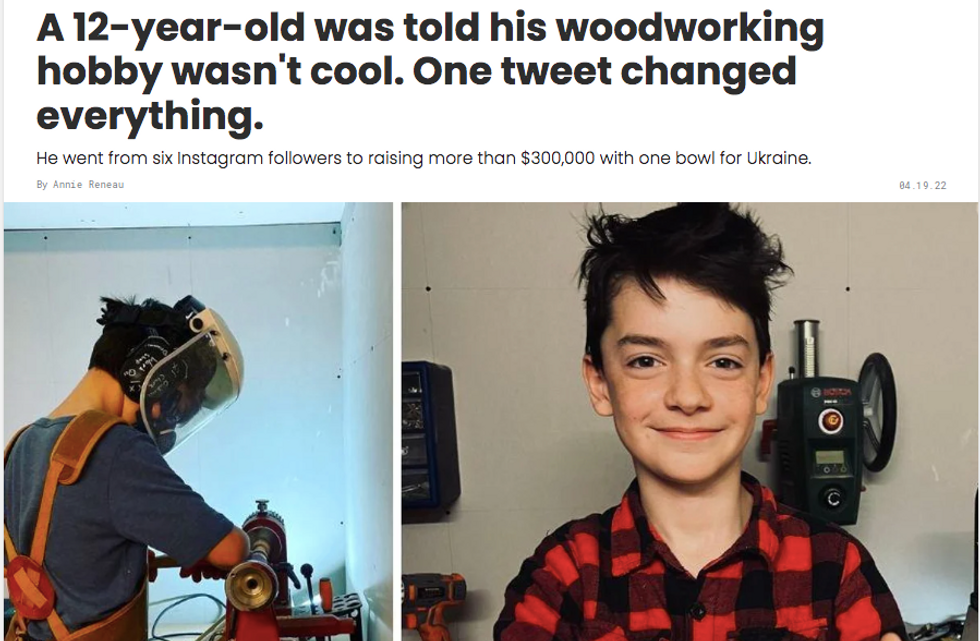 Best story ever. Gabriel Clark's dad shared that his son was feeling down because kids had told him his woodworking habit wasn't cool. That tweet resulted in a flood of support and prompted Gabriel to create a special wooden bowl to raise money to help the children of Ukraine. So many people pulling together to support a sweet kid and those impacted by war. Definitely worth reading the whole story here.
Fox enjoying a little banjo concert in front of a stunning natural backdrop.
I mean, this is just beautiful in every way.
Golden retrievers Winston and Doug meet their baby sister for the first time, and awwww.
@winstonthegoodboygolden

Already the best big brothers 💛 I see lots of kisses & toys in Miller's future! #dogmeetsbaby #petsoftiktok #goldenretriever #feelgood #ComeDanceWithMe
The donut got me.
Potato dog getting a bath.
No reason for sharing this other than it's just so darn cute. Oh, dat belly.
The original video that prompted a viral 'I JUST A BABY!' audio wave is just too much.
There are a gazillion videos on TikTok using this audio, but nothing compares to the original. These pandemic babies are something else, I tell you. (Also, "I JUST A BABY!!!" is now my excuse for doing anything I don't want to do, thankyouverymuch.)
Dad had no idea he was auditioning for "Britain's Got Talent," then brought the house down.
Sorry, this is both smile-worthy and tear-worthy, so you might want to grab a tissue before watching. So dang sweet.
Believe it or not, there really was a "pandemic of benevolence" in 2021.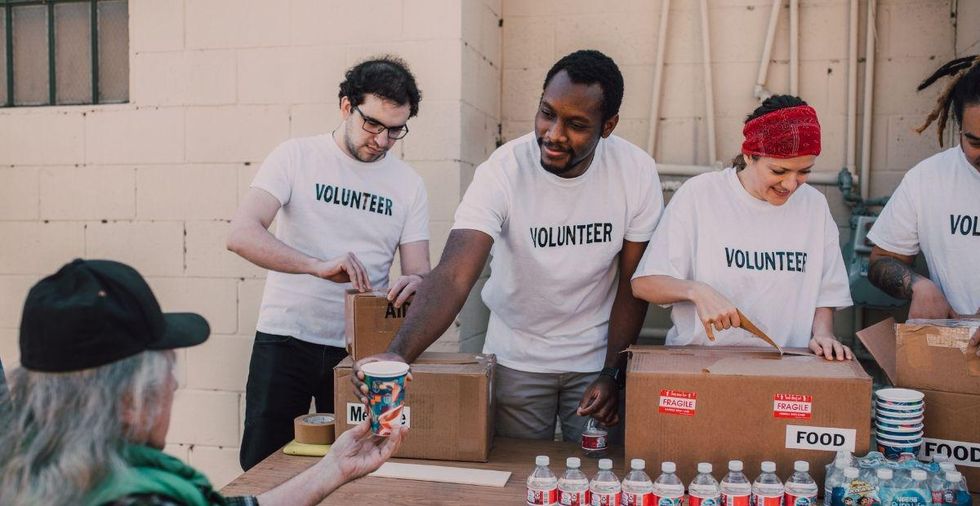 The conclusion of the 2022 World Happiness Report ought to give you a boost of faith in humanity:
"Although our three measures of prosocial behaviour—donations, volunteering and helping strangers—had differing levels and trends, all showed increases in 2021 in every global region, often at remarkable rates not seen for any of the variables we have tracked before and during the pandemic.
Global benevolence, as measured by the average of the three measures of prosocial behaviour, has increased remarkably in 2021, up by almost 25% of its pre-pandemic level, led by the helping of strangers, but with strong growth also in donations and volunteering."
Read the full story here.
If you need a pep talk, let this 3-year-old's affirmations inspire you. 
Definitely want the sound up on this one. This is the kind of pump-up we all need to give ourselves each day. "I'M RUNNED OUT OF POWER BUT I CAN STILL MAKE IT DOWN DIS BIG HILL." Right on, little one.
Hope that brought many smiles to your face, friends! Come back next week for another roundup of joy and delight.