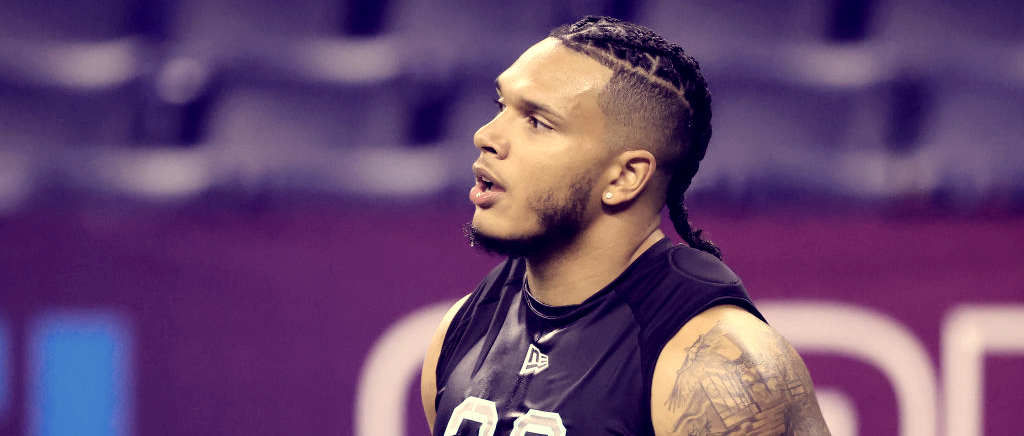 Jermaine Johnson has seen a lot in his young football career. He's gone from being academically ineligible coming out of high school to a star on Last Chance U to the Georgia Bulldogs and, finally, Florida State, where he broke out in 2021 to rocket up draft boards.
That journey has given Johnson a perspective on life and football beyond what most 23-year-olds have, as well as an appreciation for what the game can provide and how quickly things can go away if the work isn't properly put in. On Thursday night, Johnson figures to hear his name called in the first round of the 2022 NFL Draft as one of the top edge rushers in this year's class, a moment he admits there were times he never even thought was possible.
On Wednesday, Johnson spoke with Uproxx Sports from the P&G Style Lounge at the Delano on the Las Vegas strip to look back on his journey, what he wants teams to know about him as a player and person, and how he intends to be the next game wrecking pass rusher in the NFL.
Where's the excitement level at with Draft night a day away?
It's up and it's high. It's one of the days you dreamed about as a kid and, shoot, even sometimes I never thought I'd get here. So, I mean they're high. It's awesome. Unbelievable.
When you look back at your journey to get here, what are you most proud of yourself for making it through to this point?
Not giving up. You know, not taking the easy way out and staying true to my value and what I believe my value is, because anywhere along the way I could have devalued myself and taken the easy way out. But I never did. So I guess just sticking through it and trusting that even though I couldn't see the light at the end of the tunnel sometimes that you know I'll be guided to it.
From where you were a few years ago in JUCO to where you are now. What would you say is your biggest point of growth as a football player?
As a football player? Man, that's such a hard question to ask because I've grown so much since junior college to now. I mean, it's not even the same player in my eyes, not even remotely close. So just it's a whole different player, man. I wish I could give you one or two things, but it's just a whole different player.
When you've talked with teams through this pre-draft process, what have you wanted them to know about you, the person?
As a person? I mean, I just wanted them to know my outlook on the game, and how I think it's supposed to be played. Understanding that the team comes first and understanding that when you put the team first, you just trust that your individual accolades and goals will handle themselves but it's a team first thing. Like back in the day, like in medieval times when you go to war, you weren't going out there trying to get as many kills as you can, you go on out there and you're fighting for something that that you truly believe in and you're fighting for the people and your brothers next to you.
So I mean, that's just like football. I think we're modern day gladiators. And you know, I'm going out there and they're my brothers and that's the first thing on my mind. I don't care about sacks and, you know, statistics and stuff like that. I just know that you know, if I keep playing football, the way I play it all that stuff will handle itself anyway. So I mean, I just want teams to know that's how I look at things and you know, that I'm not a fluke and that I'm very much the real deal.
You've been on a number of teams already in your career. What do you think you've learned about what it means to be a good teammate and going from a few different places and being in a few different cultures and what you think that can bring now that you go to another team with whoever picks you?
Just the word selfless, man. It's not about you. It never was and it never is about you. You're part of a team. You have a role to play on that team, whatever that role may be, your job is to give 110 percent in that role. It's not about you. And I think that's it.
Who are guys that you look to who are in the league as guys you've tried to pull from and add stuff to your game that you watch film on?
Khalil Mack and Myles Garrett. I mean those guys are dominant pass rushers — dominant, dominant pass rushers. And they take games over and they make offenses game plan against them and I mean, they just wreck games and that's what I intend to do.
You've got the red carpet tomorrow night. You got everything all ready to go?
Yeah, everything's ready man. It's gonna be well worth the wait.
How have you ended up with this partnership with with Gillette and how are they helping you out for tomorrow night?
I mean, Gillette and I we share the same values in terms of confidence, man. If you got confidence there everything else will handle itself. So to be quite honest, they're getting me clean. They're getting me ready for this night on the red carpet and I couldn't thank them anymore for that.