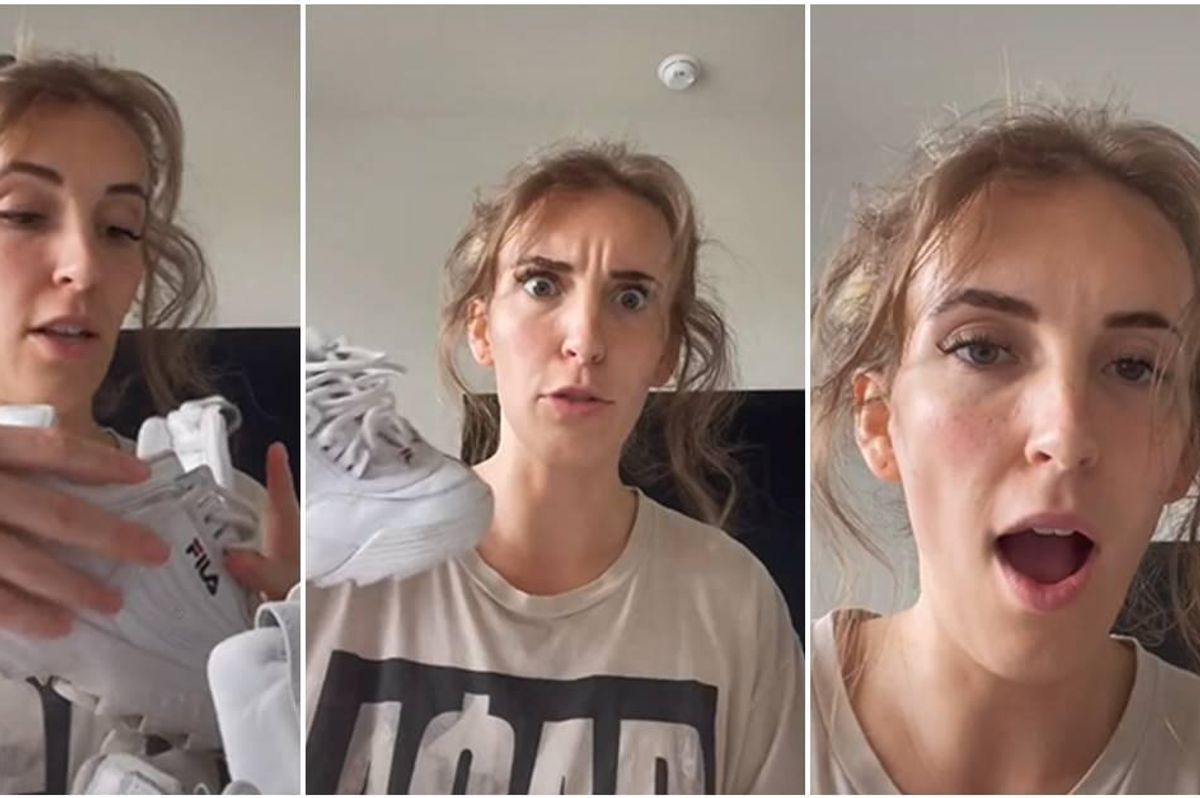 Anna Mellor is a popular TikTokker best known for making videos where she pranks her husband, Rory. But he may have got the last laugh after a secretive long-con he played left her stupefied.
The secret? He's been leaving her love letters in her shoes. "I just discovered a six-year secret my husband has been keeping from me," Mellor captioned a post with the big reveal. The video has over 2.4 million views since it was posted in March.
Anna got hip to her husband's secret joke after she purchased a pair of used Fila shoes and found a secret message written in black Sharpie on the inside: "I Fila lot better when ur around." After making the discovery, she called her husband to tell him the strange news.
---
"I was like, 'I just found a love letter in my shoes,'" she explained. Rory acted confused to hear the news. "He's like, 'Are you being serious?' Acting as if I should know what's going on," Anna said.
But he couldn't keep up the charade for long. "We have been married for six years. I have been writing in your shoes for six years and you just noticed for the first time" he admitted. Anna then opened up another sneaker that had "If your feet get tired I will carry you" written on the tongue.
@mellorlite

Me thinking it was a love letter for someone else has same energy as when Rory was proposing and I thought the ring was somebody else's that got lost at the beach😂😂
It makes you wonder how many pairs of shoes that she's thrown out had secret messages in them?
Anna was clearly shocked by the revelation and thought it was a wonderfully creative way for her husband to show his love. It also shows that the man has an incredible talent at keeping a secret. Commenters on the video thought that Rory is definitely a keeper.
"Immediately getting a divorce… none of my shoes say stuff!" TheMrsGarcia1111 wrote. "Where did you find him and how do I get one…asking for a friend," Keelyn added.
This isn't the first time the couple has gone viral. Back in 2020, Anna posted a video on TikTok where she sent her husband a dirty text message, but it was intercepted by her mother-in-law.
@mellorlite

I think I just lost points with my mother-in-law….#dirtytextreaction #ilikehimchallenge #dirtytextprank #motherinlaw #motherinlawproblems #gonewrong
In the video, a horrified Anna can be heard saying, "Wait, wait, no… oh no" as she watches Rory's mother reaching for the phone. "Did you read that?" Rory asks after taking a look for himself. "I thought it was my phone," she responds. "That is so gross!"
Talk about embarrassing.
Research shows that good-natured ribbing, like the type that Anna and Rory share in their videos, is great for a couple. A meta-analysis of 39 studies found that couples who "create humor together" though inside jokes are more likely to last than those that don't.
"People say they want a sense of humor in a mate, but that's a broad concept," Professor Jeffrey Hall from the University of Kansas said according to The Daily Mail. "What is strongly related to relationship satisfaction is the humor that couples create together."
.