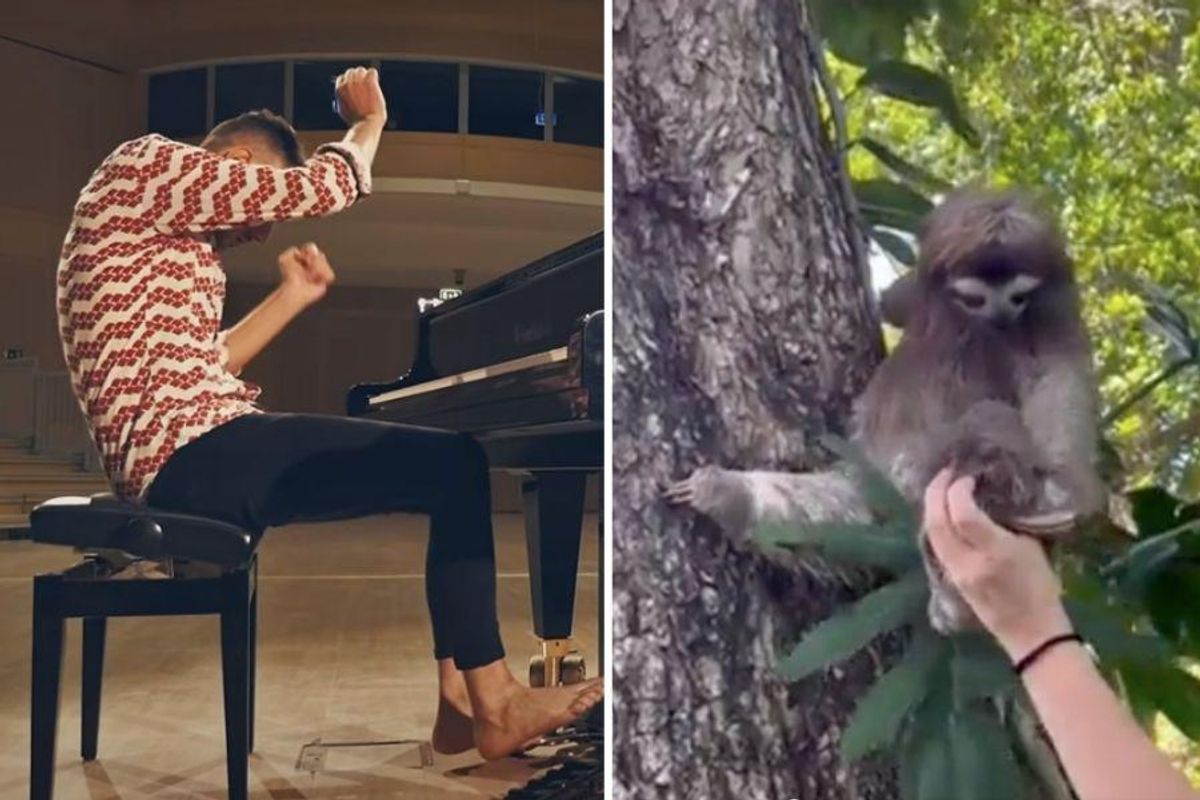 Last week's 10 things that made us smile post included a disproportionate number of dogs, and this week's post includes an unusual amount of music. Not sure how these things happen exactly, but I'm gonna go ahead and blame The Algorithm.
I love music. How could anyone not love music? Humans have made music since time immemorial, in every culture around the world. Few things unite people like music can, without having to speak one another's languages, without having to say a word. We hear a well-performed piece of music and we are transformed, like magic.
In this week's list, we have music being played and enjoyed by young and old as a reminder of the wonderful things humans can create. We need that reminder in the face of destruction that we are builders of beauty when we choose to be.
---
We also have sweet reminders of the bonds between parents and children, grandparents and grandchildren. And we have "spicy purritos," just because it made me smile.
Hope this week's list of 10 things makes you smile as well.
1. This graduating dad and his proud daughter taking his picture are a whole mood.
It's graduation time from now till mid-June, with all the relief and pride and sense of accomplishment that goes along with it. Congrats grads—but especially this grad dad.
2. Awesome marimba band plays Vivaldi's "Spring" from "The Four Seasons."
Nothing like a bit of Vivaldi played by The Goede Hoop Marimba Band to bring joy to any day #WednesdayMotivationpic.twitter.com/lTeNOF5XDZ

— Alison Kriel ud83dudc99 #ubuntu #AntiRacist (@Alison Kriel ud83dudc99 #ubuntu #AntiRacist)
1652855643
We shared a different awesome marimba band video recently, and this one has similar energy. So much joy. So much fun. Such great music.
3. The vets call the mad kitties "spicy purritos." SPICY. PURRITOS.  
My friend Liz is a vet tech, and they call the cats they have to wrap up so they donu2019t claw the vet u201cspicy purritosu201d nI thought everyone needed to know

— Chelsea M. Cameron (@Chelsea M. Cameron)
1652495611
Yes, everyone did need to know this.
4. Mama sloth reuniting with her baby sloth is a big ol' awwww moment.
baby sloth reunites with its mompic.twitter.com/T1qnkxPFla

— no context viral (@no context viral)
1652830303
Awwww. Seriously. I've never seen a sloth move that fast.
5. Dad shares what his '80s upbringing was like and it's total Gen X nostalgia.
@shadyraro

The 80's was the best decade #80s #80skid #oldschool #genx #parents #funny #family #foryou #fyp
I know I'm dating myself here, but this video is 100% my childhood. The cassette tape struggle was so real, and I think I still have scars on my shins from those dang bike pedals.
There's also a Part 2, worth watching purely for the reminder that we really used to have ashtrays everywhere.
@shadyraro

The 80's was the best decade Part 2 #80s #80skid #oldschool #genx #parents #funny #family #foryou #fyp
And that "online" pun. Nice.
6. Barefoot pianist blesses the rains down in Africa using every part of his piano.
Peter Bence's "Africa" rendition is wicked impressive and oh so entertaining. Read the full story here.
7. 88-year-old momma gettin' down to Janet Jackson before bed is aging goals.
Lord, give us her groove and energy.
8. Five-year-old piano prodigy rocking the Mozart on the ivories is reverse aging goals.
On the other end of the age spectrum, holy moly. This is Alberto Cartuccia Cingolani, a 5-year-old piano prodigy from Italy, playing Mozart.
His parents are both professional musicians and his mother says he started playing when the pandemic shut everything down. Now here he is winning international music competitions. She tells Italian media that he does take plenty of time for school and play and television, so don't worry that the kid is being forced to practice for hours. Kid just has some serious musical chops.
9. She plays piano for her 93-year-old grandpa who has Alzheimer's and he loves it.
Speaking of piano and aging, this is so sweet. Alzheimer's is rough, but that thumbs up is so sincere.
10. This joyful "Ob-La-Di, Ob-La-Da" cover, just because it's so fun.
This one is certainly worth unearthing for the sheer happiness of it all. One of the best songs ever made, truly, and one we all love to sing along with friends. The simple truth of that line, "Life goes on, brah." Reason #472 to thank the Beatles.
Hope that got your toes tapping and brought a little pep to your step as you head through the weekend. Come back again next week for another roundup of joy!