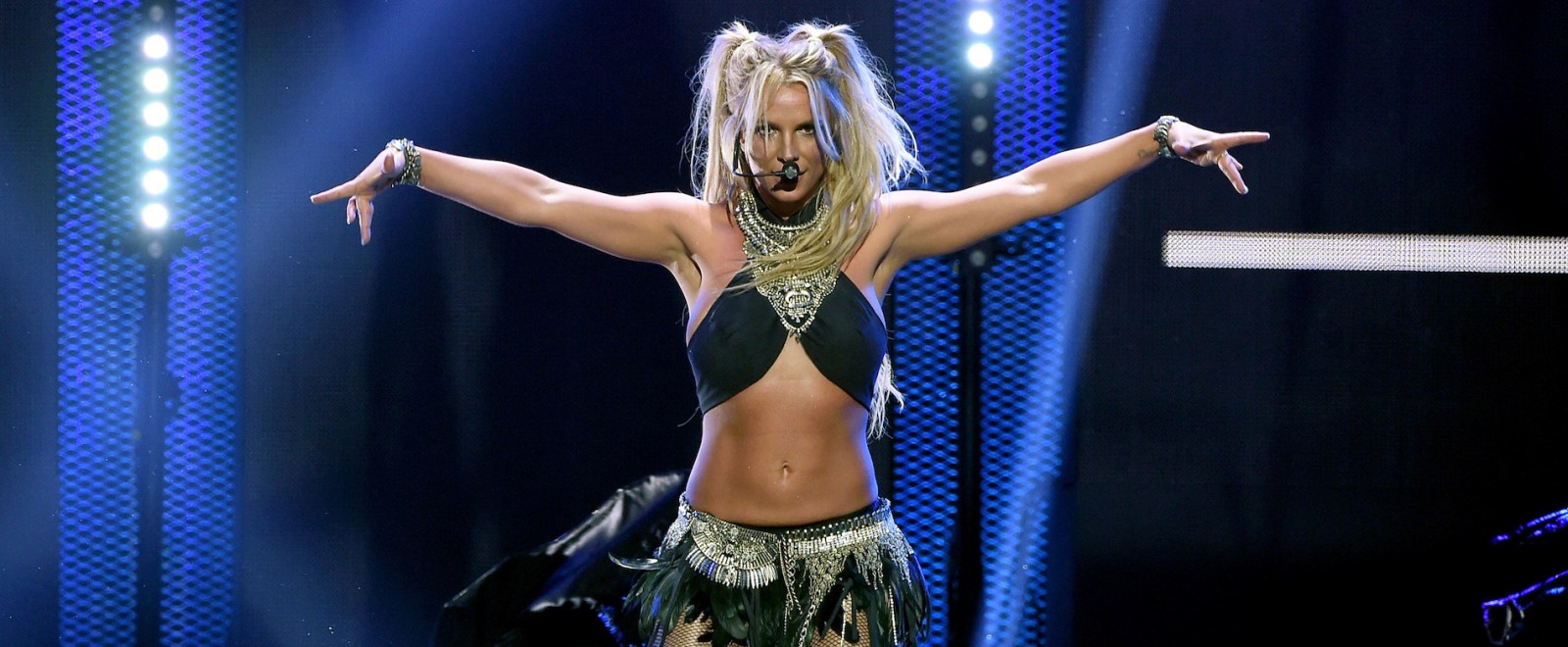 Over the past few months, Britney Spears mostly uses her Instagram in two primary ways: sharing naked photos and discussing her conservatorship. She did a bit of both last night, offering up some new nude pictures and teasing her upcoming memoir. In her post, she wrote that her conservatorship was so bad that it has made her question God.
She wrote, "I've been playing the field … the business … the industry my whole life … that was of my own making … was it in God's hands or mine ??? Or was it because I was close to God and he guided me ??? God knows I haven't been perfect, but I do know this the consequences that were taken over me for never committing a crime a day in my life made me question God !!!"
Spears also noted that in general, she feels better now than she ever has, saying, "I've never been more happy in my life … in the past several months since it's been over besides my miscarriage !!! My spirit feels lighter and I genuinely laugh and smile now and my eyes are hungry for more each day …"
She also addressed the reason she's writing her book: "I want to share my story for one reason and one reason only … to let people know you're not alone and trust me I KNOW if you're going through something and you feel so distant from everything … it's hard to confront your mind and say … oh you're not alone … it's easier said than done, but I need to share through it all."
Find Spears' full post below.
"Point of view – perspective ??? Tell me then ??? Or do I really want to ??? I've been playing the field … the business … the industry my whole life … that was of my own making … was it in God's hands or mine ??? Or was it because I was close to God and he guided me ??? God knows I haven't been perfect, but I do know this the consequences that were taken over me for never committing a crime a day in my life made me question God !!! It wasn't just the torture it was the embarrassment of it all … Nobody should have to go through what I went through …

I've made a point to capture my experience through a book I am writing … It's all written on pages that people will hold with their own two hands … and hopefully have a better understanding … we all know something we read isn't the same as your spirit experiencing those circumstances, but I do feel like some people will be touched …

my experiences in the business were always with vast amounts of people … always on the go and working so hard … connecting with people basically work my ass off … the one thing I will say that bothered me the most was the extent of isolation I was in for 4 months … I used to love being alone, but it was my choice !!! My choice to go in deeper and hear the whispers of the spirit … the type of isolation that was forced on me was torture on all levels … confusion … Why ??? None of it is making sense …

I do know there are quite a few people that have experienced situations similar to mine and I respect their bravery on sharing their story openly to the press … unfortunately, after I gave an open testimony in court by phone I gave so many people the awareness to question my situation … don't want to be openly questioned by anyone about my experience !!! I don't want to speak openly about a traumatic experience when in the foreground it was condoned by my whole family !!! Honestly, I don't want to ever talk about it ever again … I feel like I would entertain the very people who hurt me … I do believe they would secretly like the embarrassment I would go through bringing it all up 100 percent … They will no longer get the best of me and humiliate me …

I've never been more happy in my life … in the past several months since it's been over besides my miscarriage !!! My spirit feels lighter and I genuinely laugh and smile now and my eyes are hungry for more each day …

I want to share my story for one reason and one reason only … to let people know you're not alone and trust me I KNOW if you're going through something and you feel so distant from everything … it's hard to confront your mind and say … oh you're not alone … it's easier said than done, but I need to share through it all … my subconscious knew it was gonna be ok … the spirit within me that told me to keep moving forward and it was all I had … it's what I hung onto !!! Although it was hard as hell I got through it !!! And the one thing I wish someone would have told me is you are not alone … my fans showed me so much love and assertiveness through it all … their hearts knew and there's not a single day that goes by that I'm not aware of that and I'm so grateful to have my fans … remember you are not alone and God bless you all [heart emojis] !!!"