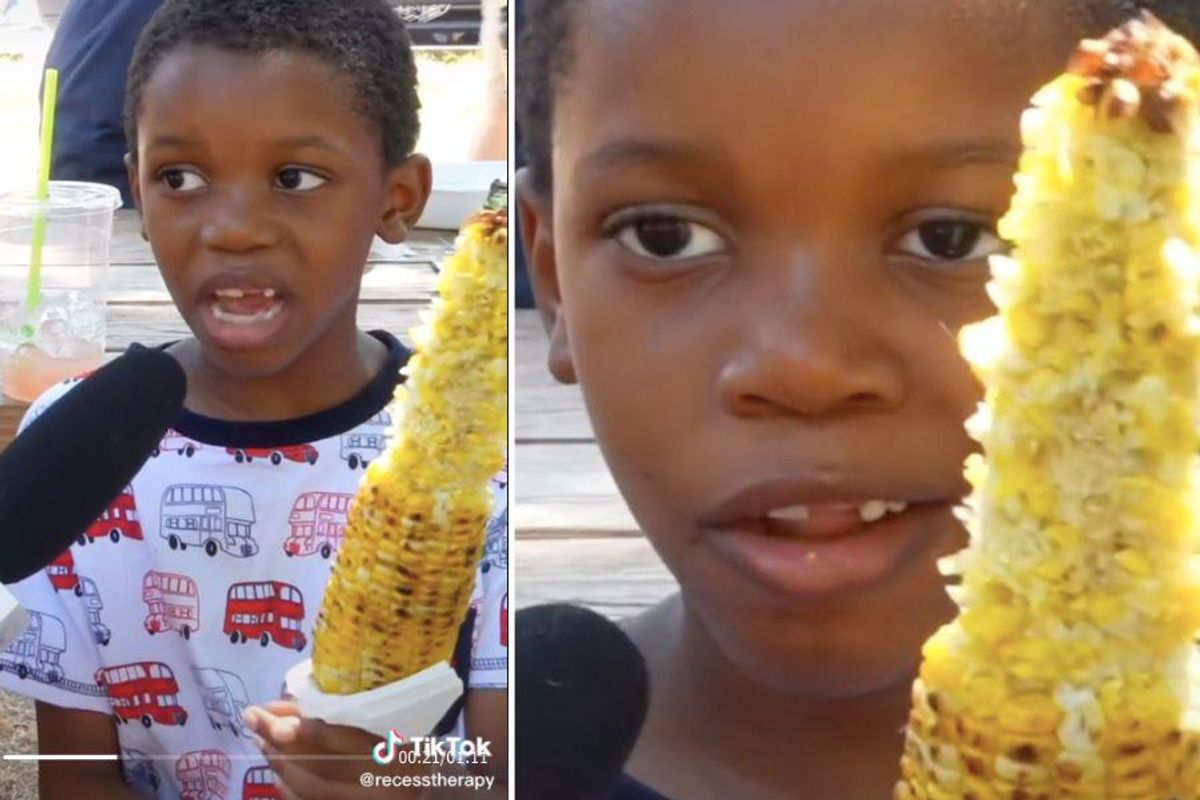 Is there anything better than corn on the cob? According to this kid interviewed on Recess Therapy, there is not, and after watching him explain why, you may just agree with him.
Recess Therapy is a social media show in which host Julian Shapiro-Barnum interviews kids from ages 2 to 9, and it's every bit as adorable as it sounds. Kids are hilarious, after all, just by being themselves. But once in a while a kid really stands out and this little guy raving about corn while eating corn is impossible not to adore.
First, it's his classic young-kid-missing-front-teeth adorableness. (How does this kid even eat corn on the cob with so many lost teeth?) Then it's the way he says "cowhn" instead of "corn." Over and over, cowhn cowhn cowhn.
---
There's also the out-of-left-field things he says about corn, such as, "Ever since I was told that corn was real…" Sorry, what? And the deep corn wisdom he espouses: "When I tried it with butter, everything changed" and "Not everybody has to like it to be the best." And then the pure, gushing love: "I can't imagine a more beautiful thing."
But the "corntastic day" part is the piece de resistance. That look on his face. "What?!? It's just a pun about cowhn!"
Just watch, I promise:
@recesstherapy

Children of the… corn? 😂 🌽 #recesstherapy #corn #cornisgood #fyp #favorite
"CORN IS AWESOME!!!" Yes it is, little man.
The video was shared on the TikTok channel @doingthings with the kiddo's words on screen and has been viewed there more than 6.5 million times. Definitely worth a second watch with the words included:
The girl at the end who says she's never had corn needs to get together with this kid. He will definitely convince her. And can you imagine what his reaction would be if he tried elote? Gracious.
The comments on the video are filled with people relating to his corn adoration and quoting their favorite lines from his rave. There are just too many delicious kernels of joy to choose from.
Bless this little Corn King for going straight from questioning whether corn is even real to declaring it the greatest food that's ever existed. We feel you, little dude. And yes, butter definitely makes everything better.