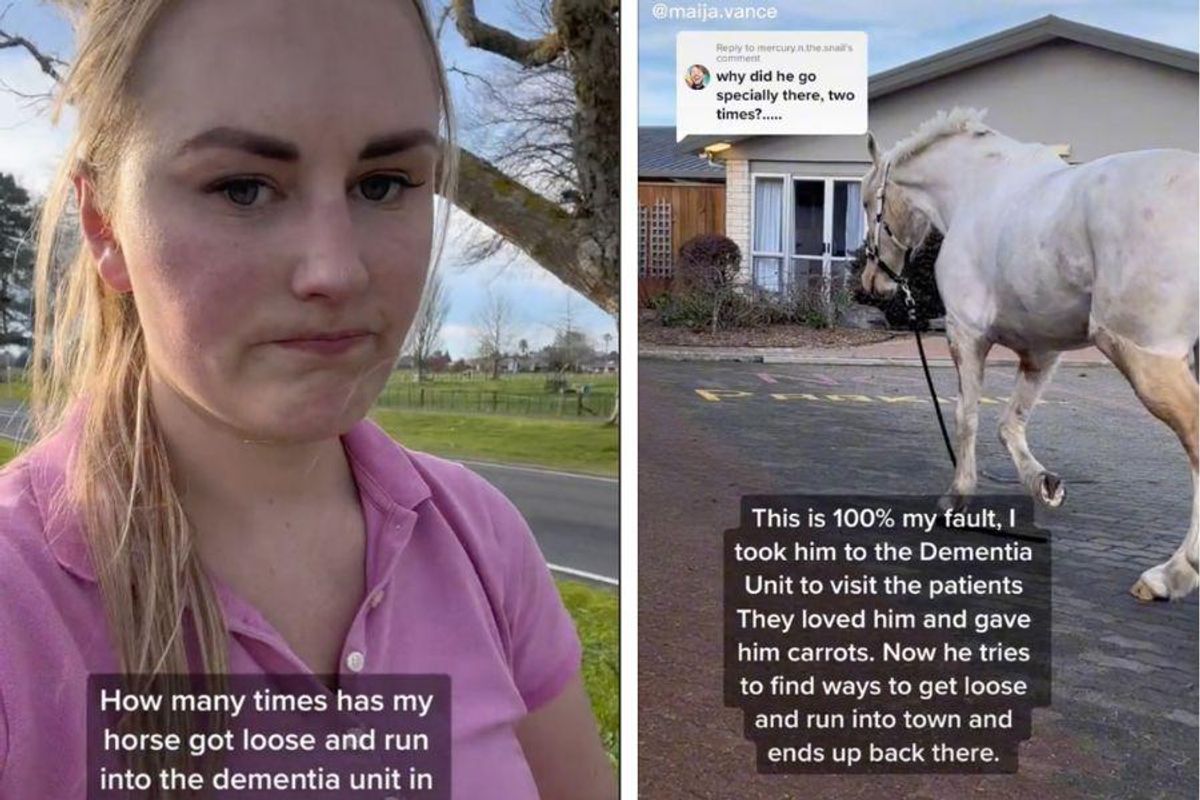 Panda the horse cannot seem to stay out of trouble, or the nearby dementia unit.
Maija Vance, the owner of this mischievous palomino, posted a hilarious video to TikTok showing her riding Panda back home—presumably after being caught on the loose yet again.
"How many times has my horse got loose and run into the dementia unit in town and I had to ride him home…" the onscreen text reads. As Vance's disapproving face appears, viewers get the answer from the video's background song: two times.
Panda's adorable antics garnered some lighthearted attention online. The comments section was filled with funny responses. A few joked that no one would believe the poor residents when they tried to tell the tale of a majestic horse galloping by. Another quipped, "He really wants to be a therapy pony…let him follow his dreams!"
---
In a follow-up video, Vance revealed that Panda's motivation might be more food-oriented than anything else.
"This is 100% my fault," the onscreen text reads as Vance tries to wrangle Panda. "I took him to the dementia unit to visit the patients. They loved him and gave him carrots. Now he tries to find ways to get loose and run into town and ends up back there."
The best part is seeing Panda's reaction to all this. Clearly he doesn't see what all the fuss is about.
Horses do have an astonishingly keen memory. Numerous studies have shown they recall people and places with pinpointed specificity.
"Talk about 'never forgetting' 😂😂 he only forgets what woah means but not where he got carrots," one person quipped.
Where it might be true that Panda's actions were solely fueled by snacks, his recognition prowess is certainly applaudable. And people considered it a sweet moment, as chaotic as it was.
"As someone who works in a nursing home I can guarantee you the residents love it whenever they catch a glimpse and he is the talk of the town. Also personally my job satisfaction would be a lot higher if I had a random horse that occasionally appeared," one person commented.
If you want to see even more of Panda's shenanigans, you can follow him and his brother, Slim Shady, on TikTok and Instagram. Who knows what trouble they'll get into next to score a good carrot?