California is the best state in the entire United States for Mexican food. That's undeniable, whether your tastebuds are geared toward the Mission Style burrito of San Francisco, the fish tacos of San Diego, or even the Central Valley, a hidden gem of Mexican delights (and a great spot for some of the more umami-forward Tex-Mex flavors). You can pull out your phone right now and randomly place a pin anywhere in the state of CA and find a taqueria nearby that will blow away most of what you'll find anywhere else in the United States (with the exception of TX). And while you can get truly great Mexican food from the Cali-TJ border to the state line of Oregon, no city in the state shines quite like Los Angeles.
The city is a straight-up hotbed of Mexican food — rich in history and in flavor. It's got the ports for seafood, it's close to cattle lands and farms, it's got a massively diverse population and it's in a city that values diversity, culture, and — most importantly, perhaps — flavor.
But that's not to say LA's Mexican food scene is perfect. Because LA is also home to Taco Tuesday at bars and $1 tacos at strip clubs and the continued insistence by diners across race and class lines that Mexican food should be cheap. Like… cheaper than mass-produced fast food.
For those who don't know, the city of Los Angeles predates US occupation — as it was officially founded in 1781 as a part of New Spain then existed as a part of Northern Mexico until the Mexican-American war of 1846 before finally being established as part of the 31st state of the Union in 1850. In its long and storied history, the city has always been home to an ever-shifting mix of shared traditions and cultures, which naturally has resulted in some deliciously varied cuisine. But it's the sheer diversity of Mexican food that can be found within the city limits today that makes it rise above all other US cities.
"We have a humongous diversity of Mexicans." Taco USA: How Mexican Food Conquered America author and LA Times columnist Gustavo Arellano tells me. "We get Mexicans from all over Mexico and that's not true of most cities in the United States, even the big ones."
That sort of diversity brings all sorts of Mexican food to the city, allowing you to dine on food traditions hailing from Oaxaca, Zacatecas, Michoacán, Jalisco, and Sinaloa without having to travel very far. Each of those Mexican states has its own distinct and rich culinary traditions that reach back to the pre-Hispanic era and get filtered through the Los Angeles lens. With that access to so many different food traditions, Mexican food isn't just a feature of the city — it's part of every Angeleno's identity, regardless of demographics.
Dodgers. Graffiti. Beach. Kobe (okay fine, The Lakers, but mostly Kobe). West Coast Rap. Hollywood. Mexican food. That's LA, in its simplest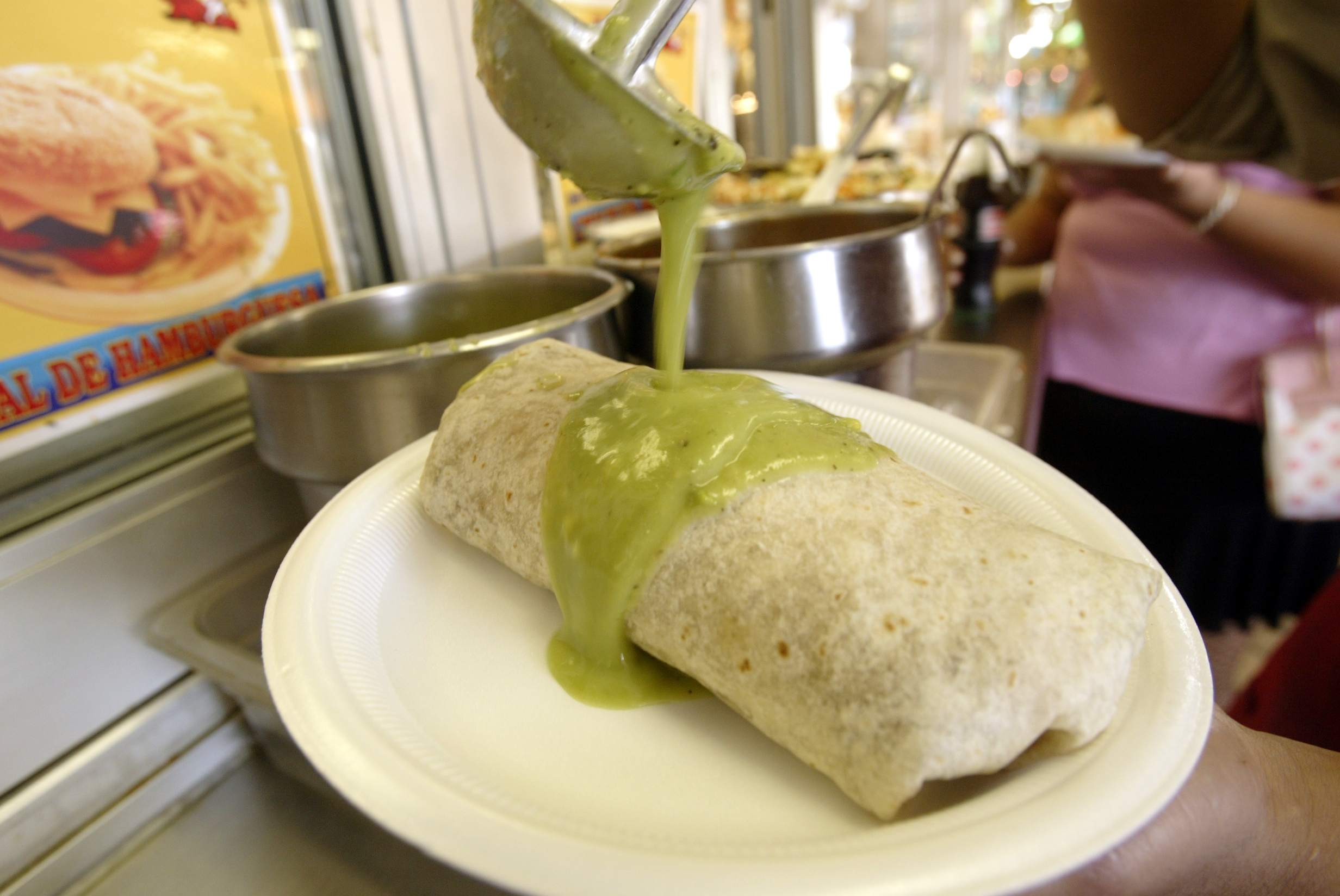 "If you grew up in Southern California Mexican food is part of who you are," Arellano notes. "You can't say tacos are as big a part of the culture as hamburgers in most of the United States. But in LA, tacos are part of the lingua franca, and other Mexican dishes are as well."
According to the United States Census Bureau — last updated in 2021 — the Hispanic or Latino community of Los Angeles accounts for a whopping 49.1% of the population. With those numbers comes culinary innovation from all across Latin America (mainly Mexico) resulting in new food traditions and dishes constantly being funneled into the city. Mexican food isn't just abundant in Los Angeles, it's constantly evolving, getting remixed, and developing into new forms of cuisine, as is the case with "Cal-Mex."
"Cal-Mex is a tradition born from generations of Mexicans coming in, opening their restaurants, absorbing some dishes, and focusing on others," explains Arellano. "It ties back to the heritage of California when it was Mexico."


In Los Angeles, you can eat chilaquiles from central Mexico with a side of tamales from southern Mexico for breakfast (chilaquiles and tamales both originated with the Aztecs, pre-Mexico), grab a Chihuahua inspired burrito for lunch, and finish your night with Oaxacan-inspired street tacos from your favorite LA pop-up taco vendor while sipping on mezcal from the corner store. And that's without needing to delve into Cal-Mex delights like the California Burrito, the Crunchy Taco, or fusion foods like Roy Choi's Kogi.
"So many people in Southern California love carne asada above other meats, and love dishes like chili colorado, or chile verde, and burritos. Those are all dishes that come from northern Mexico," Arellano notes. "Before the 1920s, there were no tacos in Mexican restaurants. That was not Cal-Mex food. With the Mexican revolution, then you started getting people from central Mexico who brought over those tacos and then it became a part of Cal-Mex food. Or chilaquiles for breakfast. That wasn't really a thing in the seventies."
The sheer variety of Mexican food in LA just can't be matched. But while this is indeed a Mexican food Mecca, it's not without its problems. While the Latino population in Los Angeles is ever-growing, it's still a demographic that is largely working class. As such, there is a serious devaluing of our cuisine not just from outsiders who expect cheap eats, but ironically by the working families trying to get by and have no choice in regards to the type of quality they can reasonably provide, resulting in what Arellano refers to as "tortilla gentrification."
"By supporting cheap Mexican food, you're supporting terrible food systems," he says. "There is tortilla gentrification right now. Higher-end restaurants are boasting that they're making corn tortillas from nixtamalized corn, buying heirloom corn from Mexico and heirloom flour from Northern Mexico. Then people say 'oh those aren't real tortillas because they cost too much,' but that's the sad thing. Those are the realest tortillas you're going to find. We're talking about heritage. We're talking about corn grown by families who have been doing this for hundreds of years. Do you not want to support that and give them a living wage as opposed to supporting Guerro or these big companies that buy a shitload of shitty corn from the United States? It's sad, and it's such a Mexican thing, by the way, this sad irony. Doing it the right way costs more and most Mexicans can't afford it, even though they could probably 50 years ago."


Mexican food from Los Angeles is a special thing, a defining feature of a great city, and a big part of what makes it great in the first place. But if we want to preserve that, we all need to pay up. Because one thing is for certain about Mexican food in Los Angeles — it's always going to change. How it changes is going to be a function of how people treat it. And if that treatment starts with honoring the culture that it comes from, well, that will be better for everyone.