On Tuesday night, the Inside the NBA crew will make their return for the show's 34th season on TNT, and the 12th with the current crew of Ernie Johnson, Kenny Smith, Shaquille O'Neal, and Charles Barkley all together.
It has become the studio show all others try to emulate, but the magic of Inside is there's not really a formula to follow. The combination of insight and fun is difficult to replicate, as is the freedom they're given to go long with a conversation or just get really weird by TNT compared to other networks. It's so natural compared to other shows that are clearly trying to hit their beats, and their comfort with each other is never more apparent than when they go off the rails and start making jokes, typically at each other's expense.
On Monday, we learned that Warner Media had re-signed all four members of the show to long-term deals, including a massive 10-year deal for Barkley that could be worth almost $200 million. In honor of the gang getting back together and, happily, being together for the long haul so long as TNT retains their NBA rights, we decided to take a trip down memory road for the funniest moments the show has given us in the last 10 years. There is no shortage of hilarious moments from the last decade of Inside the NBA, but here we picked our 10 favorites (in no particular order) that have made us laugh the hardest as we get set for the 2022-23 season.
Jussie Smollett
It's sometimes hard to remember just how big a story the Jussie Smollett scandal was, but it provided one of Charles Barkley's absolute best monologues as he sent the show off the rails by not so subtly making jokes about Smollett's case. It eventually became a PSA about not committing crimes with checks, which had Shaq in hysterics despite Ernie literally walking over to Chuck and giving him a stare like, "do you really wanna go here?"
The answer, as always, is yes, and this is one of the finest examples of how Shaq's greatest attribute on the show is gassing Chuck up and egging him on to go further — any time Shaq gets going with a "What'd you say, Chuck??!" it is almost always hysterical. I still randomly think about "if you gonna break the law, do not write a check," and laugh.
How Long Is The Flight To The Moon?
This is the first in the Shaq Math category (we will return to this later), as Dr. O'Neal has a … let's call it unique viewpoint on the world sometimes. In this instance, Chuck and Kenny roast Shaq for asking how long the "flight" to the moon is, as if you can hop on a jet from Hartsfield-Jackson to get there, because he knows the flight to L.A. is five hours and he can't see L.A. from the studio but he can see the moon. Shaq's refusal to ever give in is what makes these so good, while the rest of the desk laughs at him. If you have never seen this before, the moment where he says how long he thinks it would take is one of the funniest things you will ever see.
Po-lice Presence In L.A.
The gold standard and one of the greatest nights in NBA Twitter's history. I'm not sure I've laughed harder at any segment on TV than this, in part because it just builds and builds. You can tell something is up when Ros Gold-Onwude reports that a player said the whole thing was "very much a rallying around Chris Paul" and someone on set struggles to hide how funny that sentence is. Shaq and Chuck start losing it when Ros brings word there was a "police presence," but Ernie pushes them over the edge by noting that there are social media reports "LAPD was called."
Shaq can barely formulate words, which always makes Charles' antics funnier, because he thrives on trying to make Shaq laugh, while Kenny tries his very best at all times to keep things on track and explain why those two are rolling in laughter. This is the most earnest laugh in television history.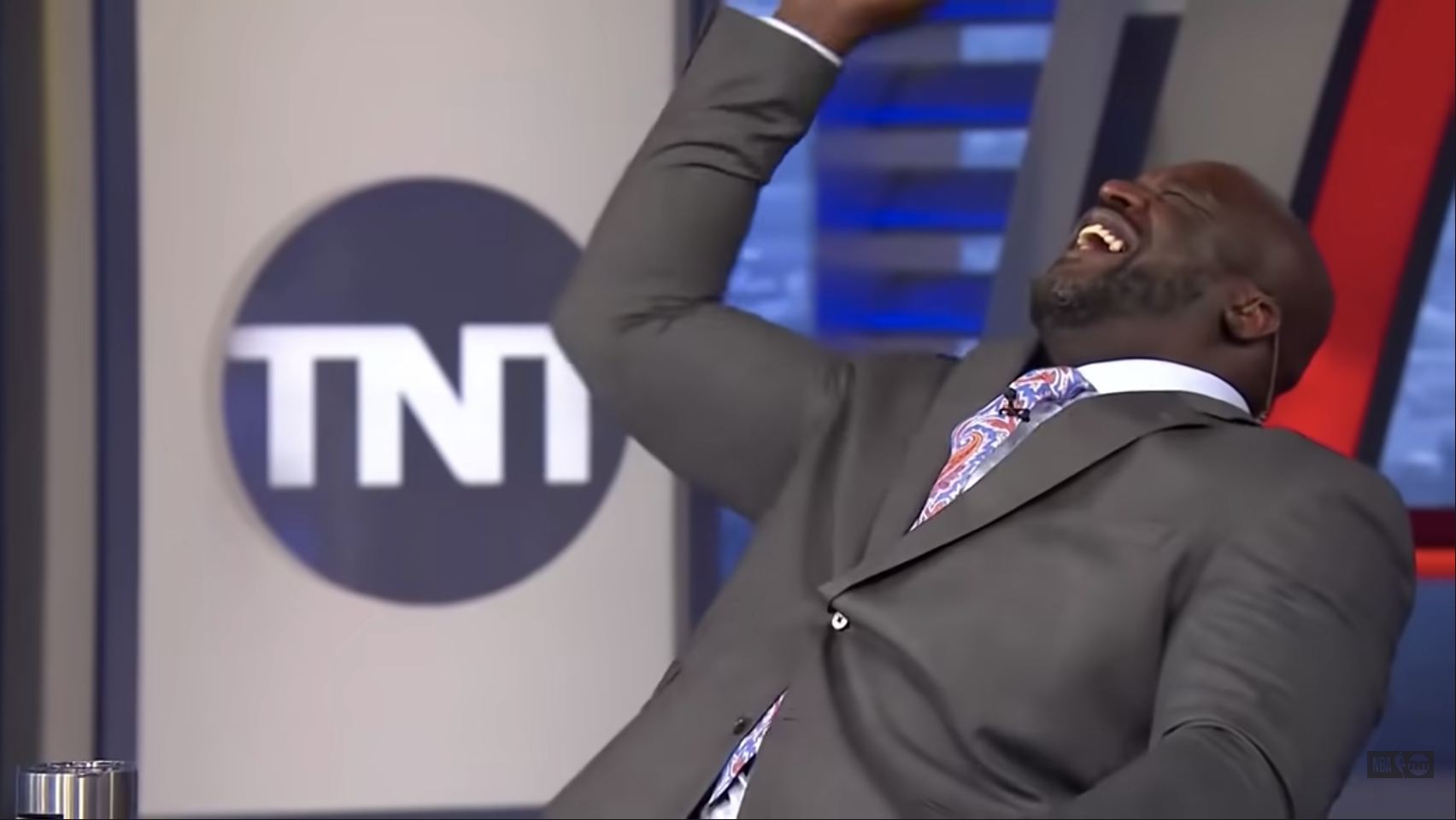 It also produces maybe the funniest Shaq bit he's ever had on the show with, "Hello police? Chris Paul is trying to beat me up!"
Shaq Tripping
Something funny usually happens when people race Kenny to the board during halftime of games. This one has the added bonus of someone who is ginormous getting tripped up and hitting the deck. Everything in the aftermath — Shaq accusing Ernie of setting him up, Chuck coming over and laughing, Kenny screaming "DOWN GOES SHAQ" and then getting wrestled down by the big fella — is excellent, too. But let the record show that unless he did it while the camera was on Shaq's shoe, Kenny never touched the board, so Shaq technically wins this race.
Chuck's Apology To The Women Of San Antonio
For years, anytime the Spurs got brought up, everyone on set would just wait for Charles Barkley to crack a joke about the "big ol' women of San Antonio," typically bringing up churros — which once led to a, uh, interesting demonstration of how they eat them that had Shaq and Ernie dying. It was relentless (and, to be honest, far too much), but the funniest moment in that bit's history was when he stunned Ernie Johnson by declaring he needed to apologize to the women of San Antonio. Why? Because he finally tried a churro and "I see what all the excitement is about!"
Shaq literally does a spit take and has to walk off set, while Baron Davis, sitting in Kenny's spot as a fill-in, does a great job of egging Chuck on with a "Talk to 'em Chuck! What was they like?!"
When A Guy's Banging You In The Post
This clip deceives you in that you think it's just Barkley doing some analysis, and then, the camera cuts to Shaq, who responds to Chuck saying everything by trying so hard not to laugh that he is vibrating. There is nothing I want more than whatever got recorded after the TNT crew went to break and they could start discussing this. Charles Barkley if you are reading this and wanna send it to me, please, do that.
James Harden Going Last In The All-Star Draft
This moment is unique on this list because the Inside crew isn't at the center of it. The context: Earlier that day, James Harden was traded by the Brooklyn Nets after things totally fell apart between the player and the franchise, and then, Kevin Durant had to go draft his All-Star team to take on a squad assembled by LeBron James. Because he is a veteran of the All-Star Draft process (and has gotten roasted during the draft in the past), LeBron knew exactly how to play this, the Inside guys knew exactly how to egg KD on, and even though the inevitable happens after it slowly builds, with player after player going off the board before Harden, you cannot help but laugh — and when Chuck says "he got traded, he's healthy now," even the stoic Durant starts cracking up. This is exactly why the All-Star Draft exists and also why the TNT crew gets to present it.
$6.99 To Watch Lakers-Bucks
This is one of my personal favorites because it's one of the times they get Ernie to join in on the fun. The "I dare ya" as Chuck gets ready to rip into this is so good, and they spend the next four and a half minutes losing it over the idea anyone would pay $6.99 to watch that Lakers team (which went 17-65) — "if y'all pay $6.99 for that, y'all get bamboozled." It's also made funnier by Kenny, always trying to keep Chuck and Shaq in line, being extremely wrong trying to explain that it's $6.99 for the season and not one game, which was 100 percent incorrect. Ernie, ever the pro, can't even keep it together for the next highlight, noting he's gotta start reading those promos before he does them on air and joking there's a lot better things to spend $6.99 on that don't involve the Lakers.
One, Two, Back To One
This one can be any number of times that Shaq gets mad at Chuck. These moments are always way funnier than when Chuck gets mad at Shaq, because when that happens, both of them end up yelling at one another. But when DJ Diesel gets mad at the Round Mound of Rebound, it usually means that Barkley sees a chance to prod and prod and prod and prod and prod, which only leads to Shaq getting angrier and the whole desk laughing. Add in the fact that you never know which things will actually lead to Shaq getting mad and, to quote the great Carl Weathers, we've got a stew going. This one has the added bonus of Ernie and Kenny also losing their minds and Chuck laughing so hard that he snorts over and over.
(Honorable Mention: Who do they mistake you for? Shrek.)
Shaq's Gas Tank Math
Admit it: There have been times when you have done Shaq's gas tank math because of this segment. The thing that makes this so great is how every single organism in the entire universe can see how Shaq's logic makes zero sense, but the one exception to that is Shaq, who is given a platform to keep making this argument because it's, like, 1:30 a.m. EST on a Friday morning and anyone who is watching by now knows what the show is about. My favorite part comes a little after the 90-second mark, when Shaq says "listen to what I'm saying" and Ernie, who so badly wants to wrap the show and go to bed, says "I am."