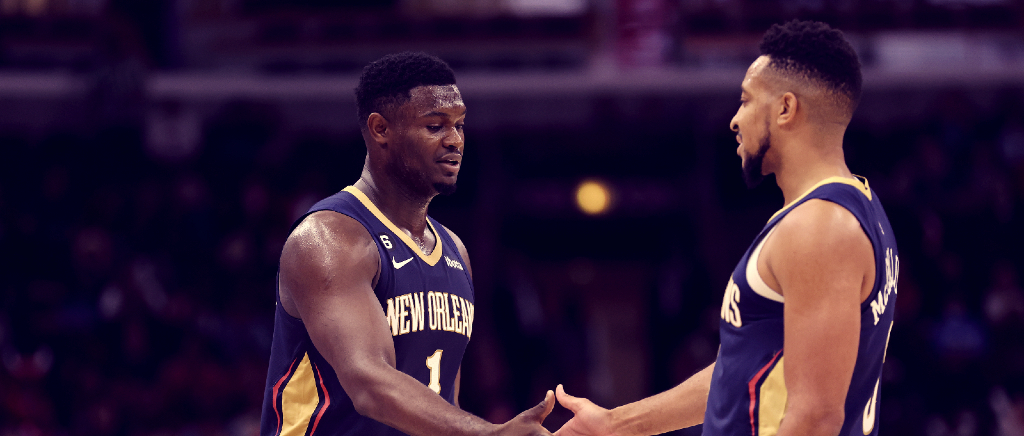 There are vast reasons to watch every NBA team this season. Whether it's the development of enticing youngsters, creative schemes, or befuddling on-court dominance from superstars, each of The Association's 30 clubs provide ample motivation to tune in every night. Basketball garners fans through a melting pot of factors and the NBA's 2022-23 landscape helps underscore that.
As NBA's Opening Night stands mere hours away and the entire league debuts over the next three evenings, it's time to highlight four teams I'm particularly psyched to follow over the next six-plus months. All 30 capture my attention, these four just rank higher on the priority list than most.
New Orleans Pelicans
After a 3-16 start, with new faces led by a first-time head coach in Willie Green, New Orleans closed the year 33-30 last season. After acquiring CJ McCollum shortly before the trade deadline in February, they went 9-6 in the 15 games he and Brandon Ingram played together. Then, they won a pair of Play-In contests and pushed the Phoenix Suns during a riveting six-game, first-round series.
All of this occurred without Zion Williamson, who resembled a top-20ish player the last time he suited up in 2020-21, averaging 27 points on 64.9 percent true shooting. While he didn't quite nab an All-NBA spot, he certainly sported a credible case, doing so at age 20 in his second season. Whenever this dude plays, he's utterly dominant, especially on offense, where he's an elite initiator. His marriage of interior scoring, gravity and playmaking render him elite.
Joining Williamson in the starting five is a quartet of tremendous NBA players who could have this offense peaking near the top of the league. Ingram made strides as an off-ball defender, passer and all-around decision-maker throughout 2021-22. He's a bona fide star. Headlined by malleable shooting, McCollum is a delightful third option, who leveled up his passing after joining the Pelicans. Jonas Valanciunas is a reliable post hub, both as a scorer and facilitator, who engulfs rebounds on both ends. He and Williamson are going to be the premier paint-scoring tandem in the NBA.
Lastly, second-year defensive star, Herbert Jones, is one of the 10 or so best defenders the league has to offer. He should've made an All-Defensive Team as a rookie, and his offensive progression over the past few years, particularly with his jumper, midrange touch and ball-handler bode well moving forward.
The depth is playoff-ready, too. Larry Nance Jr., Jose Alvarado, and Trey Murphy III is a versatile reserve group to round out a postseason eight-man rotation. During the regular season, rookie Dyson Daniels, whose defense shined in the preseason, Jaxson Hayes, Devonte' Graham, Naji Marshall, and Willy Hernangomez provide viable reinforcements as well.
I expect New Orleans to challenge for homecourt or better — with a legitimate darkhorse title run possible — and be one of the NBA's most prolific offensive attacks. Inverted pick-and-rolls with Williamson and McCollum. Jumbo pick-and-rolls with Williamson and Valanciunas. The McCollum-Ingram two-man game. Flex actions for Williamson, Ingram and Valanciunas. Green's offensive creativity popped next season and seeing what he does with a player like Williamson, while surrounded by other high-level ancillary talent, should be a joy.
Williamson making the leap from top-20 player to top-10 is plausible. The defense will be tenable, even if not necessarily a top-10 unit. Fifty or more wins as the prologue of a deep playoff appearance is where I could see this season headed, and those 50 wins should be a dynamite 2,400-plus minutes of action.
Cleveland Cavaliers
Much like the Pelicans, the Cleveland Cavaliers were a darling of 2021-22, with a chance to significantly build upon that by adding an All-Star to the ensemble this fall. A litany of injuries — Collin Sexton, Ricky Rubio and Jarrett Allen, namely — left Cleveland short of a playoff berth after jockeying for the top seed out East midway through last year.
Darius Garland and Allen are 22 and 24, respectively, fresh off inaugural All-Star appearances. Further development can be anticipated, even if marginal at worst. Over the final few months of the season, when saddled with heightened scoring duties, Garland played like an All-NBA guard. His leap in scoring aggression was crucial. Over the final 24 games, he averaged 25-9-3 on a 45/41/88 shooting split. He's a baller.
Now, his backcourt mate becomes Donovan Mitchell, who similarly performed at a near-All-NBA level last season. They're a dynamic offensive punch who complement one another supremely well stylistically. Can head coach J.B. Bickerstaff toss more zest into his offensive playbook after doing so between 2020-21 and 2021-22 to maximize his personnel?
Evan Mobley was the lone defensive rookie better than Herbert Jones last season and also deserved an All-Defensive Team nod he did not receive. His sophomore campaign should see him mature from a quality starter to someone folks ponder for All-Star buzz. He and Allen are an absurdly imposing defensive pairing.
Rubio, who tore his ACL in late December, should be back at some point early in the year. He'll bring welcomed facilitating and caretaking off the bench to spearhead lineups alongside Mitchell or Garland, both of whom he has prior success and experience playing alongside.
Cleveland will miss Lauri Markkanen's services on the wing, but I expect this team to once again rank in or close to the top five defensively, while riding a substantial jump from their 20th-ranked offense now that two harmonic All-Star initiators are in the fold and the ball-handling depth isn't entirely depleted behind Garland.
Most teams don't have two All-Defensive-caliber bigs and two All-Star guards, especially ones either south of or just entering their primes. The Cavaliers do, and it's a leading component of their allure, merging tall-ball with a pair of diminutive, explosive creators.
Denver Nuggets
On Wednesday, for the first time in more than 18 months, the Denver Nuggets' Big Three of Nikola Jokic, Jamal Murray, and Michael Porter Jr. will share the floor in a regular-season outing. The return of Murray and Porter are not the lone ways this roster will look different either.
Denver swapped ball-handling depth in Will Barton and Monte Morris for defensive acumen in the 3-and-D wing, Kentavious Caldwell-Pope. It also signed the league's tallest 6'4 guard, Bruce Brown, a tremendous defender, both on the ball and at the nail, who thrives as a cutter and short-roll release valve. Both should prop up what was among the worst perimeter defense in the league last season, while also fitting seamlessly alongside Jokic offensively.
The starting quintet of Murray-Caldwell-Pope-Aaron Gordon-Porter-Jokic is full of fireworks. They're going to rampage teams. Three shooters and three cutters around Jokic. Four excellent shooters, including the MVP. Five tremendous off-ball scorers. The league's effervescent offensive talent and distributor. A legit secondary handler in Murray. There are a handful of contenders for the top offensive in the league and Denver sits squarely in that tier, possibly as my frontrunner.
Behind the presumably elite starting lineup, Bones Hyland approaches his second season following an All-Rookie appearance and some encouraging, illuminating playoff reps. He's likely the lead ball-handler off the bench, and Denver is thin in that department outside of him, so extrapolating his second-half strides into further steps is imperative. He's a gifted shooter and handler whose preseason indicated he might find more success getting downhill and drawing fouls than he did a year ago. His chemistry with Jokic is reminiscent of the early Jokic-Murray pairing, too.
Without Murray or Porter, Denver won 48 games a season ago and challenged the Golden State Warriors as effectively as their Western Conference Finals foe, the Dallas Mavericks, did by way of a five-game series. It should not be overstated how impressive the Nuggets' 2021-22 was, despite the notable absences.
Jokic, the back-to-back MVP, has a glowing claim for the best player in the NBA. The roster is improved and healthier, better catered to reduce his defensive burden and amplify his offensive ethos. Few squads will outclass these Nuggets, both with regard to quality of play and aesthetic excitement.
Orlando Magic
The Orlando Magic are embarking on their second full year of a rebuild, led by a groovy, atypical roster construction. We've seen the tall-ball approach, evidenced currently by teams like the Cleveland Cavaliers and Milwaukee Bucks, as well as the 2019-20 Los Angeles Lakers and 2018-19 Toronto Raptors, both of whom often trotted out jumbo-sized frontcourts.
Yet it feels distinct for a club's three best players to all be 6'10" dribble-pass-shoot dudes. With Franz Wagner, Wendell Carter Jr., and Paolo Banchero, that is the case for Orlando, who will seemingly flow the majority of the offense through them. The prior four teams listed generally anchored their tall-ball success via defense.
Carter looked stellar in preseason and his offensive aggression is a complete turn from his Chicago Bulls tenure. He also continues to sharpen his defensive technique and impact. I wouldn't be surprised if he's once again the Magic's top player and helps them exceed projections en route to a Most Improved Player honor or consideration.
I expect Orlando's defense to be pretty sound (eighth-ranked defense over the final 29 games last year), but the fun for this tall-ball philosophy stems from the offensive appeal. Throughout the preseason, Wagner, Carter and Banchero were all granted considerable creation reps. They routinely connected in pick-and-rolls, cuts, and dribble handoffs. They can all shoot off the bounce, set the table for others and attack closeouts.
Whenever Markelle Fultz, who's on the mend with a fractured toe, rejoins the lineup, his staccato slashing game will only augment Orlando's funk. Jalen Suggs' offensive role should be simplified this year to aid him, and his defensive repertoire is vast for a second-year player. Bol Bol might even crack the rotation. The funk is felt and seen across the roster.
The spacing is cramped — they'll miss Gary Harris for however long he's out recovering from surgery on his torn meniscus — and giveaways plague them (24th in turnover rate last year). The offense will be prone to ineffectual stretches. But head coach Jahmal Mosley's Xs and Os are ingenuitive and the manner in which they'll aim to burn defenses should be fascinating.
Vying for a Play-In spot is entirely possible. If that manifests, a distinct approach will be a prominent factor fueling this surprise result. That's worth tuning in for all year.