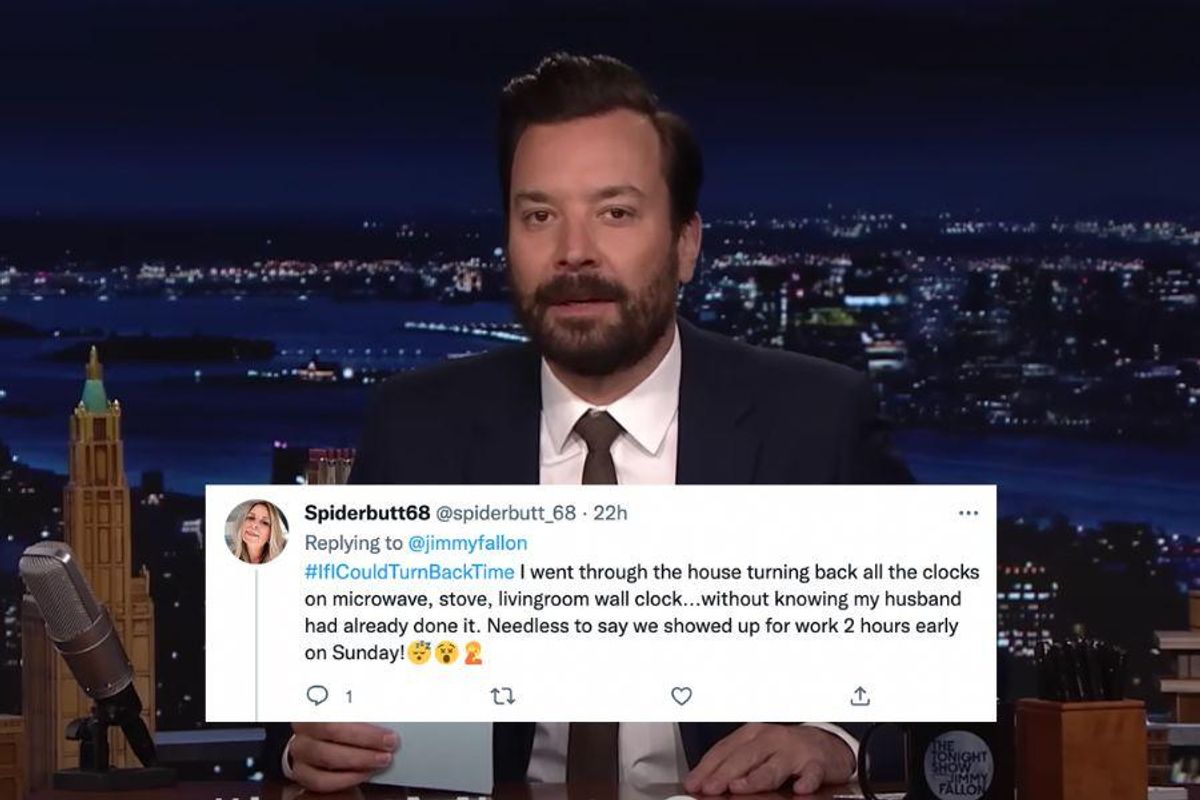 Jimmy Fallon recently asked folks to share a "funny or silly mistake" along with the hashtag #IfICouldTurnBackTime, in honor of what many consider to be the greatest mistake in all of human history—daylight saving time.
Since 1918, the chaos of DST has wreaked havoc across America—except in Arizona and Hawaii, that is—and the globe, causing us to spring forward, fall back, do the hokey pokey and shake ourselves about as we try to get a grasp on our schedules, energy and (seriously) overall health during that period of adjustment that comes twice a year.
Besides the topsy-turviness of it all, daylight saving time didn't even fulfill its original purpose of saving electricity. In fact, a lot of evidence indicates that it actually costs more money. So yeah, it's pretty much one of history's biggest "oopsie-daisies."
We might not be able to look back on DST and laugh just yet, but at least we can at least find comfort in the silly stories shared by strangers on Twitter.
Below are some of the funniest answers people sent to Fallon, ranging from "might induce a relatable chuckle" to "oh my, that's delightfully cringey." Even if daylight saving time doesn't put a smile on your face, these mistakes might.
Without further ado, check out what other folks might have done differently if, like Cher once contemplated in her song, they could turn back time…
---
"I took my car to get fixed because the window wouldn't roll up. I made it there just before it started raining. The shop had it fixed in two minutes. The window lock was on. They did not charge me, but it cost me some dignity that day." – @AbbyTribble
"I would have CHECKED my mailbox to see the notice of suspended license due to unpaid tickets – before driving one night and getting pulled over & car towed. Having to pay just another $900 on top of what I already owed 🙃." – @23Vaniece
"Grabbed a rebound from the opposing team free throw and threw up a beautiful fadeaway jump shot with nothing but net…Two points for the other team 🤦♂️" – @kenkaigle
"I would have checked the label on the sunblock I borrowed from a Cross Country teammate. Turns out it was muscle relaxer cream, and I started drooling halfway through the race since I applied it to my face." – @Ashley_M_Lowry
#IfICouldTurnBackTime
I'd have listened when hubby said to stay inside because icy roads were treacherous, instead of thinking if he & the mail lady could manage, so could I. #hewasright #brokenankle #2surgeries #YayCanadianHealthCare Used 50 sick days! Plus side: #wroteabook pic.twitter.com/OVyKlFO3L5

— Shawn L. Bird (@ShawnLBird) November 2, 2022
"I am a middle school teacher, and when I was teaching the book Al Capone Does My Shirts, I had the title written in presentation. Unfortunately, I left the R out to shirts. I had written Al Capone Does My Sh!ts instead of shirts. I have never had a class laugh so hard! 👚💩🤦♀️" – @klennisd
#IfICouldTurnBackTime I would actually smile and try to look happy in my ID pic so that my family doctor wouldn't make fun of me like it "looks like a mug shot"every time I come visit him 😐😅 pic.twitter.com/iOwW0v6imT

— Eamon Janfada (@eamonster7) November 2, 2022
"Met my childhood crush @joeymcintyre of NKOTB. He commented on a pin I was wearing which sent me into a 5 minute monologue about Zazzle, how it works and why it's my go to for customized gear. Then I walked away. Because I was… out of Zazzle content?!" – @NatteringNic
"When I was 5 I wiped cream cheese from my hand onto my dad's brand new dodge shadow back seat. He caught me and yelled 'come on use your head!!' So I wiped the cream cheese on my head. 30 years later he still brings it up." – @jbrad0618
"I would't say 'oh that must be mine' while trying to grab from the hands of the guy who lives upstairs the package he was holding thinking he was the delivery guy. So embarrassing 🤦♀️😂" – @michi_says
#ificouldturnbacktime I would have taken a nap during a girls trip to Vegas and avoid getting this picture randomly sent all over my friends group just for laughs. pic.twitter.com/OCezsDwyKZ

— Natasha Hamilton (@natashaham75) November 2, 2022
"I went through the house turning back all the clocks on microwave, stove, living room wall clock…without knowing my husband had already done it. Needless to say we showed up for work 2 hours early on Sunday! 😴😵🤦" – @spiderbutt_68
#ificouldturnbacktime I'd run away from my mom giving me a haircut making me a baby girl joe dirt pic.twitter.com/n7jCT2mKVF

— danielle (@xxdanibabyxx) November 2, 2022
"I did PA announcing in college and for an ad read, instead of reading the line 'best breakfast,' I said 'breast breakfast' in front of hundreds of people. Worst part was hearing the echo in the speakers mere seconds later!" – @Phanatic2010
"I would've made sure that the person walking behind me was in fact my mom before I turned back and said 'I love you!' to a random employee at Wal-Mart." – @tubularcaracal